Sudarshana, aka: Su-darshana, Sudarsana, Sudarśana; 20 Definition(s)
Introduction
Sudarshana means something in Buddhism, Pali, Hinduism, Sanskrit, Jainism, Prakrit, the history of ancient India, Marathi. If you want to know the exact meaning, history, etymology or English translation of this term then check out the descriptions on this page. Add your comment or reference to a book if you want to contribute to this summary article.
The Sanskrit term Sudarśana can be transliterated into English as Sudarsana or Sudarshana, using the IAST transliteration scheme (?).
In Hinduism
Pāñcarātra (worship of Nārāyaṇa)
The Discus (cakra) is called sudarśana which means 'pleasing-to-see', it is usually shown in iconography with a hexagon in the center. The six points of the two triangles represent the six seasons in a yearly time cycle, in the center nave is the seed sound (bija) 'hrim', which represents the changeless, motionless center, the Supreme Cause. The interlocking triangles symbolise the union of the male and female elements of the Universe (puruṣa=prakṛti).
(Source):
SriMatham: Vaiṣṇava Iconology based on Pañcarātra Āgama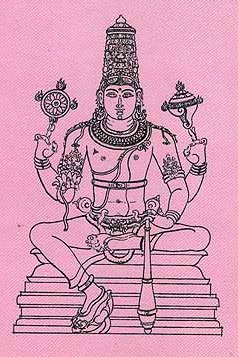 Pāñcarātra (पाञ्चरात्र, pancaratra) represents a tradition of Hinduism where Nārāyaṇa is revered and worshipped. Closeley related to Vaiṣnavism, the Pāñcarātra literature includes various Āgamas and tantras incorporating many Vaiṣnava philosophies.
Śāktism (Śākta philosophy)
Sudarśana (सुदर्शन):—The son of king Dhruvasandhi (son of Puṣpa) of the Solar Dynasty and his first wife Manoramā. He was the eldest son and brother to Satrujit. See the Devī-bhāgavata-purāṇa 3.14 (The glories of Devī).
(Source): Wisdom Library: Śrīmad Devī Bhāgavatam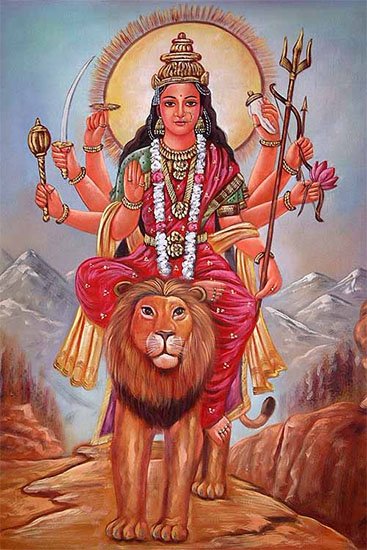 Śākta (शाक्त, shakta) or Śāktism (shaktism) represents a tradition of Hinduism where the Goddess (Devī) is revered and worshipped. Śākta literature includes a range of scriptures, including various tantras, although its roots may be traced back to the Vedas.
Vāstuśāstra (architecture)
Sudarśana (सुदर्शन) refers to a type of temple (prāsāda) classified, according to Samarāṅgaṇasūtradhāra chapter 57. The temple is mentioned as one of the nine temples being a favorite of Bhagavatī. The Samarāṅgaṇasūtradhāra is an 11th-century encyclopedia dealing with various topics from the Vāstuśāstra.
Sudarśana is also listed in the Īśānaśivagurudevapaddhati which features a list of 52 temple types. This list represents the classification of temples in South-India.
(Source): Wisdom Library: Vāstu-śāstra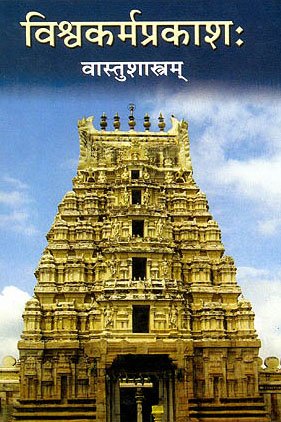 Vāstuśāstra (वास्तुशास्त्र, vastu-shastra) refers to the knowledge of architecture. It is a branch of ancient Indian science dealing with topics such architecture, construction, sculpture and their relation with the cosmic universe.
Purāṇa
Sudarśana (सुदर्शन) is another name for Pāvaka, one of the seven regions situated in Krauñcadvīpa, according to the Varāhapurāṇa chapter 88. Krauñcadvīpa is one of the seven islands (dvīpa), ruled over by Jyotiṣmān, one of the ten sons of Priyavrata, son of Svāyambhuva Manu, who was created by Brahmā, who was in turn created by Nārāyaṇa, the unknowable all-pervasive primordial being.
The Varāhapurāṇa is categorised as a Mahāpurāṇa, and was originally composed of 24,000 metrical verses, possibly originating from before the 10th century. It is composed of two parts and Sūta is the main narrator.
(Source): Wisdom Library: Varāha-purāṇa
1a) Sudarśana (सुदर्शन).—A weapon of Kṛṣṇa, known as Cakra;1 reached Kṛṣṇa when Mathurā was besieged by Jarāsandha, and was used to kill Śatadhanvā;2 sent to the sun and moon to ward off Rāhu's attack;3 presented to Ambarīṣa; fell upon Durvāsa when he raised a spirit to attack Ambarīṣa who begged to spare the sage and the Cakra did so;4 a weapon of Hari, at Kāśī.5
1b) A son of Bharata.*
1c) The husband of Oghavatī and a sage, called on the dying Bhīṣma.*
1d) A son of Dhurvasandhi and father of Agni varṇa (of Kuśa vaṃśa).*
1e) A Vidyādhara who mocked at Angirasa's ugliness and was cursed to become a reptile until released by Kṛṣṇa; when he seized Nanda, Kṛṣṇa came to his rescue, and at his touch the serpent was transformed into the Vidyādhara. He bowed to the Lord and went to his region.*
1f) A tīrtha visited by Balarāma.*
1g) A son of Puṇyajanī and Maṇibhadra; an Yakṣa.*
1h) A Jambū tree (see ).*
Cologne Digital Sanskrit Dictionaries: The Purana Index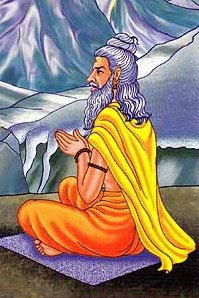 The Purāṇas (पुराण, purana) refers to Sanskrit literature preserving ancient India's vast cultural history, including historical legends, religious ceremonies, various arts and sciences. The eighteen mahāpurāṇas total over 400,000 ślokas (metrical couplets) and date to at least several centuries BCE.
Śilpaśāstra (iconography)
Sudarśana (सुदर्शन) refers to one of the many varieties of the Śālagrāma (ammonite fossil stones).—The Sudarśana one cakra; or a mark resembling cakra. Śālagrāma stones are very ancient geological specimens, rendered rounded and smooth by water-currents in a great length of time. They (eg., Sudarśana stones) are distinguished by the ammonite (śālā, described as "vajra-kīṭa", "adamantine worms") which having entered into them for residence, are fossilized in course of time, leaving discus-like marks inside the stone.
(Source):
archive.org: Pratima Kosa Encyclopedia of Indian Iconography - Vol 6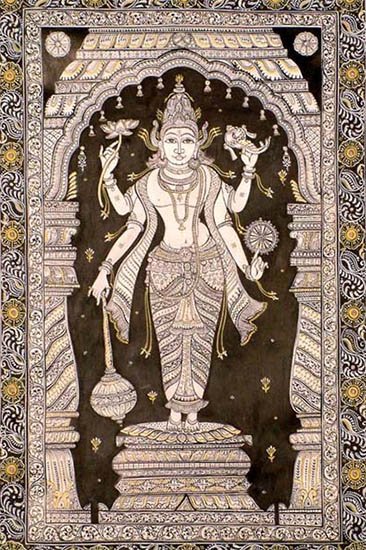 Śilpaśāstra (शिल्पशास्त्र, shilpa-shastra) represents the ancient Indian science of creative arts such as sculpture, iconography and painting. Closely related to Vāstuśāstra (architecture), they often share the same literature.
General definition (in Hinduism)
1) Sudarśana (सुदर्शन):—He married of Oghavatī (Daugter of Oghavān). (see Bhāgavata Purāṇa 9.2)
2) Sudarśana (सुदर्शन):—Son of Dhruvasandhi (son of Puṣpa). He had a son named Agnivarṇa. (see Bhāgavata Purāṇa 9.12.5)
(Source): Wisdom Library: Hinduism
One of the 108 names of Krishna; Meaning: "Handsome Lord"
(Source):
humindian: 108 names of Lord Krishna
Sudarshana is a King of the solar dynasty, an ancestor of Rama. His father is Shankana and his son is Agnivarna.
(Source):
Apam Napat: Indian Mythology
Sudarsana (सुदर्सण): A warrior on the Kaurava army.
(Source):
WikiPedia: Hinduism
According to the Bhaviṣya Purāṇa, the incarnation (birth) of the Sudarśana Cakra (as Nimbārka) occurred, in the month of Kārtika on the evening of the full moon in the year 3096 B.C.E., at the time when the grandson of Arjuna was on the throne.
(Source):
New World Encyclopedia: Nimbarka
In Buddhism
Mahayana (major branch of Buddhism)
1) Sudarśana (सुदर्शन) is the name of the city of the Trāyastriṃśa gods according to appendix 8 of the Mahāprajñāpāramitāśāstra (chapter XIV).—The Trāyastriṃśa gods with Śakra as king live in the city of Sudarśana on the summit of Mount Meru. This city has four parks:
Caitraratha,
Pāruṣya,
Miśra,
Nandana.
2) Sudarśana (सुदर्शन) is the name of a king belonging to the 'sun-king lineage' into which Buddha was previously born, mentioned in order to demonstrate the fearlessness of the Buddha according to the Mahāprajñāpāramitāśāstra chapter XL.1.4. Accordingly, "The Buddha himself from the very beginning has always taken birth in the lineage of noble cakravartin kings. He was born into the families of the lineage of 'sun kings': king K'ouai-kien (Sudarśana), etc. This is why he has no fear".
(Source): Wisdom Library: Maha Prajnaparamita Sastra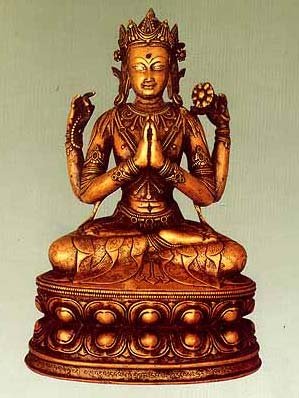 Mahayana (महायान, mahāyāna) is a major branch of Buddhism focusing on the path of a Bodhisattva (spiritual aspirants/ enlightened beings). Extant literature is vast and primarely composed in the Sanskrit language. There are many sūtras of which some of the earliest are the various Prajñāpāramitā sūtras.
General definition (in Buddhism)
1) Sudarśana (सुदर्शन) refers to the "beautiful mountain" and represents one of the "eight mountains" (parvata) as defined in the Dharma-saṃgraha (section 125). The Dharma-samgraha (Dharmasangraha) is an extensive glossary of Buddhist technical terms in Sanskrit (eg., sudarśana). The work is attributed to Nagarjuna who lived around the 2nd century A.D.
2) Sudarśana (सुदर्शन, "clear-sighted") refers one of the eighteen "gods of the form-realms" (rūpāvacaradeva) as defined in the Dharma-saṃgraha (section 128).
(Source): Wisdom Library: Dharma-samgraha
Arya Mahasudarshana (1400-1320 BCE) or Sudarshana was the disciple of Arya Krishna. He was the son of Darshana and Kshatriya by birth. He belonged to Bharukachcha. Taranatha mentions that Arya Sudarshana visited Hingalaj temple in modern Balochistan. He preached Buddha doctrine there and ensured that no flesh or blood offered to Hingalaj Devi. Taranatha also mentions that Sudarshana spread Buddha Doctrine in Maha-China. Thus, it appears that Buddhism entered China in a limited form for the first time in the 14 th century BCE.
(Source):
academia.edu: The Chronological History of Buddhism
In Jainism
General definition (in Jainism)
1) Sudarśana (सुदर्शन) is the father of Aranātha, the eighteenth of twenty-four Tīrthaṅkaras in Janism, according to the Ācāradinakara (14th century work on Jain conduct written by Vardhamāna Sūri). A Tīrthaṅkara is an enlightened being who has conquered saṃsāra (cycle of birth and death), leaving behind him a path for others to follow.
Sudarśana's wife is known as Devī, according to Śvetāmbara or Mitrā according to Digambara. It is an ancient Jain practice to worship the Tīrthaṅkara's parents in various rites, such as the pratiṣṭhāvidhi.
2) Sudarśana (सुदर्शन) refers to a species of Graiveyaka gods, who are in turn a subclass of the Kalpātīta gods, according to Jain cosmological texts in both the Śvetāmbara and Digambara tradition. The Kalpātīta (those born beyond heavens) represent a sub-species of the Vaimānika gods, which in turn represents the fourth main classification of devas (gods).
3a) Sudarśana (सुदर्शन) is the name of the fifth Baladeva according to both Śvetāmbara and Digambara sources. Jain legends describe nine such Baladevas ("gentle heroes") usually appearing together with their "violent" twin-brothers known as the Vāsudevas. The legends of these twin-heroes usually involve their antagonistic counterpart known as the Prativāsudevas (anti-heroes).
Sudarśana's mother is known as Vijayā, according to the Samavāyāṅga-sūtra, and their stories are related in texts such as the Triṣaṣṭiśalākāpuruṣacarita ("the lives of the sixty-three illustrious persons"), a twelfth-century Śvetāmbara work by Hemacandra.
3b) Sudarśanā (सुदर्शना) is mentioned as the mother of Suprabha: the fourth Baladeva according to both Śvetāmbara and Digambara sources.
(Source): Wisdom Library: Jainism
Sudarśana (सुदर्शन) or Sudarśana is a mountain in the centre of Jambūdvīpa: the tree enveloping the continent of Jambūdvīpa: the first continent of the Madhya-loka (middle-word), according to the 2nd-century Tattvārthasūtra 3.10.—The height of Sudarśana Mount is 100040 yojana. Sudarśana Mount has three regions in the form of terraces. The first terrace is 500 yojana from earth. The second region is 62500 yojana above the first terrace. The third terrace is 36000 yojana above the second terrace.
There are four forests (vana) on Sudarśana Mount. They are called Bhadraśāla, Nandanavana, Saumanasavana and Pāṃdukavana. The first forest lies at the foot of the mountain and the rest in its platform. How many Jina temples are there in the four forests? There are four Jina temples in four directions in each forest for a total of 16 temples on the mount.
(Source):
Encyclopedia of Jainism: Tattvartha Sutra 3: The Lower and middle worlds
Sudarśana (सुदर्शन) is one of the nine graiveyakas: a subclasses of kalpātītas (born beyond heaven), itself a division of empyrean celestial beings (vaimānika) according to the 2nd-century Tattvārthasūtra 4.19. The living beings residing in the vimānas are called the empyrean gods (vaimānika) and represents one of the four classes of Devas.
The nava-graiveyakas (eg., Sudarśana) are the three layered residences above the sixteenth heaven (kalpa) where Ahamindra deities reside. Which thought-colourations are there in Graivaiyaka, Anudiśa and Anuttara gods? They have pure white thought-colouration.
(Source):
Encyclopedia of Jainism: Tattvartha Sutra 4: The celestial beings (deva)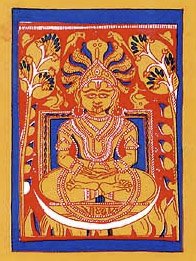 Jainism is an Indian religion of Dharma whose doctrine revolves around harmlessness (ahimsa) towards every living being. The two major branches (Digambara and Svetambara) of Jainism stimulate self-control (or, shramana, 'self-reliance') and spiritual development through a path of peace for the soul to progess to the ultimate goal.
India history and geogprahy
Sudarśana (सुदर्शन) is the name of a lake mentioned in the Gupta inscription No. 14. The Gupta empire (r. 3rd-century CE), founded by Śrī Gupta, covered much of ancient India and embraced the Dharmic religions such as Hinduism, Buddhism and Jainism. Sudarśana is the name of a lake situated at some distance from Girinagara as mentioned in the Junāgaṛh Rock Inscription of Rudradāman I (A.D. 150).
During the reign of Aśoka, Sudarśana was adorned with conduits, by the Yavana governor Tuṣāspha. The same lake was destroyed by the excessive floods in the Suvarṇasikatā, Palāśinī and other streams arising from the mountain Ūrjayat. The lake was immediately beatufied with repairs by king Rudradāman.
(Source):
archive.org: Personal and geographical names in the Gupta inscriptions
The history of India traces the identification of countries, villages, towns and other regions of India, as well as royal dynasties, rulers, tribes, local festivities and traditions and regional languages. Ancient India enjoyed religious freedom and encourages the path of Dharma, a concept common to Buddhism, Hinduism, and Jainism.
Languages of India and abroad
Marathi-English dictionary
sudarśana (सुदर्शन).—n m (S) The discus of Vishn̤u or Krishn̤a. 2 fig. n An encumbrance or a clog; a pressing and plaguing (person, business, burden, duty). 3 A slice or piece of the stone Shaligrama, bearing the mark of a discus. 4 The city of Indra.
--- OR ---
sudarśana (सुदर्शन).—a (S) Good-looking, of beautiful or handsome appearance.
(Source):
DDSA: The Molesworth Marathi and English Dictionary
Marathi is an Indo-European language having over 70 million native speakers people in (predominantly) Maharashtra India. Marathi, like many other Indo-Aryan languages, evolved from early forms of Prakrit, which itself is a subset of Sanskrit, one of the most ancient languages of the world.
Relevant definitions
Search found 559 related definition(s) that might help you understand this better. Below you will find the 15 most relevant articles:
| | | |
| --- | --- | --- |
| | | |
| Subhadra | | Subhadra (सुभद्र).—a. very happy or fortunate. -draḥ Name of Viṣṇu; साकं साकम्पमंसे वसति विदधती... |
| Sumeru | | Sumeru (सुमेरु) refers to the "excellent mountain" and represents one of the "eight mountains" ... |
| Darshana | | Darśana (दर्शन) refers to one of the eleven pratimās (eleven stages for becoming excellent śrāv... |
| Sukumara | | Sukumāra (सुकुमार).—a. 1) very delicate or soft, smooth. 2) beautifully young or youthful. (-ra... |
| Sumati | | Sumati (सुमति).—a. very wise. -tiḥ f.) Sumati is a Sanskrit compound consisting of the terms su... |
| Svagata | | 1) Svāgatā (स्वागता) refers to one of the 27 metres mentioned in Kṣemendra's Suvṛttatilaka. The... |
| Sugandha | | Sugandha (सुगन्ध).—1) fragrance, odour, perfume. 2) sulphur. 3) a trader. (-ndham) 1 sandal. 2)... |
| Subahu | | Subāhu (सुबाहु).—a. 1) handsomearmed. 2) strong-armed. -huḥ Name of a demon, brother of Mārīcha... |
| Surupa | | Surūpa (सुरूप) or Kurūpa is the name of a king of Benares according to the Avadānaśataka a... |
| Shu | | Śu (शु).—1 P. (śavati) To go; L. D. B.--- OR --- Śu (शु).—ind. Quickly, swiftly.See also (synon... |
| Sudanta | | Sudanta (सुदन्त).—1) a good tooth. 2) an actor; a dancer. -ntī the female elephant of the north... |
| Surata | | Sūrata (सूरत).—a.1) Kindly-disposed, compassionate, tender.2) Calm, tranquil.-tā A tractable co... |
| Sudhi | | Sudhī (सुधी).—a. having a good understanding, wise, clever, intelligent. -dhīḥ a wise or intell... |
| Sugandhi | | Sugandhi (सुगन्धि).—a. 1) sweet-smelling, fragrant, redolent with perfumes. 2) virtuous, pious.... |
| Svalpa | | Svalpa (स्वल्प).—a. [suṣṭhu alpaṃ prā° sa°] (compar. svalpīyas; superl. svalpiṣṭha)1) Very smal... |
Relevant text
Search found 37 books and stories containing Sudarshana, Su-darshana, Sudarsana or Sudarśana. You can also click to the full overview containing English textual excerpts. Below are direct links for the most relevant articles:
- Was this explanation helpful? Leave a comment:
Make this page a better place for research and define the term yourself in your own words.
You have to be a member in order to post comments.
Click here
to login or
click here
to become a member.