Sculptures in temples in Kumbakonam: photo 566
Photo 566 of 640 in Gallery: Sculptures in temples in Kumbakonam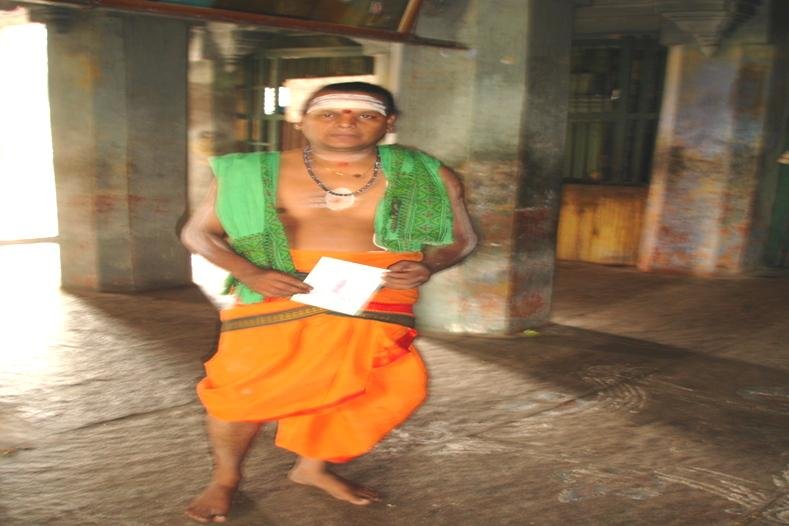 Image title: Figure 114. G. Ganesha Gurukkal
Interview with the Gurukkal at the Somesvarar temple
Name–G. Ganesha
Designation–Gurukkal
1. What is your name?
A. My name is G. Ganesha Gurukkal.
2. How many entrances are there to this temple?
A. This temple had four entrances. One entrance was closed 40–50 years back since the Vaisnavite and Saivite temples were adjacent to each other.
3. Which side does Svami (Siva Linga [Lingam]) face?
A. Svami is east facing.
4. Who built this temple and how long back?
A. This temple is known to have been built before the Cholas. Two temples which arose during the Pralaya include the Nagesvarar where the Sun god or Surya is known to have worshipped the Lord and Somesvarar where Candra is known to have worshipped the Lord.
5. What is the name of Siva in the temple?
A. The Lord is called Sikkesvarar and Ambal is Tenarmoli. Since Siva was worshipped by Candra it is called Somesvarar and since Guru Bhagvan was also graced he is also called Vyala Somesvarar.
6. How many times a day is Puja done to the Lord?
A. Puja is done four times in a day–
Kala Sandhi Puja–between 8.30 am–9.00 am
Ucci Kala Puja–at 12 pm
Sayarakse Puja–at 6.00 pm
Ardhajama Puja–between 8.30 and 9.00 pm
7. Who are the Utsava Murtis in the temple?
A. Swami Somaskandar and Ambal form the Utsava Murtis
8. What are the various Utsavams celebrated here?
A. There is a ten day festival during Dussehra and Navaratri during which Adipura Ambal is taken in procession. Then during Karttikai, Murugan is taken. During Arudra Darsanam, Nataraja is taken in procession. During Masi Maham, Svami and Ambal are carried in procession.
9. How many hands does Somaskandar have?
A. He is Caturbhujam. Main right and left hands are in Abhaya and Suci respectively. The upper right hand holds the Parasu. The second left hand is holding Man or deer.
10. How many hands does Adipura Ambal have?
A. She is also Caturbhujam. Front right and left hands are in Abhaya and
Varada. The back right and left hands are holding Aksamala and Padma.
11. What does Nartana Ganapati hold in his hands?
A. Nartana Ganpati is also Caturbhujam. He is holding Abhaya and Varada in his main right and left hands. In the back hands he is holding Pasa and Gada or mace. Kalyana Vinayaka idol is prayed to for removing obstacles in marriages.
12. What about Sanmukhar?
A. Sanmukha has six faces and twelve hands. During Kartikai there is Jatari for Murugan.The main right and left hands of Sanmukhar is in Abhaya and Varada. Rest of his hands are holding Ayudhams for Surasamharam. He is riding a peacock.
13. Can you give some information about Ardhanarisvara Vigraha which is there?
A. Svami and Ambal are joined with each other to form Ardhanarisvara. Ambal is on left side of Svami. On the right side Siva's one right hand is on Nandi and the other hand is holding Ankusa. On the left side Ambal has only one hand which is holding Padma.The other hand cannot be seen. On the back side of Nandi is Singham [Singha] which is not visible and which is the Vahana of Ambal
Gallery information:
Kumbakonam is considered as one of the holiest places in Tamil Nadu and is known for its temples and Mathas (monasteries which were centres of Brahmanical learning). These photographs depict the connection between the sculptures in the temples and Natya Shastra and related texts dealing with iconography.