Pradhana, aka: Pradhāna; 8 Definition(s)
Introduction
Pradhana means something in Hinduism, Sanskrit, the history of ancient India, Marathi. If you want to know the exact meaning, history, etymology or English translation of this term then check out the descriptions on this page. Add your comment or reference to a book if you want to contribute to this summary article.
In Hinduism
Purana and Itihasa (epic history)
Pradhāna (प्रधान).—An ancient Rajarṣi. A learned woman named Sulabhā was born in his family and king Janaka conducted scholarly discussions with her. (Śloka 184, Chapter 320, Śānti Parva).
Source
:
archive.org: Puranic Encyclopaedia
1a) Pradhāna (प्रधान).—An ananta and avyayātma; covers the mahat.*
* Brahmāṇḍa-purāṇa II. 21. 28; III. 43. 4; IV. 4. 12 and 20.
1b) (Māyā, Vāyu-purāṇa) a term for Prakṛti; with vikāra results in mahat-tatva.*
* Brahmāṇḍa-purāṇa I. 1. 88 and 93; 3. 9; 5. 103; Vāyu-purāṇa 103. 12, 21, 36. Matsya-purāṇa 3. 15, 17; 60. 3; Vāyu-purāṇa 4. 19; 23. 56; 24. 66. Viṣṇu-purāṇa I. 2. 15-16.
Source
:
Cologne Digital Sanskrit Dictionaries: The Purana Index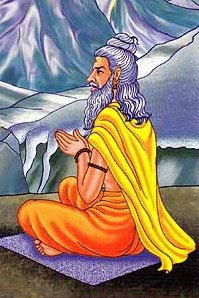 The Purana (पुराण, purāṇas) refers to Sanskrit literature preserving ancient India's vast cultural history, including historical legends, religious ceremonies, various arts and sciences. The eighteen mahapuranas total over 400,000 shlokas (metrical couplets) and date to at least several centuries BCE.
Vyakarana (Sanskrit grammar)
1) Pradhāna (प्रधान).—The principal thing as opposed to the subordinate one; something which has got an independent purpose of its own and is not meant for another; प्रधानमुपसर्जनमिति च संबन्धिशब्दावेतौ (pradhānamupasarjanamiti ca saṃbandhiśabdāvetau) M.Bh. on P. I.2.43 V.5; cf. also प्रधानाप्रधानयोः प्रधाने कार्य-संप्रत्ययः (pradhānāpradhānayoḥ pradhāne kārya-saṃpratyayaḥ) Par. Sek. Pari. 97;
2) Pradhāna.—Predominant of main importance; cf. पूर्वपदार्थप्रधानोव्ययीभावः (pūrvapadārthapradhānovyayībhāvaḥ) etc. M. Bh. on II. 1.6, 20, 49 II.2.6 etc;
3) Pradhāna.—Primary as opposed to secondary; cf. गौणे कर्मणि दुह्यादेः प्रधाने नीहृकृष्वहाम् । (gauṇe karmaṇi duhyādeḥ pradhāne nīhṛkṛṣvahām |) cf. also प्रधानकर्मण्याख्येये लादीनाहुर्द्विकर्मणाम् । अप्रधाने दुहादीनाम् (pradhānakarmaṇyākhyeye lādīnāhurdvikarmaṇām | apradhāne duhādīnām) M.Bh.on I.4.51
Source
:
Wikisource: A dictionary of Sanskrit grammar
Vyakarana (व्याकरण, vyākaraṇa) refers to Sanskrit grammar and represents one of the six additional sciences (vedanga) to be studied along with the Vedas. Vyakarana concerns itself with the rules of Sanskrit grammar and linguistic analysis in order to establish the correct context of words and sentences.
India history and geogprahy
Pradhāna.—(SII 1; HD; BL), an official designation some- times indicating the chief minister or administrator also called Pradhāna-saciva (EI 23); cf. pañca-Pradhānāḥ (EI 5) 'the five ministers'. See Ind. Ant., Vol. IX, p. 35 where Mantrin, Amātya and Pradhāna are separately mentioned. Note: pradhāna is defined in the "Indian epigraphical glossary" as it can be found on ancient inscriptions commonly written in Sanskrit, Prakrit or Dravidian languages.
Source
:
Cologne Digital Sanskrit Dictionaries: Indian Epigraphical Glossary
The history of India traces the identification of countries, villages, towns and other regions of India, as well as royal dynasties, rulers, tribes, local festivities and traditions and regional languages. Ancient India enjoyed religious freedom and encourages the path of Dharma, a concept common to Buddhism, Hinduism, and Jainism.
Languages of India and abroad
Marathi-English dictionary
pradhāna (प्रधान).—m (S) A minister; a counselor; the first attendant of a king. 2 n Nature; whether the natural state of a thing, or the cause of the material world.
--- OR ---
pradhāna (प्रधान).—a (S) Chief, main, principal. 2 Prevalent or' preponderant (in, among, amidst): also (in comp.) inhering or being in principally or prevalently. Ex. kāṃhīṃ vṛkṣa phalapradhāna asatāta kāṃhīṃ puṣpa- pradhāna kāṃhīṃ patrapradhāna; tyā haridāsācī kathā gāna- pradhāna āhē.
Source
:
DDSA: The Molesworth Marathi and English Dictionary
pradhāna (प्रधान).—m A minister. n Nature. a Chief. Prevalent.
Source
:
DDSA: The Aryabhusan school dictionary, Marathi-English
Marathi is an Indo-European language having over 70 million native speakers people in (predominantly) Maharashtra India. Marathi, like many other Indo-Aryan languages, evolved from early forms of Prakrit, which itself is a subset of Sanskrit, one of the most ancient languages of the world.
Sanskrit-English dictionary
Pradhana (प्रधन).—
1) A battle, fight, war, contest; प्रहितः प्रधनाय माधवानहमाकारयितुं महीभृता (prahitaḥ pradhanāya mādhavānahamākārayituṃ mahībhṛtā) Śi.16.52; क्षेत्रं क्षत्रप्रधनपिशुनं कौरवं तद्भजेथाः (kṣetraṃ kṣatrapradhanapiśunaṃ kauravaṃ tadbhajethāḥ) Me.5; R.11.77; Mv.6.33; U.5.1.
2) Spoil taken in battle.
3) Destruction.
4) Tearing, rending.
Derivable forms: pradhanam (प्रधनम्).
--- OR ---
Pradhāna (प्रधान).—a.
1) Chief, principal, pre-eminent, main, best, most excellent; as in; प्रधानामात्य, प्रधानपुरुष (pradhānāmātya, pradhānapuruṣa) &c.; रत्नैश्च पूजयेदेनं प्रधानपुरुषैः सह (ratnaiśca pūjayedenaṃ pradhānapuruṣaiḥ saha) Ms.7.23; प्रधानफलं वा आनुषङ्गिकं वा सर्वमेव आधातरि समवेतुमर्हति (pradhānaphalaṃ vā ānuṣaṅgikaṃ vā sarvameva ādhātari samavetumarhati) ŚB. on. MS.6.2.1; 'यस्मिन् कुले यः पुरुषः प्रधानः स सर्वयत्नेन हि रक्षणीयः (yasmin kule yaḥ puruṣaḥ pradhānaḥ sa sarvayatnena hi rakṣaṇīyaḥ)'.
2) Principally inherent, prevalent, predominant.
-nam 1 The chief thing or object, most important thing; head, chief; न परिचयो मलिनात्मनां प्रधानम् (na paricayo malinātmanāṃ pradhānam) Śi.7.61; G. L.18; प्रयोगप्रधानं हि नाट्यशास्त्रम् (prayogapradhānaṃ hi nāṭyaśāstram) M.1; शमप्रधानेषु तपो- धनेषु (śamapradhāneṣu tapo- dhaneṣu) Ś.2.7; गुणैश्च तैस्तैर्विनयप्रधानैः (guṇaiśca taistairvinayapradhānaiḥ) R.6.79.
2) The first evolver, originator, or source of the material world, the primary germ out of which all material appearances are evolved, according to Sāṅkhya philosophy; न पुनरपि प्रधानवादी अशब्दत्वं प्रधानस्या सिद्धमित्याह (na punarapi pradhānavādī aśabdatvaṃ pradhānasyā siddhamityāha) Ś. B.; see प्रकृति (prakṛti) also; प्रधानक्षेत्रज्ञपतिर्गुणेशः (pradhānakṣetrajñapatirguṇeśaḥ) Śvet. Up.6.16; एतस्याद्या प्रवृत्तिस्तु प्रधानात् संप्रवर्तते (etasyādyā pravṛttistu pradhānāt saṃpravartate) Mb.12.25.25.
3) The Supreme Spirit.
4) Intellect, understanding; एको मयेह भगवान् विबुधप्रधानैश्चित्तीकृतः प्रजननाय कथं नु यूयम् (eko mayeha bhagavān vibudhapradhānaiścittīkṛtaḥ prajananāya kathaṃ nu yūyam) Bhāg.4.1.28.
5) The principal member of a compound.
-naḥ, -nam 1 The principal attendant or companion of a king (his minister or confidant).
2) A noble, courtier.
3) An elephant-driver.
4) The commander-in-chief.
Source
:
DDSA: The practical Sanskrit-English dictionary
Sanskrit, also spelled संस्कृतम् (saṃskṛtam), is an ancient language of India commonly seen as the grandmother of the Indo-European language family. Closely allied with Prakrit and Pali, Sanskrit is more exhaustive in both grammar and terms and has the most extensive collection of literature in the world, greatly surpassing its sister-languages Greek and Latin.
Relevant definitions
Search found 114 related definition(s) that might help you understand this better. Below you will find the 15 most relevant articles:
| | | |
| --- | --- | --- |
| | | |
| Ashtapradhana | | Aṣṭapradhānā (अष्टप्रधाना).—वैद्य, उपाध्याय, सचिव, मन्त्री, प्रतिनिधि, राजाध्यक्ष, प्रधान (vaid... |
| Pradhanatattva | | Pradhana-tattva: Also known as Prakrti-tattva, it represents that aspect of the Soul which, ... |
| Pradhananga | | Pradhānāṅga (प्रधानाङ्ग).—n. (-ṅgaṃ) The chief member of the body, the chief person of a state,... |
| Pradhanadhatu | | Pradhānadhātu (प्रधानधातु).—m. (-tuḥ) Semen virile. E. pradhāna principal, and dhātu radical pa... |
| Pradhanashishta | | Pradhānaśiṣṭa (प्रधानशिष्ट).—a. taught or prescribed as of primary importance. Pradhānaśiṣṭa is... |
| Samyakpradhana | | Samyak-pradhāna.—cf. sammappadhāna (EI 5), Buddhist; four in number. Note: samyak-pradhāna is d... |
| Pradhanapurusha | | Pradhānapuruṣa (प्रधानपुरुष).—m. (-ṣaḥ) 1. The most distinguished personage. 2. An epithet of S... |
| Pradhanamatya | | Pradhānāmātya (प्रधानामात्य).—m. (-tyaḥ) Prime minister. E. pradhāna, and amātya minister. |
| Pradhanavrishti | | Pradhānavṛṣṭi (प्रधानवृष्टि).—f. (-ṣṭiḥ) Heaviest rain. |
| Mahapradhana | | Mahāprādhana (महाप्राधन, "chief minister") is an official title designating one of the seventy-... |
| Pradhana-karma | | Pradhāna-karma is a medical term used in Ayurveda meaning "principal therapeutical or s... |
| Dharmapradhana | | Dharmapradhāna (धर्मप्रधान).—a. eminent in piety; धर्मप्रधानं पुरुषं तपसा हतकिल्बिषम् (dharmapr... |
| Pura-pradhana | | Pura-pradhāna.—(CII 4), mayor of a city; cf. Purapati, Puraśreṣṭhin, Nagara-śreṣṭhin, Purillaka... |
| Hegadi Pradhana | | hēgaḍī pradhāna (हेगडी प्रधान).—n A term for the pradhāna or minister of mallāri q. v. Hence, a... |
| Pradhanavadin | | Pradhānavādin (प्रधानवादिन्).—m. one who asserts the Sāṅkhya doctrine (of pradhāna). Pradhānavā... |
Relevant text
Search found 51 books and stories containing Pradhana or Pradhāna. You can also click to the full overview containing English textual excerpts. Below are direct links for the most relevant articles: