Stha, Sthā, Shtha: 11 definitions
Introduction
Stha means something in Buddhism, Pali, Hinduism, Sanskrit, the history of ancient India, Marathi. If you want to know the exact meaning, history, etymology or English translation of this term then check out the descriptions on this page. Add your comment or reference to a book if you want to contribute to this summary article.
In Hinduism
Vastushastra (architecture)
Source
:
McGill: The architectural theory of the Mānasāra
Sthā (स्था, "to stand"), in its causative form, as in sthāpayati, "he causes ta stand", assumes meanings that are emphatically architectural: "to place, locate, erect, build, establish". The sense of sthapati as master of building operations (master-builder) derives from this causative of √sthā, the term pati meaning "lord, master". Again, from the causative of √sthā derives the noun sthāpana, "causing ta stand, erecting, establishing". Similarly, the noun sthāpaka is also derived from the causative of √sthā and specifies the agent of the action.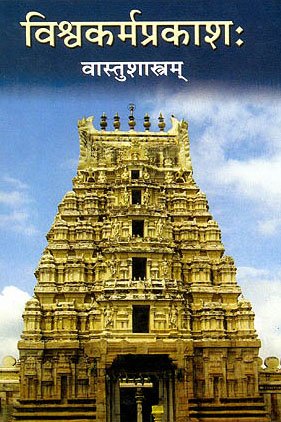 Vastushastra (वास्तुशास्त्र, vāstuśāstra) refers to the ancient Indian science (shastra) of architecture (vastu), dealing with topics such architecture, sculpture, town-building, fort building and various other constructions. Vastu also deals with the philosophy of the architectural relation with the cosmic universe.
Vyakarana (Sanskrit grammar)
Source
:
Wikisource: A dictionary of Sanskrit grammar
Stha (स्थ).—Based upon; the word is peculiarly used in the Pratisakhya works in the sense of 'based on' 'belonging to' or 'made up of'; cf. अस्थनामिनीं सन्ध्यम् (asthanāminīṃ sandhyam), R. T. 91 , so also cf. वं नैगि उस्थे (vaṃ naigi usthe) R. T. 162.
Vyakarana (व्याकरण, vyākaraṇa) refers to Sanskrit grammar and represents one of the six additional sciences (vedanga) to be studied along with the Vedas. Vyakarana concerns itself with the rules of Sanskrit grammar and linguistic analysis in order to establish the correct context of words and sentences.
In Buddhism
Tibetan Buddhism (Vajrayana or tantric Buddhism)
Source
:
academia.edu: A Critical Study of the Vajraḍākamahātantrarāja (II)
Stha (स्थ) is the name of a Vākchomā ('verbal secrect sign') which has its meaning defined as 'sthiti' according to chapter 8 of the 9th-century Vajraḍākamahātantrarāja, a scripture belonging to the Buddhist Cakrasaṃvara (or Saṃvara) scriptural cycle. These Vākchomās (viz., stha) are meant for verbal communication and can be regarded as popular signs, since they can be found in the three biggest works of the Cakrasaṃvara literature.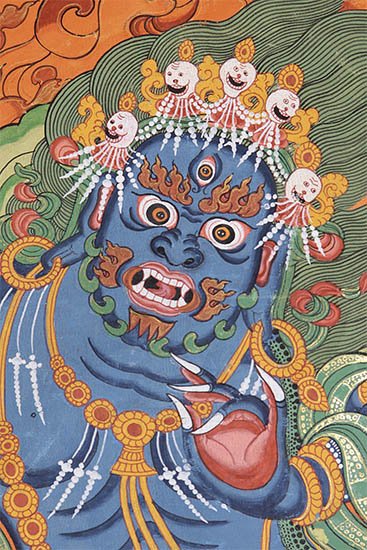 Tibetan Buddhism includes schools such as Nyingma, Kadampa, Kagyu and Gelug. Their primary canon of literature is divided in two broad categories: The Kangyur, which consists of Buddha's words, and the Tengyur, which includes commentaries from various sources. Esotericism and tantra techniques (vajrayāna) are collected indepently.
India history and geogprahy
Source
:
Cologne Digital Sanskrit Dictionaries: Indian Epigraphical Glossary
Sthā.—cf. paratra sthāpayitvā (LP), 'by laying it out at in- terest'; yaṣṭi-pratiṣṭhāpanaṃ sthāpayitvā, 'besides raising the pillar' (Select Inscriptions, p. 136). See sthāpayitvā. Note: sthā is defined in the "Indian epigraphical glossary" as it can be found on ancient inscriptions commonly written in Sanskrit, Prakrit or Dravidian languages.
The history of India traces the identification of countries, villages, towns and other regions of India, as well as royal dynasties, rulers, tribes, local festivities and traditions and regional languages. Ancient India enjoyed religious freedom and encourages the path of Dharma, a concept common to Buddhism, Hinduism, and Jainism.
Languages of India and abroad
Marathi-English dictionary
Source
:
DDSA: The Molesworth Marathi and English Dictionary
stha (स्थ).—a (S) That stands, stays, rests, abides. In comp. as garbhastha, mārgastha, janmastha, pātrastha, ad libitum.
Source
:
DDSA: The Aryabhusan school dictionary, Marathi-English
stha (स्थ).—or-stha a Belonging to another (village or country &c.). Strange a- like to both parties; impartial.
--- OR ---
stha (स्थ).—a That stands, stays, abides, as in comp. madhyastha, mārgastha.
Marathi is an Indo-European language having over 70 million native speakers people in (predominantly) Maharashtra India. Marathi, like many other Indo-Aryan languages, evolved from early forms of Prakrit, which itself is a subset of Sanskrit, one of the most ancient languages of the world.
Sanskrit-English dictionary
Source
:
DDSA: The practical Sanskrit-English dictionary
Sthā (स्था).—1 P. (Ātm. also in certain senses; tiṣṭhatite, tasthau, tasthe, asthāt-asthita, sthāsyati-te, sthātuṃ, sthita; pass. sthīyate; the s of this root is changed to ṣ after a pre position ending in i or u)
1) To stand; अयं स ते तिष्ठति संगमोत्सुकः (ayaṃ sa te tiṣṭhati saṃgamotsukaḥ) Ś.3.13; चलत्येकेन पादेन तिष्ठत्येकेन बुद्धिमान् (calatyekena pādena tiṣṭhatyekena buddhimān) Subhāṣ
2) To stay, abide, dwell, live; ग्रामे (grāme) or गृहे तिष्ठति (gṛhe tiṣṭhati)
3) To remain, be left; यावदेकानुदिष्टस्य गन्धो लेपश्च तिष्ठति (yāvadekānudiṣṭasya gandho lepaśca tiṣṭhati). Ms.4.111; एको गङ्गदत्तस्तिष्ठति (eko gaṅgadattastiṣṭhati) Pt.4.
2) To delay, wait; किमिति स्थीयते (kimiti sthīyate) Ś.2.
5) To stop, cease, desist, stand still; तिष्ठत्येष क्षणमधिपतिर्ज्योतिषां व्योममध्ये (tiṣṭhatyeṣa kṣaṇamadhipatirjyotiṣāṃ vyomamadhye) V.2.1.
6) To be kept aside; तिष्ठतु तावत् पत्रलेखागमनवृत्तान्तः (tiṣṭhatu tāvat patralekhāgamanavṛttāntaḥ) K. 'never mind the account of' &c.
7) To be, exist, be in any state or position; often with participles; मेरौ स्थिते दोग्धरि दोहदक्षे (merau sthite dogdhari dohadakṣe) Ku.1.2; व्याप्य स्थितं रोदसी (vyāpya sthitaṃ rodasī) V.1.1; या स्थिता व्याप्य विश्वं (yā sthitā vyāpya viśvaṃ) Ś.1.1; कालं नयमाना तिष्ठति (kālaṃ nayamānā tiṣṭhati) Pt.1; Ms.7.8.
8) To abide by, conform to, obey (with loc.); शासने तिष्ठ भर्तुः (śāsane tiṣṭha bhartuḥ) V.5. 17. R.11.65.
9) To be restrained; यदि ते तु न तिष्ठेयुरुपायैः प्रथमैस्त्रिभिः (yadi te tu na tiṣṭheyurupāyaiḥ prathamaistribhiḥ) Ms.7.18.
1) To be at hand, be obtainable; न विप्रं स्वेषु तिष्ठत्सु मृतं शूद्रेण नाययेत् (na vipraṃ sveṣu tiṣṭhatsu mṛtaṃ śūdreṇa nāyayet) Ms.5.14.
11) To live, breathe; आः क एष मयि स्थिते चन्द्रगुप्तमभिभवितु- मिच्छति (āḥ ka eṣa mayi sthite candraguptamabhibhavitu- micchati) Mu.1.
12) To stand by or near, stand at one's side, help; उत्सवे व्यसने चैव दुर्भिक्षे शत्रुसंकटे (utsave vyasane caiva durbhikṣe śatrusaṃkaṭe) (rāṣṭraviplave) । राज- द्वारे श्मशाने च यस्तिष्ठति स बान्धवः (| rāja- dvāre śmaśāne ca yastiṣṭhati sa bāndhavaḥ) || H.1.71 (v. l.).
13) To rest or depend on; जहातु नैनं कथमर्थसिद्धिः संशय्य कर्णादिषु तिष्ठते यः (jahātu nainaṃ kathamarthasiddhiḥ saṃśayya karṇādiṣu tiṣṭhate yaḥ) Ki.3.14.
14) To do, perform, occupy oneself with; न तिष्ठति तु यः पूर्वां नोपास्ते यश्च पश्चिमाम् (na tiṣṭhati tu yaḥ pūrvāṃ nopāste yaśca paścimām) Ms.2.13.
15) (Ātm.) To resort or go to (as an umpire), be guided by the advice of; संशय्य कर्णादिषु तिष्ठते यः (saṃśayya karṇādiṣu tiṣṭhate yaḥ) Ki.3.14.
16) (Ātm.) To offer oneself to (for sexual embrace), stand as a prostitute (with dat.); गोपी स्मरात् कृष्णाय तिष्ठते (gopī smarāt kṛṣṇāya tiṣṭhate) Sk. on P.I.4.34. -Caus. (sthāpayati-te)
1) To cause to stand.
2) To lay, set, place, put.
3) To found, establish.
4) To stop.
5) To arrest, check.
6) To raise, erect.
7) To cause to last or continue, make durable.
8) To give in marriage; लोकश्रेष्ठे गुणवति वरे स्थापिता त्वं मयैव (lokaśreṣṭhe guṇavati vare sthāpitā tvaṃ mayaiva) Māl.1.5.
9) To instruct in, initiate into. -Desid. (tiṣṭhāsati) To wish to stand &c.
--- OR ---
Stha (स्थ).—a. (At the end of comp.)
1) Standing, staying, abiding, being, existing &.c.; तत्रस्थ, अङ्कस्थ, प्रकृतिस्थ, तटस्थ (tatrastha, aṅkastha, prakṛtistha, taṭastha) q. q. v. v.
2) Immovable (sthāvara); सृज्यन्ते जङ्गम- स्थानि (sṛjyante jaṅgama- sthāni) Mb.12.232.39.
-sthaḥ A place, spot.
Source
:
Cologne Digital Sanskrit Dictionaries: Shabda-Sagara Sanskrit-English Dictionary
Ṣṭhā (ष्ठा).—r. 1st cl. (tiṣṭhati) To stand, to stop, to be still, to refrain from moving. 2. To abide, to stay, to be. 3. To remain. 4. To be at hand. 5. To stand by. 6. To rest on. 7. To be in any situation. 8. To perform. (tiṣṭhate) 1. To apply or refer to, as an umpire or judge. 2. To indicate or reveal one's thoughts to another. 3. To stand as a prostitute, to give oneself up to sexual embrace, to offer oneself to. With adhi prefixed, (adhitiṣṭhati) 1. To excel, to surpass, to overcome. 2. To sit or stand upon or over. 3. To be placed or preside over. With anu, (anutiṣṭhati) 1. To practise as a duty, to obey or follow as a law. 2. To apply or adhere to. With ava, (avatiṣṭhati-te) 1. To stay or stand. 2. To attend upon. With āṅ, (ātiṣṭhate) 1. To affirm or assert. 2. To apply. (ātiṣṭhati) 1. To ascend, to mount. 2. To promise or engage. With ut, (uttiṣṭhate) 1. To seek for, to endeavour, to obtain; (uttiṣṭhati) To get up, to rise as from a seat, &c. With upa, (upatiṣṭhati-te) 1. To propitiate, (as a deity.) 2. To praise or hymn, to worship, to adore. 3. To embrace. 4. To treat in a friendly manner, to form a friendship or con- nection with. 5. To pass or lie along or near to, that is, as a path or road. 6. To arrive at or near. (upatiṣṭhate) To hope to gain or acquire. With ni, (nitiṣṭhate) To be established. With pari and ava, (paryavatiṣṭhate) To be stationary or immovable. With pra, (pratiṣṭhate) To set off, to go forth, to depart. 2. To go to. With pra and ut, (prottiṣṭhati) To get up, to rise. With prati, (pratitiṣṭhati) To be erected for holy purposes, to be sacred or consecrated. With vi, (vitiṣṭhate) 1. To stand apart, to be separated. 2. To stay or be. With vi and ava, (vyavatiṣṭhate) To decree, to pronounce. With sam, (santiṣṭhate) 1. To be well. 2. To be close to or together. 3. To be of the same inclinations or opinions, to conform, to agree. 4. To be completed or finished. With sam and āṅ, (samātiṣṭhate) To perform, to be engaged in. With sam and ut, (samuttiṣṭhati) To rise orget up. With sam and pra, To go forth or on a journey. With pra in the causal, (prasthāpayati-te) To send.
--- OR ---
Stha (स्थ).—mfn.
(-sthaḥ-sthā-sthaṃ) Staying, abiding, what or who is or stays. E. ṣṭhā to stay or stand, aff. ka; this deriv. most usually occurs in composition.
Sanskrit, also spelled संस्कृतम् (saṃskṛtam), is an ancient language of India commonly seen as the grandmother of the Indo-European language family. Closely allied with Prakrit and Pali, Sanskrit is more exhaustive in both grammar and terms and has the most extensive collection of literature in the world, greatly surpassing its sister-languages Greek and Latin.
See also (Relevant definitions)
Starts with (+300): Shthas, Sthag, Sthaga, Sthagala, Sthagana, Sthagara, Sthagayitavya, Sthagi, Sthagika, Sthagita, Sthagu, Sthairya, Sthairyaja, Sthairyakrit, Sthairyasthaman, Sthairyavat, Sthairyavattva, Sthairyya, Sthajiravati, Sthakara.
Ends with (+950): Abalishtha, Abhirupabhuyishtha, Abhistha, Abhuyishtha, Abhyantaroshtha, Abhyupastha, Abhyutstha, Acalashreshtha, Adashamistha, Adeshastha, Adhahstha, Adharaushtha, Adharmishtha, Adharmmishtha, Adharoshtha, Adharshtha, Adhikarastha, Adhishtha, Adhvarastha, Adyavastha.
Full-text (+818): Ekastha, Akashastha, Hastastha, Bhumistha, Nagarastha, Samadhistha, Vrittastha, Samshayastha, Atishtha, Dvishtha, Kayastha, Garbhastha, Vishamastha, Prasthavati, Prasthavat, Anuvistha, Adhahstha, Punjishtha, Madhyameshtha, Samabhishtha.
Relevant text
Search found 26 books and stories containing Stha, Sthā, Shtha, Ṣṭhā; (plurals include: Sthas, Sthās, Shthas, Ṣṭhās). You can also click to the full overview containing English textual excerpts. Below are direct links for the most relevant articles: