Man, Mān, Maṇ: 10 definitions
Introduction
Man means something in Hinduism, Sanskrit, the history of ancient India, Marathi. If you want to know the exact meaning, history, etymology or English translation of this term then check out the descriptions on this page. Add your comment or reference to a book if you want to contribute to this summary article.
Images (photo gallery)
(+9 more images available)
In Hinduism
Vyakarana (Sanskrit grammar)
Source
:
Wikisource: A dictionary of Sanskrit grammar
Maṇ (मण्).—tad. affix म (ma), causing vṛddhi for the word मध्य (madhya), in the sense of 'present therein' (तत्र भवः (tatra bhavaḥ)); e.g. माध्यमः (mādhyamaḥ); cf. मण्मीयौ चापि प्रत्ययौ (maṇmīyau cāpi pratyayau), P.IV. 3.60 Vārt. 2.
--- OR ---
1) Man (मन्).—The affix मनिन् (manin) generally found in Vedic Literature added to roots ending in आ (ā) and preceded by a noun; e.g. सुदामा, अश्वत्थामा (sudāmā, aśvatthāmā); cf. आतो मनिन्कनिब्वनिपश्च (āto maninkanibvanipaśca) P.III.2.74,75;
2) Man.—Uṇādi affix in ओद्म (odma); cf. औद्म इति उन्देरौणादिके मन्प्रत्यये नलोपो गुणश्च निपात्यते (audma iti underauṇādike manpratyaye nalopo guṇaśca nipātyate) Kāś. on P. VI.4.29.
Vyakarana (व्याकरण, vyākaraṇa) refers to Sanskrit grammar and represents one of the six additional sciences (vedanga) to be studied along with the Vedas. Vyakarana concerns itself with the rules of Sanskrit grammar and linguistic analysis in order to establish the correct context of words and sentences.
Shilpashastra (iconography)
Source
:
Shodhganga: The significance of the mūla-beras (śilpa)
Mān ("deer") refers to a type of animal form, representing one of the several "attributes" (āyudha) or "accessories" of a detiy commonly seen depicted in Hindu iconography, defined according to texts dealing with śilpa (arts and crafs), known as śilpaśāstras.—The śilpa texts have classified the various accessories under the broad heading of āyudha or karuvi (implement), including even flowers, animals, and musical instruments. The animals and birds found as vehicles for the deities or held as attributes or weapons in the hands of the deities are, for example, Mān.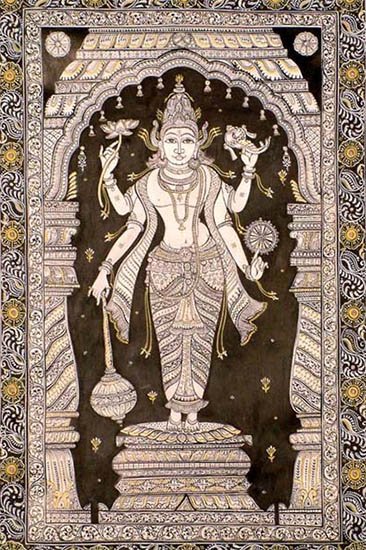 Shilpashastra (शिल्पशास्त्र, śilpaśāstra) represents the ancient Indian science (shastra) of creative arts (shilpa) such as sculpture, iconography and painting. Closely related to Vastushastra (architecture), they often share the same literature.
India history and geogprahy
Source
:
Cologne Digital Sanskrit Dictionaries: Indian Epigraphical Glossary
Man.—cf. mānayitvā (LP) 'having accepted'; cf. Gujarātī mānine. Note: man is defined in the "Indian epigraphical glossary" as it can be found on ancient inscriptions commonly written in Sanskrit, Prakrit or Dravidian languages.
The history of India traces the identification of countries, villages, towns and other regions of India, as well as royal dynasties, rulers, tribes, local festivities and traditions and regional languages. Ancient India enjoyed religious freedom and encourages the path of Dharma, a concept common to Buddhism, Hinduism, and Jainism.
Languages of India and abroad
Marathi-English dictionary
Source
:
DDSA: The Molesworth Marathi and English Dictionary
mān (मान्).—(m f n) A Sanskrit affix to nouns ending otherwise than in a or ā, or in a consonant of which the inherent short vowel is dropped; forming them into attributives. Ex. buddhimān, śaktimān. This affix therefore supplies the deficient power of the affix vān q. v. Note. This affix, although its forms in gender are given above, is, in Maraṭhi, seldom declined.
Source
:
DDSA: The Aryabhusan school dictionary, Marathi-English
mān (मान्).—m A Sanskrit affix to nouns showing possession, as śaktimān, buddhimān.
Marathi is an Indo-European language having over 70 million native speakers people in (predominantly) Maharashtra India. Marathi, like many other Indo-Aryan languages, evolved from early forms of Prakrit, which itself is a subset of Sanskrit, one of the most ancient languages of the world.
Sanskrit-English dictionary
Source
:
DDSA: The practical Sanskrit-English dictionary
Maṇ (मण्).—1 P. (maṇati) To sound, murmur.
--- OR ---
Man (मन्).—I. 1 P. (manati)
1) To be proud.
2) To worship. -II. 1 Ā. (mānayate)
1) To be proud.
2) To stop, to obstruct; L. D. B. -III. 4, 8 Ā. (manyate, manute, mene, amaṃsta, maṃsyate, mantum, mata)
1) To think, believe, suppose, imagine, fancy, conceive; अङ्कं केऽपि शशङ्किरे जलनिधेः पङ्कं परे मेनिरे (aṅkaṃ ke'pi śaśaṅkire jalanidheḥ paṅkaṃ pare menire) Subhāṣ; वत्स मन्ये कुमारेणानेन जृम्भकास्त्रमामन्त्रितम् (vatsa manye kumāreṇānena jṛmbhakāstramāmantritam) U.5; कथं भवान् मन्यते (kathaṃ bhavān manyate) 'what is your opinion' ?
2) To consider, regard, deem, look upon, take (one) for, take to be; समीभूता दृष्टिस्त्रिभुवनमपि ब्रह्म मनुते (samībhūtā dṛṣṭistribhuvanamapi brahma manute) Bh.3.84; अमंस्त चानेन परार्ध्यजन्मना स्थितेरभेत्ता स्थितिमन्तमन्वयम् (amaṃsta cānena parārdhyajanmanā sthiterabhettā sthitimantamanvayam) R.3.27; 1.32;6.84; नित्यं वा मन्यसे मृतम् (nityaṃ vā manyase mṛtam) Bg.2.26,35; Bk.9.117; स्तनविनिहितमपि हारमुदारम् । सा मनुते कृशतनुरिव भारम् (stanavinihitamapi hāramudāram | sā manute kṛśatanuriva bhāram) Gīt.4.
3) To honour, respect, value, esteem, think highly of, prize; यस्यानुषङ्गिण इमे भुवनाधिपत्यभोगादयः कृपणलोकमता भवन्ति (yasyānuṣaṅgiṇa ime bhuvanādhipatyabhogādayaḥ kṛpaṇalokamatā bhavanti) Bh.3.76.
4) To know, understand, perceive, observe, have regard to; मत्वा देवं धनपतिसखं यत्र साक्षाद्वसन्तम् (matvā devaṃ dhanapatisakhaṃ yatra sākṣādvasantam) Me.75.
5) To agree or consent to, act up to; तन्मन्यस्व मम वचनम् (tanmanyasva mama vacanam) Mk.8.
6) To think or reflect upon.
7) To intend, wish or hope for; स्त्रियः कस्माद्वधं वीर मन्यसे राक्षसेश्वर (striyaḥ kasmādvadhaṃ vīra manyase rākṣaseśvara) Rām.6.92. 6.
8) To set the heart or mind on.
9) To mention, declare.
1) To think out, device, invent.
11) To be considered or regarded as, seem, appear like.
12) To accept, agree; कालपाशमहं मन्ये त्वमपि द्रष्टुमर्हसि (kālapāśamahaṃ manye tvamapi draṣṭumarhasi) Mb. 17.1.3. (The senses of man are variously modified according to the word with which it is used; e. g. bahu man to think highly or much of, value greatly, prize, esteem; bahu manute nanu te tanusaṃgatapavanacalitamapi reṇum Gīt.5; see under bahu also; laghu man to think lightly of, despise, slight; prathamopakṛtaṃ marutvataḥ pratipattyā laghu manyate bhavān Ś.7.1; anyathā man to think otherwise; doubt; sādhu man to think well of, approve, consider satisfactory; ā paritoṣādviduṣāṃ na sādhu manye prayogavijñānam Ś.1.2; asādhu man to disapprove; tṛṇāya man or tṛṇavat man to value at a straw, value lightly, make light of; harimapyamaṃsata tṛṇāya Śi;15.61; na man to disregard, not to mind.) -Caus. (mānayati-te) To honour, esteem, respect, pay respect to, value; मान्यान् मानय (mānyān mānaya) Bh.2.77; (Ātm.) to esteem one-self highly, prize highly. -Desid. (mīmāṃsate)
1) To reflect upon, examine, investigate, inquire into.
2) To doubt, call in question (with loc).
--- OR ---
Mān (मान्).—I. 1 Ā. (mīmāṃsate = desid. of man q. v.) -II. I P., 1 U. = Caus. of मन् (man) q. v.
Source
:
Cologne Digital Sanskrit Dictionaries: Shabda-Sagara Sanskrit-English Dictionary
Maṇ (मण्).—[maṇa] r. 1st cl. (maṇati) To sound, to sound inarticulately.
--- OR ---
Man (मन्).—r. 4th cl. (manyate) (u) manu r. 8th cl. (manute) 1. To know, to understand. 2. To regard, to mind. 3. To think, to conceive. r. 10th cl. (mānayate) 1. To be dull or insensible. 2. To be proud. 3. To oppose, to stop. r. 1st and 10th cls. (manati mānayati) To hononr, to respect, to worship. With anu prefixed, To assent to, to agree. With abhi. To desire. With ava, To disrespect. With sama To concur, to agree.
--- OR ---
Mān (मान्).—r. 1st cl. (mīmāṃsate) To investigate, to seek or desire knowledge. r. 1st and 10th cls. (mānati mānayati-te) To respect, to revere, to worship. With apa or ava prefixed, to treat with disrespect.
Sanskrit, also spelled संस्कृतम् (saṃskṛtam), is an ancient language of India commonly seen as the grandmother of the Indo-European language family. Closely allied with Prakrit and Pali, Sanskrit is more exhaustive in both grammar and terms and has the most extensive collection of literature in the world, greatly surpassing its sister-languages Greek and Latin.
See also (Relevant definitions)
Starts with (+1826): Man-madil, Mana, Mana-bhoga, Mana-pautava, Mana-stambha, Manaapa, Manabhadra, Manabhaj, Manabhanga, Manabhanja, Manabharana, Manabhava, Manabhavaci Bayako, Manabhavaci U, Manabhavi, Manabhavi Kava, Manabhavi-kava, Manabhisamaya, Manabhrit, Manabhuka.
Ends with (+1348): Abhiman, Abhisheka-naman, Abhrakabhasman, Abhyavaman, Abhyudgatakarman, Abrahman, Acalavarman, Achalavarman, Adaman, Adharmmatman, Adhikamamsarman, Adhikarman, Adhikarmman, Adhomarmman, Adhvasman, Adhyatman, Adikarman, Adinatman, Adityasharman, Adityavarman.
Full-text (+4349): Manava, Sujana, Jana, Maneti, Manusha, Nara, Buddhimat, Strimat, Nrisimha, Paurusheya, Purusha, Narasimha, Manivaka, Manuja, Vibudha, Punyapurusha, Amshumat, Manita, Man-madil, Parapurusha.
Relevant text
Search found 329 books and stories containing Man, Mān, Maṇ; (plurals include: Mans, Māns, Maṇs). You can also click to the full overview containing English textual excerpts. Below are direct links for the most relevant articles: