Ksha, aka: Kṣa, Kṣā; 6 Definition(s)
Introduction
Ksha means something in Hinduism, Sanskrit, Marathi. If you want to know the exact meaning, history, etymology or English translation of this term then check out the descriptions on this page. Add your comment or reference to a book if you want to contribute to this summary article.
The Sanskrit terms Kṣa and Kṣā can be transliterated into English as Ksa or Ksha, using the IAST transliteration scheme (?).
In Hinduism
Vyakarana (Sanskrit grammar)
1) Ksa (क्स).—Aorist vikaraṇa affix substituted for च्लि (cli); cf. P.III.1.45, 46; e. g. अदृक्षत्, आश्लिक्षत्, अधुक्षत् (adṛkṣat, āślikṣat, adhukṣat) cf. Kāś. on P.III.1.45,46;
2) Ksa.—Kṛt affix स (sa) applied to the root दृश् (dṛś) preceded by a pronoun such as त्यद्, तद् (tyad, tad) etc. e.g. यादृक्षः, तादृक्षः (yādṛkṣaḥ, tādṛkṣaḥ) etc. cf. दृशेः क्सश्च वक्तव्यः (dṛśeḥ ksaśca vaktavyaḥ) P.III.2.60 Vārttika.
3) Ksa.—Affix स (sa) applied to the root गाह् (gāh) or ख्या (khyā) or कव् (kav) to form the noun कक्ष (kakṣa); cf. कक्षो गाहतेः क्स इति नामकरणः ख्यातेर्वा कषतेर्वा (kakṣo gāhateḥ ksa iti nāmakaraṇaḥ khyātervā kaṣatervā) Nir. II.2.
Source
:
Wikisource: A dictionary of Sanskrit grammar
Vyakarana (व्याकरण, vyākaraṇa) refers to Sanskrit grammar and represents one of the six additional sciences (vedanga) to be studied along with the Vedas. Vyakarana concerns itself with the rules of Sanskrit grammar and linguistic analysis in order to establish the correct context of words and sentences.
Purana and Itihasa (epic history)
Kṣa (क्ष).—This letter means (1) Kṣatriya (2) field (3) Narasiṃha (the lion-man incarnation of Viṣṇu) (4) Hari (Viṣṇu) (5) Protector of temples and gate keeper. (6) Lightning (7) Destruction (8) A demon.
Source
:
archive.org: Puranic Encyclopedia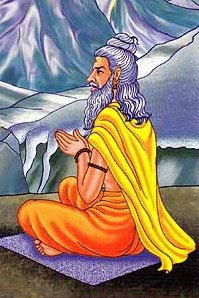 The Purana (पुराण, purāṇas) refers to Sanskrit literature preserving ancient India's vast cultural history, including historical legends, religious ceremonies, various arts and sciences. The eighteen mahapuranas total over 400,000 shlokas (metrical couplets) and date to at least several centuries BCE.
Languages of India and abroad
Marathi-English dictionary
kṣa (क्ष).—
--- OR ---
kṣa (क्ष).—The thirty-fifth consonant. It corresponds with Ksh, as in Mon-kship.
Source
:
DDSA: The Molesworth Marathi and English Dictionary
kṣa (क्ष).—The 35th consonant.
Source
:
DDSA: The Aryabhusan school dictionary, Marathi-English
Marathi is an Indo-European language having over 70 million native speakers people in (predominantly) Maharashtra India. Marathi, like many other Indo-Aryan languages, evolved from early forms of Prakrit, which itself is a subset of Sanskrit, one of the most ancient languages of the world.
Sanskrit-English dictionary
Kṣa (क्ष).—
1) Destruction.
2) Disappearance, loss.
3) Lightning.
4) A field.
5) A farmer.
6) Viṣṇu in his 4th or Narasiṃha incarnation.
7) A demon.
Derivable forms: kṣaḥ (क्षः).
--- OR ---
Kṣa (क्ष).—1 Ā., 4 P. (kṣamate, kṣāmyati, cakṣame, cakṣāma, kṣānta or kṣamita)
1) To permit, allow, suffer; अतो नृपाश्चक्षमिरे समेताः स्त्रीरत्नलाभं न तदात्मजस्य (ato nṛpāścakṣamire sametāḥ strīratnalābhaṃ na tadātmajasya) R.7.34;12.46.
2) To pardon, forgive (as an offence); क्षान्तं न क्षमया (kṣāntaṃ na kṣamayā) Bh.3.13; क्षमस्व परमेश्वर (kṣamasva parameśvara); निघ्नस्य मे भर्तृनिदेशरौक्ष्यं देवि क्षमस्वेति बभूव नम्रः (nighnasya me bhartṛnideśaraukṣyaṃ devi kṣamasveti babhūva namraḥ) R.14. 58.
3) To be patient or quiet, wait; स मुहूर्तं क्षमस्वेति (sa muhūrtaṃ kṣamasveti) (v. l. sahasveti) द्विजमाश्वास्य दुःखितम् (dvijamāśvāsya duḥkhitam) R.15.45.
4) To endure, put up with, suffer; अपि क्षमन्तेऽस्मदुपजापं प्रकृतयः (api kṣamante'smadupajāpaṃ prakṛtayaḥ) Mu.2; नाज्ञाभङ्गकरान् राजा क्षमेत स्वसुतानपि (nājñābhaṅgakarān rājā kṣameta svasutānapi) H.2.15.
5) To oppose, resist; Rām.7.58.6.
6) To be competent or able (to do anything); ऋते रवेः क्षालयितुं क्षमेत कः क्षपा- तमस्काण्डमलीमसं नभः (ṛte raveḥ kṣālayituṃ kṣameta kaḥ kṣapā- tamaskāṇḍamalīmasaṃ nabhaḥ) Śi.1.38,9.65. -Caus. To beg pardon, forgive; एकोऽथवाप्यच्युत तत्समक्षं तत्क्षामये त्वामहमप्रमेयम् (eko'thavāpyacyuta tatsamakṣaṃ tatkṣāmaye tvāmahamaprameyam) Bg.11.42.
Derivable forms: kṣam (क्षम्).
--- OR ---
Kṣa (क्ष).—f. Ved. The ground, earth.
Derivable forms: kṣam (क्षम्).
--- OR ---
Kṣā (क्षा).—f.
1) The earth.
2) Sleep; क्षा स्त्री क्षमायां निद्रायाम् (kṣā strī kṣamāyāṃ nidrāyām) Nm.
Source
:
DDSA: The practical Sanskrit-English dictionary
Kṣa (क्ष).—m.
(-kṣaḥ) 1. A destruction of the world. 2. A demon, a goblin. 3. The third incarnation of Vishnu, the Narasinha Avatar. 4. Lightning. 5. A field. 6. A peasant, a husbandman. 7. Loss, disappearance. E. kṣi or kṣai to waste, &c. affix ka.
Source
:
Cologne Digital Sanskrit Dictionaries: Shabda-Sagara Sanskrit-English Dictionary
Sanskrit, also spelled संस्कृतम् (saṃskṛtam), is an ancient language of India commonly seen as the grandmother of the Indo-European language family. Closely allied with Prakrit and Pali, Sanskrit is more exhaustive in both grammar and terms and has the most extensive collection of literature in the world, greatly surpassing its sister-languages Greek and Latin.
Relevant definitions
Starts with (+297): Kshad, Kshada, Kshadana, Kshadat, Kshadhartta, Kshadman, Kshai, Kshaimi, Kshainya, Kshaipra, Kshaipravarna, Kshaireya, Kshaireyi, Kshaitra, Kshaitrajna, Kshaitrajnya, Kshaj, Kshal, Kshala, Kshalana.
Ends with (+973): A-shuddha-paksha, Abbhaksha, Abhaksha, Abhikanksha, Abhiraksha, Acalopasikavimoksha, Achalopasikavimoksha, Achoksha, Acoksha, Adaksha, Adharadheyabhavatattvapariksha, Adhichittashiksha, Adhicittashiksha, Adhimoksha, Adhiprajnashiksha, Adhishilashiksha, Adhoksha, Adhyaksha, Adhyupeksha, Adiksha.
Full-text (+117): Sadriksha, Viksha, Tadrish, Ruksha, Vhava, Nirapeksha, Kadikshanta, Anapeksha, Canakhya, Drapsa, Sarvvabhaksha, Vriksha, Vipakshika, Savyapeksha, Sarvabhaksha, Laksha, Nanakapariksha, Bharavriksha, Kakalidraksha, Akashakaksha.
Relevant text
Search found 18 books and stories containing Ksha, Kṣa, Ksa, Kṣā; (plurals include: Kshas, Kṣas, Ksas, Kṣās). You can also click to the full overview containing English textual excerpts. Below are direct links for the most relevant articles: