Dha, Ḍha: 9 definitions
Introduction
Dha means something in Hinduism, Sanskrit, Marathi. If you want to know the exact meaning, history, etymology or English translation of this term then check out the descriptions on this page. Add your comment or reference to a book if you want to contribute to this summary article.
In Hinduism
Vyakarana (Sanskrit grammar)
Source
:
Wikisource: A dictionary of Sanskrit grammar
Ḍha (ढ).—tad. affix ढ (ḍha) (1) applied to the word सभा (sabhā) in the sense of 'fit for' (तत्र साधुः (tatra sādhuḥ)) in Vedic literature;. e. g. सभेयः (sabheyaḥ); cf. IV. 4.106; (2) applied to the word शिला (śilā) in the sense of इव (iva); e. g. शिलेयं दधि (śileyaṃ dadhi) ; cf. P. V. 3.102; (3) common term (ढ) for the affixes ढक्, ढञ् (ḍhak, ḍhañ) and ढ (ḍha) also, after the application of which the affix ङीप् (ṅīp) (ई) is , added in the sense of feminine gender; cf. P. IV. 1.15.
--- OR ---
Dhā (धा).—Tad.affix (l) applied to a numeral in the sense of a kind (प्रकार (prakāra)) or a division of time, e.g.एकधा, द्विधा, त्रिधा (ekadhā, dvidhā, tridhā) etc.: cf. P.V.3.42, 43; (2) applied to बहु (bahu) to show divisions of a short time;e.g. बहुधा दिवसस्य भुङ्क्क्ते (bahudhā divasasya bhuṅkkte) and बहुधा मासस्य भुङ्क्ते (bahudhā māsasya bhuṅkte);cf. Kas. on P.V.4.20.
Vyakarana (व्याकरण, vyākaraṇa) refers to Sanskrit grammar and represents one of the six additional sciences (vedanga) to be studied along with the Vedas. Vyakarana concerns itself with the rules of Sanskrit grammar and linguistic analysis in order to establish the correct context of words and sentences.
Purana and Itihasa (epic history)
Source
:
archive.org: Puranic Encyclopedia
Dha (ध).—This letter means dhāraṇa, Śobhana, Dhātā, dhattūra (umma plant). (Chapter 348, Agni Purāṇa).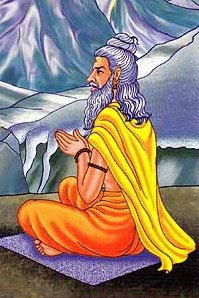 The Purana (पुराण, purāṇas) refers to Sanskrit literature preserving ancient India's vast cultural history, including historical legends, religious ceremonies, various arts and sciences. The eighteen mahapuranas total over 400,000 shlokas (metrical couplets) and date to at least several centuries BCE.
Languages of India and abroad
Marathi-English dictionary
Source
:
DDSA: The Molesworth Marathi and English Dictionary
ḍha (ढ).—The fourteenth consonant, and the aspirate of the preceding letter. Its sound must be sought by the ear. It is represented here, when the Roman character is used, by ḍh.
--- OR ---
ḍha (ढ).—a Illiterate, ignorant: also doltish, dull, stupid.
--- OR ---
dha (ध).—See notice under त.
--- OR ---
dhā (धा).—ind (S) Time, turn, occasion. In comp. with the numerals; as ēkadhā, dvidhā, tridhā, caturdhā.
Source
:
DDSA: The Aryabhusan school dictionary, Marathi-English
ḍha (ढ).—The 14th consonant. a Illiterate; dull.
--- OR ---
dha (ध).—The nineteenth consonant, and the aspirate of द.
Marathi is an Indo-European language having over 70 million native speakers people in (predominantly) Maharashtra India. Marathi, like many other Indo-Aryan languages, evolved from early forms of Prakrit, which itself is a subset of Sanskrit, one of the most ancient languages of the world.
Sanskrit-English dictionary
Source
:
DDSA: The practical Sanskrit-English dictionary
Ḍha (ढ).—
1) An imitative sound.
2) A large drum.
3) A dog's tail.
4) A dog.
5) A serpent.
Derivable forms: ḍhaḥ (ढः).
--- OR ---
Dha (ध).—a. (At the end of comp.) Placing, holding, containing, causing &c.
-dhaḥ 1 An epithet of Brahmā.
2) Name of Kubera.
3) Virtue, moral merit.
4) (in music) The 6th note of the gamut.
-dham Wealth, property.
--- OR ---
Dha (ध).—1 P. See ध्मा (dhmā).
Derivable forms: dham (धम्).
--- OR ---
Dhā (धा).—3 U. (dadhāti, dhatte, dadhau-dadhe, adhāt-adhita dhāsyati-te, dhātum, hita; -pass. dhīyate; -caus. dhāpayati-te; -desid. dhitsati-te)
1) To put, place, set, lay, put in, lay on or upon; विज्ञातदोषेषु दधाति दण्डम् (vijñātadoṣeṣu dadhāti daṇḍam) Mb.; निःशङ्कं धीयते (niḥśaṅkaṃ dhīyate) (v. l. for dīyate) लोकैः पश्य भस्मचये पदम् (lokaiḥ paśya bhasmacaye padam) H.2.132.
2) To fix upon, direct (the mind or thoughts &c.) towards (with dat. or loc.); धत्ते चक्षुर्मुकुलिनि रणत्कोकिले बालचूते (dhatte cakṣurmukulini raṇatkokile bālacūte) Māl.3.12; दधुः कुमारानुगमे मनांसि (dadhuḥ kumārānugame manāṃsi) Bk.3.11;2.7; Ms.12.23.
3) To bestow anything upon one, grant, give, confer, present (with dat., gen., or loc.); धुर्यां लक्ष्मीमथ मयि भृशं धेहि देव प्रसीद (dhuryāṃ lakṣmīmatha mayi bhṛśaṃ dhehi deva prasīda) Māl.1.3; यद्यस्य सोऽदधात्सर्गे तत्तस्य स्वयमाविशत् (yadyasya so'dadhātsarge tattasya svayamāviśat) Ms.1.29.
4) To hold, contain; तानपि दधासि मातः (tānapi dadhāsi mātaḥ) Bv.1.68; Ś.4.4.
5) To seize, take hold of (as in the hand); धनुररिभिरसह्यं मृष्टिपीडं दधाने (dhanuraribhirasahyaṃ mṛṣṭipīḍaṃ dadhāne) Bk.1.26;4.26;
6) To wear, put on, bear; गुरूणि वासांसि विहाय तूर्णं तनूनि (gurūṇi vāsāṃsi vihāya tūrṇaṃ tanūni)...... धत्ते जनः काममदालसाङ्गः (dhatte janaḥ kāmamadālasāṅgaḥ) Rs.6.13,16; धत्ते भरं कुसुमपत्रफलावलीनाम् (dhatte bharaṃ kusumapatraphalāvalīnām) Bv.1.94; दधतो मङ्गलक्षौमे (dadhato maṅgalakṣaume) R.12.8;9.4; Bk.17.54.
7) To assume, take, have, show, exhibit, possess; (usually Ātm.); काचः काञ्चनसंसर्गाद्धत्ते मारकतीं द्युतिम् (kācaḥ kāñcanasaṃsargāddhatte mārakatīṃ dyutim) H. Pr.35; शिरसि मसीपटलं दधाति दीपः (śirasi masīpaṭalaṃ dadhāti dīpaḥ) Bv.1.74; R.2.7; Amaru. 27.7; Me.38; Bh.3.46; R.3.1; Bk.2.1;4.16,18; Śi.9.3;1.86; Ki.5.5.
8) To hold up, sustain, bear up; गामधास्यत्कथं नागो मृणालमृदुभिः फणैः (gāmadhāsyatkathaṃ nāgo mṛṇālamṛdubhiḥ phaṇaiḥ) Ku.6.68.
9) To support, maintain संपद्विनिमयेनोभौ दधतुर्भुवनद्वयम् (saṃpadvinimayenobhau dadhaturbhuvanadvayam) R.1.26.
1) To cause, create, produce, generate, make; मुग्धा कुड्मलिताननेन दधती वायुं स्थिता तत्र सा (mugdhā kuḍmalitānanena dadhatī vāyuṃ sthitā tatra sā) Amaru.72.
11) To suffer, undergo, incur; दधती रतेन भृशमुत्सुकताम् (dadhatī ratena bhṛśamutsukatām) Śi.9.2, 32,66.
12) To perform, do.
13) Ved. To bring, convey.
14) To appoint, fix. [The meanings of this root, like those of दा (dā), are variously modified according to the word with which it is connected; e. g. मनः, मतिम्, धियम् (manaḥ, matim, dhiyam), &c. धा (dhā) to fix the mind or thoughts upon, resolve upon; पदं धा (padaṃ dhā) to set foot on, to enter; कर्णे करं धा (karṇe karaṃ dhā) to place the hand on the ear &c.] -With अपि (api) (the a being sometimes dropped).
1) (a) to close, shut; ध्वनति मधुपसमूहे श्रवणमपिदधाति (dhvanati madhupasamūhe śravaṇamapidadhāti) Gīt.5; so कर्णौ-नयने-पिदधाति (karṇau-nayane-pidadhāti) (b) to cover, hide, conceal; प्रायो मूर्खः परिभवविधौ नाभिमानं पिधत्ते (prāyo mūrkhaḥ paribhavavidhau nābhimānaṃ pidhatte) Ś. Til.17. (v.l.); प्रभावपिहिता (prabhāvapihitā) V.4.2; Śi.9.76; Bk.7. 69.
2) to hinder, obstruct, bar; भुजंगपिहितद्वारं पातालमधि- तिष्ठति (bhujaṃgapihitadvāraṃ pātālamadhi- tiṣṭhati) R.1.8. (The following verse illustrates the use of dhā with some prepositions:-adhita kāpi mukhe salilaṃ sakhī pyadhita kāpi sarojadalaiḥ stanau | vyadhita kāpi hṛdi vyajanānilaṃ nyadhita kāpi himaṃ sutanostanau N.4.111; or, better still, the following verse of Jagannātha:-nidhānaṃ dharmāṇāṃ kimapi ca vidhānaṃ navamudāṃ pradhānaṃ tīrthānāmamalaparidhānaṃ trijagataḥ | samādhānaṃ buddheratha khalu tirodhānamadhiyāṃ śriyāmādhānaṃ naḥ pariharatu tāpaṃ tava vapuḥ || G. L.18).
Source
:
Cologne Digital Sanskrit Dictionaries: Shabda-Sagara Sanskrit-English Dictionary
Ḍha (ढ).—The aspirate of the preceding letter corresponding D'h: the use of this as an initial letter is very limited and several of the words in which it occurs can scarcely be regarded as pure Sanskrit.
--- OR ---
Ḍha (ढ).—m.
(-ḍhaḥ) 1. A large drum. 2. A dog. 3. A dog's tail. 4. Sound. 5. A serpent.
--- OR ---
Dha (ध).—The aspirated letter corresponding to the preceding, and expressed by D'h.
--- OR ---
Dha (ध).—m. (dhaḥ) 1. A name of Bramha. 2. A name Kuvera. 3. Virtue, moral merit n.
(-dhaṃ) Wealth, property. E. dhā to have or possess, affix ḍa.
--- OR ---
Dhā (धा).—[(ḍu, ña,) ḍudhāñ] r. 3rd cl. (dadhāti-dhatte) 1. To hold or support. 2. To nurture, to maintain. 3. To give. 4. To have, to possess. With anu and sam prefixed, To search after. With api, To cover. With abhi, 1. To speak, to speak to or address. 2. To promulgate. 3. To show. With abhi and sama, To overcome. With ava, 1. To be careful. 2. To attend to. With āṅ, To take, to receive. With upa and āṅ, To support. With upa, 1. To uphold. 2. To do, to perform. With ni, 1. To take up or hold up. 2. To place in or upon. 3. To be born or produced. 4. To hold. With pari, To assume, to put on, as clothes, &c. With pra and ni, 1. To hold or support. 2. To elevate or exalt, to dignify. 3. To admit. With pra, 1. To be chief or first. 2. To send. With prati and vi, To do, to perform. With vi, 1. To do, to execute, to act. 2. To act conformably to religious ordinances, to execute the precepts of the Vedas. 3. To choose, to select. 4. To provide. 5. To order or direct 6. To promise. 7. To give. With vi and ava, To hide, to veil, to conceal. With sama, 1. To place, to place firmly, to fix. 2. To unite to combine, to hold together. 3. To shoot at a mark. With sama and pra, To doubt, to discuss; (also with prati and sam) With āṅ, To instruct, to teach. With sama and ni, To place or have near at hand. In the causal with upa, To understand. juhotyā0 ubha0 saka0 aniṭ .
--- OR ---
Dhā (धा).—m.
(-dhāḥ) 1. A possessor, a holder, a container, &c. 2. A name of Bramha. 3. Vrihaspati. E. dhā to have, affix vic .
Sanskrit, also spelled संस्कृतम् (saṃskṛtam), is an ancient language of India commonly seen as the grandmother of the Indo-European language family. Closely allied with Prakrit and Pali, Sanskrit is more exhaustive in both grammar and terms and has the most extensive collection of literature in the world, greatly surpassing its sister-languages Greek and Latin.
See also (Relevant definitions)
Starts with (+2199): Dhaba, Dhaba-Kana-Kana-Kara-Dishi, Dhabadadhinga, Dhabadara, Dhabadhaba, Dhabadhabi, Dhabadhabita, Dhabadula, Dhabaghai, Dhabaka, Dhabakanem, Dhabala, Dhabalashai, Dhabalavada, Dhabali, Dhabaphala, Dhabati--Potaci, Dhabba, Dhabba-Kana-Kara-Dishi-Dini, Dhabbala.
Ends with (+2601): Abaddha, Abadha, Abalavriddha, Abandha, Abbhisambuddha, Abdarddha, Abdardha, Abdika-shraddha, Abhiddha, Abhidha, Abhidridha, Abhidrugdha, Abhinaddha, Abhinibodha, Abhinigudha, Abhiraddha, Abhiradha, Abhisambadha, Abhisambandha, Abhisambodha.
Full-text (+3047): Dadha, Dhas, Sharaminda, Satadha, Shedha, Vidhayaka, Abadha, Kandha, Upadhaneti, Pidahana, Vyadhi, Abdhi, Kripadvaita, Saddahana, Prithivipashyin, Andhadhunda, Alpabadha, Anudha, Suvishuddha, Grihagodha.
Relevant text
Search found 37 books and stories containing Dha, Ḍha, Dhā; (plurals include: Dhas, Ḍhas, Dhās). You can also click to the full overview containing English textual excerpts. Below are direct links for the most relevant articles: