Children's Illustrated Ramayana: photo 20
Photo 20 of 59 in Gallery: Children's Illustrated Ramayana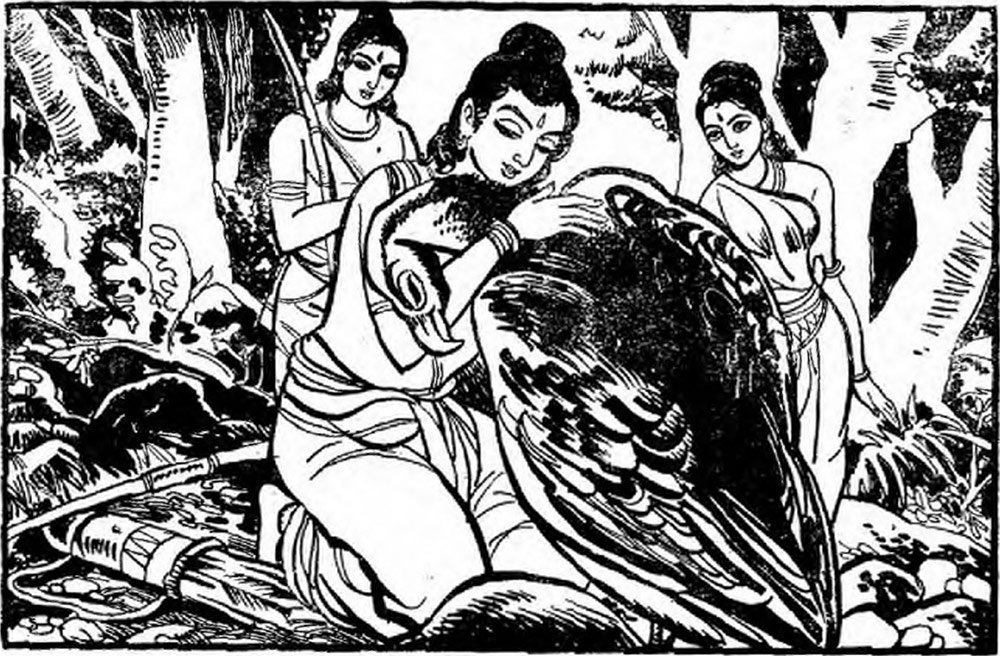 Image title: Children's Illustrated Ramayana: Figure 20
On their way to Panchavati the princes saw a huge bird, which they mistook for a rakshasa in disguise. But Io! the bird spoke in a soft voice full of affection and regard.
The bird was none other than Jatayu, a nephew of Garuda, the vahana (mount) of Lord Vishnu. Jatayu said that he was a friend of Dasaratha. He offered to do his best to serve the Princes and guard Sita whenever she was left alone.
Rama accepted the offer and embraced. Jatayu and set off again.
At Panchavati, Lakshmana built a lovely cottage with reeds and grass found in the forest.
Gallery information:
These illustrations are from the book called "Children's Illustrated Ramayana" which is an abridged retelling of the Ramayana authored by Vishnu B while the illustrations are by Vipin K. Das.
Note: You can read the full English translation of the Ramayana on this site.
Source: archive.org (external link; opens in new tab).