Children's Illustrated Ramayana: photo 21
Photo 21 of 59 in Gallery: Children's Illustrated Ramayana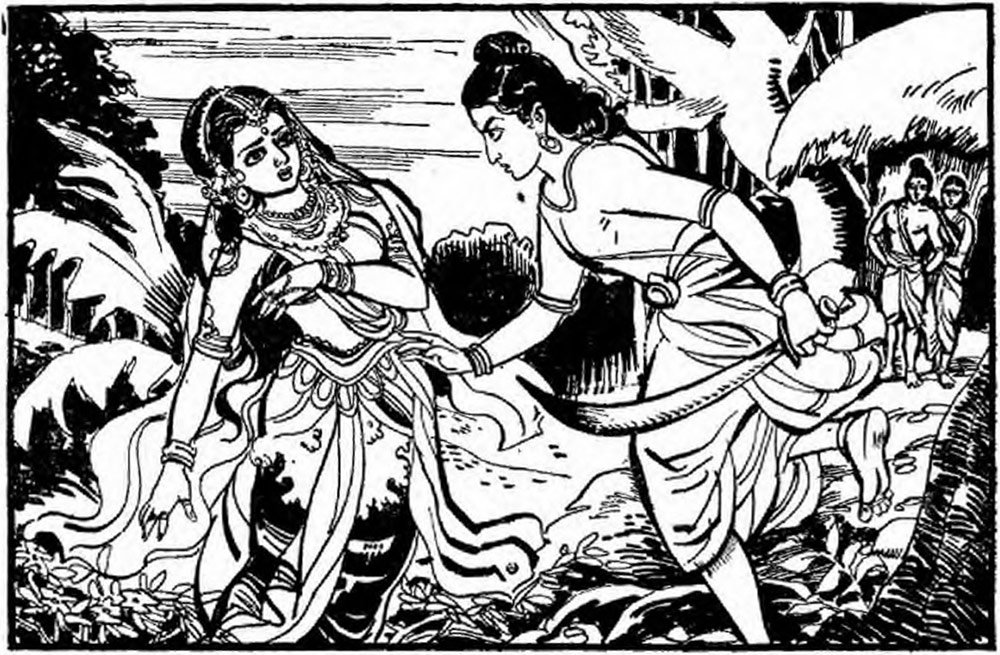 Image title: Children's Illustrated Ramayana: Figure 21
Life was peaceful at Panchavati, but not for long.
One cold winter day, when the princes were returning to the cottage from the river, they were met by a rakshasi by name Surpanakha, the sister of Ravana. The rakshasi who was disguised as a beautiful maiden said she had fallen in love with the handsome princes and one of them must marry her. But as neither of them would listen she became angry.
Surpanakha swore that she would harm the princes and rushed towards Sita to eat her up. Rama asked Laksbmana to deal with her. As a Ksbatriya prince, Lakshmana would not kill a woman; so he cut her nose and ears and let her go alive.
Gallery information:
These illustrations are from the book called "Children's Illustrated Ramayana" which is an abridged retelling of the Ramayana authored by Vishnu B while the illustrations are by Vipin K. Das.
Note: You can read the full English translation of the Ramayana on this site.
Source: archive.org (external link; opens in new tab).