Children's Illustrated Ramayana: photo 22
Photo 22 of 59 in Gallery: Children's Illustrated Ramayana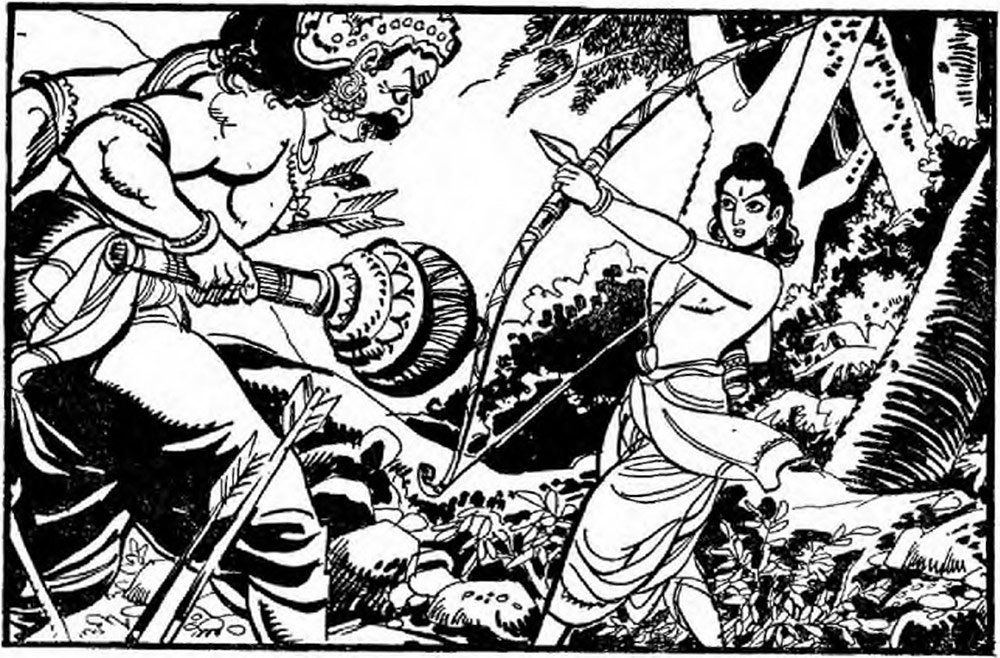 Image title: Children's Illustrated Ramayana: Figure 22
Thoroughly disgraced and bleeding all over, Surpanakha hastened to Janasthana where her brother, Khara, was the chieftain. Khara was enraged at the wrong done to his sister.
Accompanied by his fourteen generals, each commanding a thousand rakshasas, Khara rushed to Panchavati. But Rama met them single-handed. The rakshasas fell like skittles.
One after the other the fourteen generals were killed.
Undaunted, Khara continued the fight. When his turn came to take the field, Khara armed himself with a huge club and advanced on Rama. The prince of Ayodhya let go a stinging arrow from his powerful bow and that was the end of Khara.
Gallery information:
These illustrations are from the book called "Children's Illustrated Ramayana" which is an abridged retelling of the Ramayana authored by Vishnu B while the illustrations are by Vipin K. Das.
Note: You can read the full English translation of the Ramayana on this site.
Source: archive.org (external link; opens in new tab).