Ma; 5 Definition(s)
Introduction
Ma means something in Hinduism, Sanskrit, the history of ancient India, Marathi. If you want to know the exact meaning, history, etymology or English translation of this term then check out the descriptions on this page. Add your comment or reference to a book if you want to contribute to this summary article.
In Hinduism
Vyakarana (Sanskrit grammar)
Ma (म).—(l) the consonant म् (m) with the vowel अ (a) added for facility of utterance; cf T. Pr. I.2.1 ; (2) The substitute म (ma) for मस् (mas) of the 1st pers. pl. in the perfect tense cf. P परस्मैपदानां (parasmaipadānāṃ) ... णल्वमाः (ṇalvamāḥ) III. 4.82 and in the present tense also in the case of the root विद् (vid); (3) tad. affix म (ma) added to the word मध्य (madhya) in the Śaiṣika senses,and to the words द्यु (dyu) and द्रु (dru) in the sense of possession; cf. P.IV.3.8,V.2. 108.
Source
:
Wikisource: A dictionary of Sanskrit grammar
Vyakarana (व्याकरण, vyākaraṇa) refers to Sanskrit grammar and represents one of the six additional sciences (vedanga) to be studied along with the Vedas. Vyakarana concerns itself with the rules of Sanskrit grammar and linguistic analysis in order to establish the correct context of words and sentences.
Purana
Ma (म).—This letter has the following three meanings-Prosperity, honour and mother. (Agni Purāṇa, Chapter 348).
Source
:
archive.org: Puranic Encyclopaedia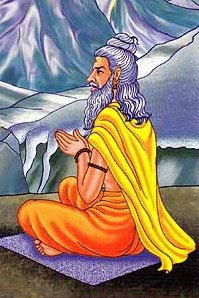 The Purana (पुराण, purāṇas) refers to Sanskrit literature preserving ancient India's vast cultural history, including historical legends, religious ceremonies, various arts and sciences. The eighteen mahapuranas total over 400,000 shlokas (metrical couplets) and date to at least several centuries BCE.
Languages of India and abroad
Marathi-English dictionary
ma (म).—m The twenty-fifth consonant. It corresponds with M.
--- OR ---
mā (मा).—f (S) A mother. 2 A name of Lakshmi.
Source
:
DDSA: The Molesworth Marathi and English Dictionary
ma (म).—The twenty-fifth consonant.
--- OR ---
mā (मा).—f A mother. Gen- erally in poetry.
Source
:
DDSA: The Aryabhusan school dictionary, Marathi-English
Marathi is an Indo-European language having over 70 million native speakers people in (predominantly) Maharashtra India. Marathi, like many other Indo-Aryan languages, evolved from early forms of Prakrit, which itself is a subset of Sanskrit, one of the most ancient languages of the world.
Sanskrit-English dictionary
Ma (म).—1 Time.
2) Poison.
3) A magical formula.
4) The moon.
5) Name of Brahman; मकारेणोच्यते ब्रह्मा (makāreṇocyate brahmā).
6) Of Viṣṇu.
7) Of Śiva.
8) Of Yama.
9) (In prosody) A syllabic foot (gaṇa) consisting of three long syllables; मो भूमिस्त्रिगुरु श्रियं दिशति यः (mo bhūmistriguru śriyaṃ diśati yaḥ) V. Ratna.
1) Name of the fifth (madhyama) note in music.
-mam 1 Water.
2) Happiness, welfare.
Derivable forms: maḥ (मः).
--- OR ---
Mā (मा).—ind. A particle of prohibition (rarely of negation) usually joined with the Imperative; मद्वाणि मा कुरु विषादमनादरेण (madvāṇi mā kuru viṣādamanādareṇa) Bv.4.41; also (a) with the Aorist, when the augment अ (a) is dropped; क्लैब्यं मा स्म गमः पार्थ नैतत्त्वष्युपपद्यते (klaibyaṃ mā sma gamaḥ pārtha naitattvaṣyupapadyate) Bg.2.3; पापे रतिं मा कृथाः (pāpe ratiṃ mā kṛthāḥ) Bh.2.77; मा मूमुहत् खलु भवन्तमनन्यजन्मा मा ते मलीमसविकारघना मतिर्भूत् (mā mūmuhat khalu bhavantamananyajanmā mā te malīmasavikāraghanā matirbhūt) Māl.1. 32; the अ (a) is sometimes retained; मा निषाद प्रतिष्ठां त्वमगमः शाश्वतीः समाः (mā niṣāda pratiṣṭhāṃ tvamagamaḥ śāśvatīḥ samāḥ) Rām. (b) the Imperfect (the augment being dropped here also); मा चैनमभिभाषथाः (mā cainamabhibhāṣathāḥ) Rām.1.2. 15; (c) the Future, or Potential mood, in the sense of 'lest', 'that not'; लघु एनां परित्रायस्व मा कस्यापि तपस्विनो हस्ते पतिष्यति (laghu enāṃ paritrāyasva mā kasyāpi tapasvino haste patiṣyati) Ś.2; मा कश्चिन्ममाप्यनर्थो भवेत् (mā kaścinmamāpyanartho bhavet) Pt.5; मा नाम देव्याः किमप्यनिष्टमुत्पन्नं भवेत् (mā nāma devyāḥ kimapyaniṣṭamutpannaṃ bhavet) K.37; the Imperative mood also is sometimes used for the Potential; त्वरतामार्यपुत्र एतां समाश्वासयितुं मास्या विकारो वर्धताम् (tvaratāmāryaputra etāṃ samāśvāsayituṃ māsyā vikāro vardhatām) M.4. (d) the Present Participle when a curse is implied; मा जीवन् यः परावज्ञादुःखदग्धोऽपि जीवति (mā jīvan yaḥ parāvajñāduḥkhadagdho'pi jīvati) Śi.2.45; or (e) with Potential passive participles; मैवं प्रार्थ्यम् मा (maivaṃ prārthyam mā) is sometimes used without any verb; मा तावत् (mā tāvat) 'oh ! do not (say or do) so'; मा मैवम् (mā maivam); मा नाम रक्षिणः (mā nāma rakṣiṇaḥ) Mk.3 'may it not be the police'; see under नाम (nāma). Sometimes मा (mā) is followed by स्म (sma) and is used with the Aorist or Imperfect with the augment dropped, and rarely with the Potential mood; क्लैब्यं मा स्म गमः पार्थ (klaibyaṃ mā sma gamaḥ pārtha) Bg.2.3; मा स्म प्रतीपं गमः (mā sma pratīpaṃ gamaḥ) Ś.4.17; मा स्म सीमन्तिनी काचिज्जनयेत् पुत्रमीदृशम् (mā sma sīmantinī kācijjanayet putramīdṛśam).
--- OR ---
Mā (मा).—
1) The goddess of wealth, Lakṣmī; तमाखुपत्रं राजेन्द्र भज माज्ञानदायकम् (tamākhupatraṃ rājendra bhaja mājñānadāyakam) Subhāṣ.
2) A mother.
3) A measure.
--- OR ---
Mā (मा).—2 P., 3, 4 Ā. (māti, mimīte or mīyate, mita)
1) To measure; न्यधित मिमान इवावनिं पदानि (nyadhita mimāna ivāvaniṃ padāni) Śi.7.13;9.2.
2) To measure or mark off, limit; see मित (mita).
3) To compare with (in size), measure by any standard; पुरः सखीनाममिमीत लोचने (puraḥ sakhīnāmamimīta locane) Ku.5.15.
4) To be in, find room or space in, be contained or comprised in; तनौ ममुस्तत्र न कैटभद्विषस्तपोधनाभ्यागमसंभवा मुदः (tanau mamustatra na kaiṭabhadviṣastapodhanābhyāgamasaṃbhavā mudaḥ) Śi.1.23; वृद्धिं गतेऽप्यात्मनि नैव मान्तीः (vṛddhiṃ gate'pyātmani naiva māntīḥ) 3.73;1.5;14.75;13.2;5.44; माति मातुमशक्योऽपि यशोराशिर्यदत्र ते (māti mātumaśakyo'pi yaśorāśiryadatra te) K. P.1.
5) To prepare, arrange.
6) To infer, conclude.
7) To form, make, build, construct.
8) To assign, mete out, apportion.
9) To show, display.
1) To roar, sound. -Caus. (māpayati-te) To cause to be measured, measure or mete out; एतेन मापयति भित्तिषु कर्ममार्गम् (etena māpayati bhittiṣu karmamārgam) Mk.3.16. -Desid. (mitsati-te) To wish to measure &c.
Source
:
DDSA: The practical Sanskrit-English dictionary
Sanskrit, also spelled संस्कृतम् (saṃskṛtam), is an ancient language of India commonly seen as the grandmother of the Indo-European language family. Closely allied with Prakrit and Pali, Sanskrit is more exhaustive in both grammar and terms and has the most extensive collection of literature in the world, greatly surpassing its sister-languages Greek and Latin.
Relevant definitions
Search found 983 related definition(s) that might help you understand this better. Below you will find the 15 most relevant articles:
| | | |
| --- | --- | --- |
| | | |
| Masha | | Māṣa (माष) refers to "black gram" and represents one of the seven village-corns that are fit fo... |
| Kal-ma | | Kāl-ma.—ṟuturu (CITD), Telugu; an unknown measure of land. Cf. maṟuturu, ghaḍa-maṟuturu, etc. N... |
| Mavara | | Māvara (मावर).—epithets of Viṣṇu; हाटकनिभपीताम्बर अभयं कुरु मे मावर (hāṭakanibhapītāmbara abhay... |
| Mavilambam | | Māvilambam (माविलम्बम्).—ind. without delay, shortly, quickly; अमात्यान् वृष्णिवीराणां द्रष्टुम... |
| Ma़tha | | mā़thā (मा़था).—m The crown. The forehead; the head. |
| Mapati | | Māpati (मापति).—epithets of Viṣṇu; हाटकनिभपीताम्बर अभयं कुरु मे मावर (hāṭakanibhapītāmbara abha... |
| Besh‍ma | | bēś‍ma (बेश्‍म).—ind In the name of. |
| Yogama | | Yogama (योगम).—(i. e. m. or n. dual or n. sing.) acquisition and preservation (of property), ga... |
| Mavilambitam | | Māvilambitam (माविलम्बितम्).—ind. without delay, shortly, quickly; अमात्यान् वृष्णिवीराणां द्रष... |
| Kahum To Ma Marajaigi Na Kahum To Bapa Kutta Khajaiga | | kahūṃ tō mā marajāigī nā kahūṃ tō bāpa kuttā khājāigā (कहूं तो मा मरजाइगी ना कहूं तो बाप कुत्ता... |
| Ma Punna Bhayi Sutta | | A sutta quoted in the Sutta Sangaha (No.30) from the Itivuttaka (p.14f). The Buddha admonishes ... |
| Maya | | Māyā ("deceit") in Buddhism refers to one of the sixteen upakilesa (subtle defilements). |
| Mana | | Māna ("conceit") in Buddhism refers to one of the sixteen upakilesa (subtle defilements). |
| Yama | | Yama (यम, "self-restraint") forms part of the ancient Indian education system, which aimed at b... |
| Soma | | Soma.—(IE 7-1-2), 'one'. Note: soma is defined in the "Indian epigraphical glossary" as it can ... |
Relevant text
One of your search terms exceeds the minimun character amount per search term. This amount currently equals 2.
No search results for Ma in any book or story.