Shakavarga, aka: Śākavarga, Shaka-varga; 2 Definition(s)
Introduction
Shakavarga means something in Hinduism, Sanskrit. If you want to know the exact meaning, history, etymology or English translation of this term then check out the descriptions on this page. Add your comment or reference to a book if you want to contribute to this summary article.
The Sanskrit term Śākavarga can be transliterated into English as Sakavarga or Shakavarga, using the IAST transliteration scheme (?).
In Hinduism
Ayurveda (science of life)
Śākavarga (शाकवर्ग) is the Sanskrit name for a group of medicinal plants, classified as "pot-herbs/vegetables", of which the leaves, stems and fruits are used. It was and originally composed by Caraka in his Carakasaṃhitā sūtrasthāna XXVII. The name is derived from the words śāka (translating to 'vegetable', but alternatively refers to a potherb) and varga, translating to "group" or "family". It is a technical term used throughout Āyurveda.
The following plants are described as pertaining to this category:
Pāṭhā,
Kāsamarda,
Śaṭī,
Vāstuka,
Suniṣaṇṇaka,
Kākamācī,
Rājakṣavaka,
Kālaśāka,
Cāṅgerī,
Upodikā,
Taṇḍulīya,
Maṇḍūkaparṇī,
Vetrāgra,
Kucelā,
Vanatiktaka,
Karkoṭaka,
Bākucī,
Paṭola,
Śakulādanī,
Vāsā / Vṛṣa,
Śārṅgeṣṭā,
Kembūka,
Kaṭhillaka,
Nāḍī,
Kalāya,
Gojihvā,
Vārtāka,
Tilaparṇikā,
Kulaka,
Karkaśa,
Nimba,
Parpaṭaka,
Phañji,
Cillī,
Kutumbaka,
Āluka,
Kuṭiñjara,
Śana,
Śālmali,
Karbudāra,
Suvarcalā,
Niṣpāva,
Kovidāra,
Pattūra,
Cuccuparṇikā,
Kumārajīva,
Loṭṭāka,
Pālaṅkyā,
Māriṣa,
Kalamba,
Nālikā,
Āsurī,
Kusumbha,
Vṛkadhūmaka,
Lakṣmaṇā,
Cakramarda,
Nalinīkā,
Kuṭheraka,
Loṇikā,
Yavaśāka,
Kūṣmāṇḍaka,
Avalguja,
Yātuka,
Śālakalyāṇī,
Triparṇī,
Pīluparṇikā,
Śaṇa,
Vaṭa,
Undumbara,
Aśvattha,
Plakṣa,
Padma,
Vatsādanī,
Gaṇḍīra,
Citraka,
Śreyasī,
Bilvaparṇī,
Bilva,
Bhaṇḍī,
Śatāvarī,
Balā,
Jīvantī,
Parvaṇī,
Parvapuṣpī,
Lāṅgalikā,
Eraṇḍa,
Tila,
Vetasa,
Trapusa,
Ervāruka,
Alābu,
Cirbhaṭa,
Kūṣmāṇḍa,
Kelūṭa,
Kadamba,
Nadīmāṣaka,
Ainduka,
Utpala,
Tālapralamba,
Kharjūra,
Tāla,
Tarūṭa,
Krauñcādana,
Kaśeruka,
Śṛṅgāṭaka,
Aṅkaloḍya,
Muñjātaka,
Vidārīkanda,
Amlikā,
Sārṣapa,
Piṇḍāluka,
Chattra (various).
The collection of herbs named Śākavarga is one of the seven groups that were classified based on its dietic value.
Source
: Wisdom Library: Āyurveda and botany
Śākavarga (शाकवर्ग) or Śāka is another name for Mūlakādi: the seventh chapter of the 13th-century Raj Nighantu or Rājanighaṇṭu (an Ayurvedic encyclopedia). The Rāja-nighaṇṭu is a medical lexicon ascribed originally known as the Abhidhānacuṇāmaṇi. It mentions the names of 1483 medicinal drugs (auṣadhi) and substances (dravya) excluding synonyms, grouped into twenty-two chapters [viz., Śāka-varga].
Source
: Wisdom Library: Raj Nighantu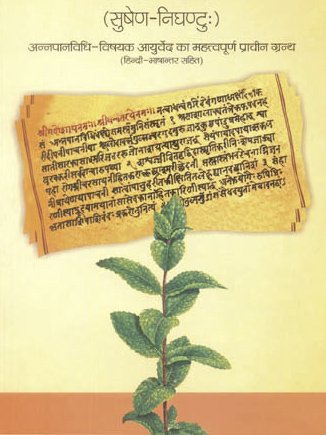 Āyurveda (आयुर्वेद, ayurveda) is a branch of Indian science dealing with medicine, herbalism, taxology, anatomy, surgery, alchemy and related topics. Traditional practice of Āyurveda in ancient India dates back to at least the first millenium BC. Literature is commonly written in Sanskrit using various poetic metres.
Relevant definitions
Search found 2525 related definition(s) that might help you understand this better. Below you will find the 15 most relevant articles:
| | | |
| --- | --- | --- |
| | | |
| Shaka | | Śaka.—(EI 24), originally, the Seythians; later any foreigners including Muhammadans; used to i... |
| Varga | | Varga.—(CII 1), a group or cadre of officers. Note: varga is defined in the "Indian epigraphica... |
| Shakadvipa | | Śākadvīpa (शाकद्वीप).—One of the Saptadvīpas (seven islands). Sañjaya once gave Dhṛtarāṣṭra a d... |
| Trivarga | | Trivarga (त्रिवर्ग) is a name mentioned in the Mahābhārata (cf. VI.10.59) and represents one o... |
| Pancavarga | | Pañcavarga (पञ्चवर्ग).—m. (-rgaḥ) A class of five persons or things. E. pañca, and varga a clas... |
| Sakantaka | | Sakaṇṭaka (सकण्टक).—a.1) Thorny, prickly.2) Troublesome, dangerous.-kaḥ The aquatic plant शैवल ... |
| Shakashakina | | Śākaśākina (शाकशाकिन).—n. (-naṃ) A field cultivated for esculent plants, a field of vegetables,... |
| Shakashreshtha | | Śākaśreṣṭha (शाकश्रेष्ठ).—m. (-ṣṭhaḥ) A potherb, (Chenopodium album. E. śāka a potherb, and śre... |
| Vargaghana | | Vargaghana (वर्गघन).—the cube of a square. °घातः (ghātaḥ) the fifth power. Derivable forms: var... |
| Lavanashaka | | Lavaṇaśāka (लवणशाक).—pickles; Gīrvāṇa. Derivable forms: lavaṇaśākam (लवणशाकम्).Lavaṇaśāka is a ... |
| Bandhuvarga | | Bandhuvarga (बन्धुवर्ग).—kinsmen, kindred. Derivable forms: bandhuvargaḥ (बन्धुवर्गः).Bandhuvar... |
| Sushaka | | Suśaka (सुशक).—a. capable of being easily done. Suśaka is a Sanskrit compound consisting of the... |
| Ashtavarga | | Aṣṭavarga (अष्टवर्ग).—Meda, Mahāmeda, Kākoli, Kṣīrakākoli, Jīvaka, Iṭavaka, Ṛddhi, Vṛddhi (Thes... |
| Shadvarga | | Ṣaḍvarga (षड्वर्ग, "six divisions") are technically called kṣetra, horā, drekkāṇa, navāṃśa, dvā... |
| Shakashakata | | Śākaśākaṭa (शाकशाकट) or Śākaśākina refers to an agricultural region that is rich in vegetables ... |
Relevant text
No search results for Shakavarga, Śākavarga or Shaka-varga in any book or story.