Matsyendrasana, Matsyendrāsana, Matsyendra-asana: 2 definitions
Introduction
Introduction:
Matsyendrasana means something in Hinduism, Sanskrit. If you want to know the exact meaning, history, etymology or English translation of this term then check out the descriptions on this page. Add your comment or reference to a book if you want to contribute to this summary article.
In Hinduism
Yoga (school of philosophy)
Source
: Wisdom Library: Yoga
Matsyendrāsana (मत्स्येन्द्रासन) is one of the eighty-four āsanas (postures) taught by Śiva, according to the Haṭharatnāvalī 3.7-20. It is said that Ādinātha (Śiva) hand-picked 84 yoga postures from 84,00,000 living beings and taught them for the purpose of introducing physical health and well-being to the human body. The compound matsyendrāsana translates to Matsyendra and āsana (posture).
The 17th-century Haṭharatnāvalī is a Sanskrit reference book dealing with these āsanas (e.g., matsyendrāsana) which form a major constituent of the haṭhayoga practice. It was written by Śrīnivāsa.
Source
:
archive.org: Gheranda Samhita
Matsyendrāsana (मत्स्येन्द्रासन) is one of the thirty-two āsanas (postures) taught in the second chapter of the Gheraṇḍasaṃhitā: "Withdrawing the abdomen at ease towards the back; then bending the left leg and placing the foot at the right knee; place on this knee the right elbow also. Then placing the chin on the right arm fix the gaze between the eye-brows. This is called the Matsyendrāsana".
Matsyendrāsana is one of the selected 32 postures amongs 8,400,000 total mentioned by Śiva, according to Gheraṇḍasaṃhitā 2.1-2, "In all, there are as many Āsanas as species of animals. Eighty-four lacs of them are mentioned by Śiva. Out of them, 84 are regarded as important and among these 84, again 32 are good (enough) in this world of mortal beings".
The 17th-century Gheraṇḍasaṃhitā (mentioning matsyendra-āsana) is one of the three classic texts of Haṭha-yoga: a major branch of Yoga, sharing similarities with the Yoga system taught by Patañjali, though claiming its own mythical founder known as Matsyendranātha. This gheraṇḍa-saṃhitā is an encyclopedic Sanskrit treatise describing thirty two such āsanas.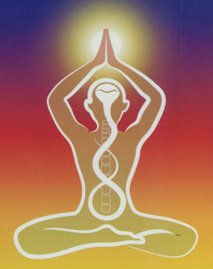 Yoga is originally considered a branch of Hindu philosophy (astika), but both ancient and modern Yoga combine the physical, mental and spiritual. Yoga teaches various physical techniques also known as āsanas (postures), used for various purposes (eg., meditation, contemplation, relaxation).
See also (Relevant definitions)
Query error!
Query error!
Query error!
Query error!
Relevant text