Children's Illustrated Ramayana: photo 51
Photo 51 of 59 in Gallery: Children's Illustrated Ramayana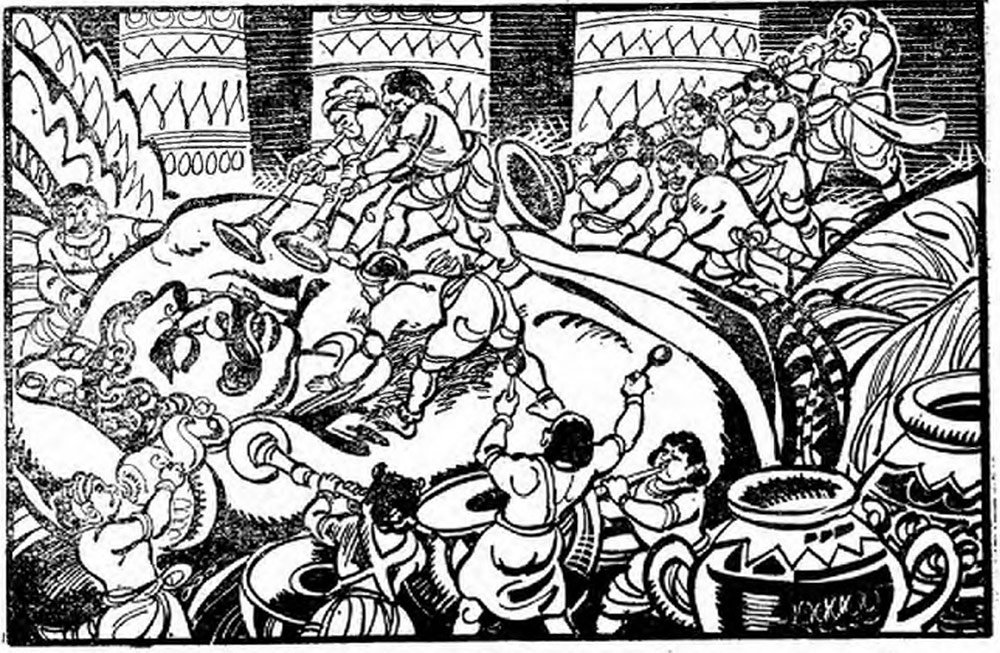 Image title: Children's Illustrated Ramayana: Figure 51
Ravana was depressed. Many of his brave and trusted warriors had fallen and the princes of Ayodhya were victorious. The time had come, he thought, for him to seek the help of his valiant brother, Kumbhakarna, who had just begun one of his long spells of sleep.
Waking up the giant of slumber was no easy task. A thousand rakshasas were engaged for the job. Simultaneously they sent up a thunderous roar. They beat on huge noisy drums and blew resounding conches. They smote him and rolled him over.
At last, with a monstrous yawn Kumbhakarna awoke. He took mountains of food and emptied barrels of drink. He was now ready for the fight. He hastened to Ravana to take his orders..
Gallery information:
These illustrations are from the book called "Children's Illustrated Ramayana" which is an abridged retelling of the Ramayana authored by Vishnu B while the illustrations are by Vipin K. Das.
Note: You can read the full English translation of the Ramayana on this site.
Source: archive.org (external link; opens in new tab).