Children's Illustrated Ramayana: photo 50
Photo 50 of 59 in Gallery: Children's Illustrated Ramayana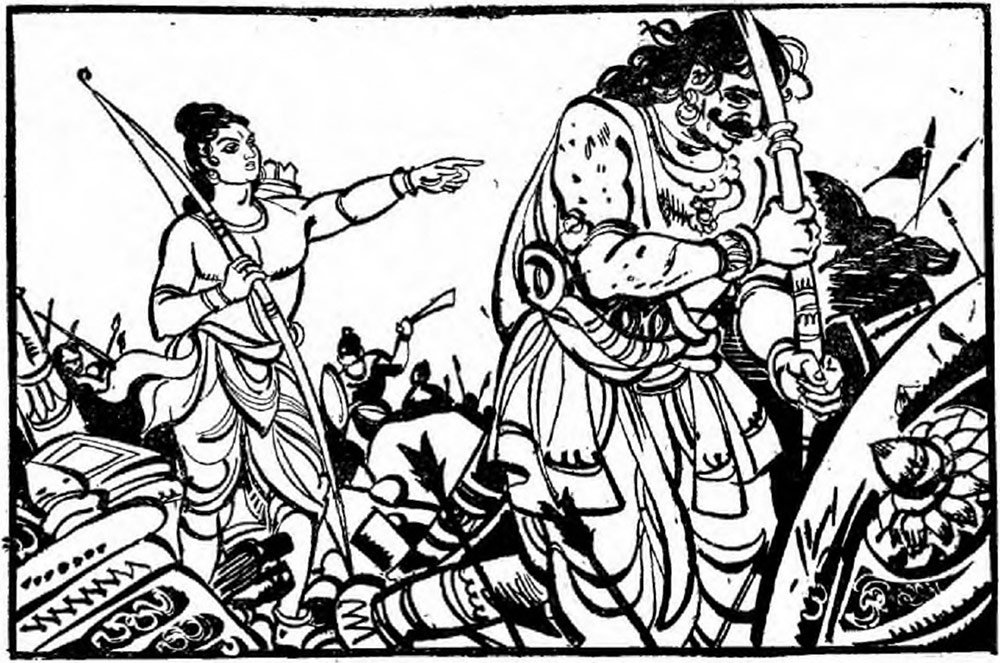 Image title: Children's Illustrated Ramayana: Figure 50
The great war began badly for the rakshasas. Their chieftains met with many ill omens on the way to the battlefield and few returned.
Enraged at the course of the war, Ravana himself took the field. He struck down Lakshmana with a deadly weapon and went up to Rama. With powerful astras (weapons) Rama smashed Ravana's chariot, horses, weapons and crown.
As Ravana stood on the field alone, bereft of arms and mount, the noble Rama spoke to him thus: "Oh! Ravana of matchless valour! You are tired and you have had bad luck. It is not proper for me to continue the fight. Go to Lanka, take rest and come back tomorrow with chariot and weapons."
Gallery information:
These illustrations are from the book called "Children's Illustrated Ramayana" which is an abridged retelling of the Ramayana authored by Vishnu B while the illustrations are by Vipin K. Das.
Note: You can read the full English translation of the Ramayana on this site.
Source: archive.org (external link; opens in new tab).