Siddha Cult in Tamilnadu: photo 197
Photo 197 of 223 in Gallery: Siddha Cult in Tamilnadu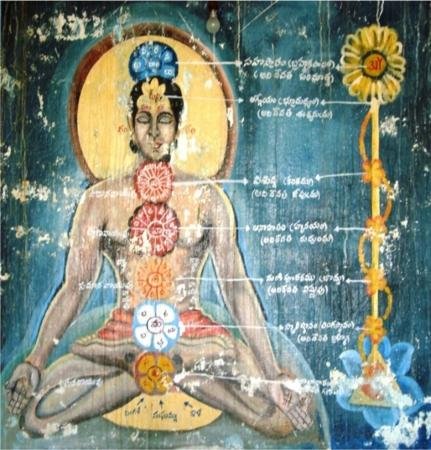 Image title: Sadhaka (seated in siddhasana)
[Series: Historical Continuity of the Siddha Cult in Tamilnadu].
Fig. 185: This is a painting of a Sadhaka seated in a siddhasana depicting the satcakras of the human body as indicated earlier in Fig. 139. It is found (in 2009) at the yogasala near the Bala Narasimha temple, on the way to the Chatravada Narasimha temple at Lower Ahobilam. But by 2012, this yogasala was demolished and a new shrine for Navagraha Narasimha was constructed.
Gallery information:
The Siddha/Natha tradition symbolize the most comprehensive understanding and application of the theoretical and methodological tenets of Tantric philosophy. There are many Siddha-centres all over the Tamilnadu. The temples in Tamil-Nadu contain the sculptures depicting the Tantric rites and the images of the venerated Siddhas in it.