Siddha Cult in Tamilnadu: photo 86
Photo 86 of 223 in Gallery: Siddha Cult in Tamilnadu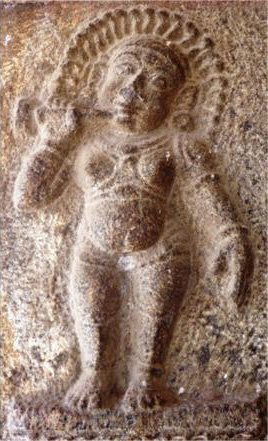 Image title: Nathapanthi standing erect
From Fig. 83 to Fig. 90 are the images representing the performance of Singanatha practice of the Natha-Siddhas.
Fig. 84: This sculpture is found in a mandapa pillar of Kamatchi Amman temple at Kancipuram. A Nathapanthi is standing erect and holding the deer horn in his right hand to its mouth and his left hand is hanging in a lola-hastamudra. He is also found with wearing the appendages like other Natha-Siddhas, viz., matted hair, big kundala, and rings in arms and wrists, cross bands and medallion. But instead of langoti, it seems to be a patched garment.
Gallery information:
The Siddha/Natha tradition symbolize the most comprehensive understanding and application of the theoretical and methodological tenets of Tantric philosophy. There are many Siddha-centres all over the Tamilnadu. The temples in Tamil-Nadu contain the sculptures depicting the Tantric rites and the images of the venerated Siddhas in it.