Sutta, Shutta: 11 definitions
Introduction
Introduction:
Sutta means something in Buddhism, Pali, Hinduism, Sanskrit. If you want to know the exact meaning, history, etymology or English translation of this term then check out the descriptions on this page. Add your comment or reference to a book if you want to contribute to this summary article.
In Buddhism
Theravada (major branch of Buddhism)
Source
:
Access to Insight: A Glossary of Pali and Buddhist Terms
Sutta (Skt. sutra): Lit.: "thread"; A discourse or sermon by the Buddha or his contemporary disciples. After the Buddhas death the suttas were passed down in the Pali language according to a well established oral tradition, and were finally committed to written form in Sri Lanka around 100 BCE. More than 10,000 suttas are collected in the Sutta Pitaka, one of the principal bodies of scriptural literature in Theravada Buddhism. The Pali Suttas are widely regarded as the earliest record of the Buddhas teachings.
Source
:
Pali Kanon: Pali Proper Names
One of the nine divisions of the Tipitaka, according to matter (anga). DA.i.23; Gv.57, etc.
Source
:
Dhamma Dana: Pali English Glossary
N (Thread, Word that explains the meaning). Word of the Buddha reported by the Venerable Ananda and presented in the form of discourses dealing with the various aspects of this teaching.
The suttas often come into a metaphoric shape and answer all questions regarding life and the way to live it.
Source
:
Buddhist Information: A Survey of Paramattha Dhammas
The Pali term Sutta means: that which is heard.
Theravāda is a major branch of Buddhism having the the Pali canon (tipitaka) as their canonical literature, which includes the vinaya-pitaka (monastic rules), the sutta-pitaka (Buddhist sermons) and the abhidhamma-pitaka (philosophy and psychology).
General definition (in Buddhism)
Source
:
Buddhist Door: Glossary
Sutra in Sanskrit, Sutta in Pali. It is a "path" necessarily passed through in the cultivation of the Way.
Source
:
WikiPedia: Buddhism
Sutta means a discourse of the Buddha. The Sutras (Sanskrit; Pali Sutta) are mostly discourses attributed to the Buddha or one of his close disciples. They are all, even those not actually spoken by him, considered to be Buddhavacana, the word of the Buddha, just as in the case of all canonical literature.
Languages of India and abroad
Pali-English dictionary
Source
:
BuddhaSasana: Concise Pali-English Dictionary
sutta : (pp. of supati) slept; dormant; asleep. (nt.), a thread; a string; a discourse; an aphorism.
Source
:
Sutta: The Pali Text Society's Pali-English Dictionary
1) Sutta, 2 (nt.) (Vedic sūtra, fr. sīv to sew) 1. a thread, string D. I, 76; II, 13; Vin. II, 150; Pv. II, 111 (=kappāsiyā sutta PvA. 146); J. I, 52.—fig. for taṇhā at Dhs. 1059; DhsA. 364.—kāḷa° a carpenter's measuring line J. II, 405; Miln. 413; dīgha° with long thread J. V, 389; makkaṭa° spider's thread Vism. 136; yantā° string of a machine VbhA. 241.—Mentioned with kappāsa as barter for cīvara at Vin. III, 216.—2. the (discursive, narrational) part of the Buddhist Scriptures containing the suttas or dialogues, later called Sutta-piṭaka (cp. Suttanta). As such complementary to the Vinaya. The fanciful explanation of the word at DhsA. 19 is: "atthānaṃ sūcanto suvuttato savanato 'tha sūdanato suttāṇā-sutta-sabhāgato ca suttaṃ Suttan ti akkhātaṃ. " — D. II, 124; Vin. II, 97; VbhA. 130 (+vinaya); SnA 159, 310 (compared with Vinaya & Abhidhamma).—3. one of the divisions of the Scriptures (see navaṅga) A. II, 103, 178; III, 177, 361 sq.; Miln. 263.—4. a rule, a clause (of the Pātimokkha) Vin. I, 65, 68; II, 68, 95; III, 327.—5. a chapter, division, dialogue (of a Buddh. text), text, discourse (see also suttanta) S. III, 221 (pl. suttā), 253; V, 46; Nett 118; DhsA. 28. suttaso chapter by chapter A. V, 72, 81; suttato according to the suttas Vism. 562=VbhA. 173.—6. an ancient verse, quotation J. I, 288, 307, 314. ‹-› 7. book of rules, lore, text book J. I, 194 (go° lore of cows); II, 46 (hatthi° elephant trainer's handbook).
2) Sutta, 1 (pp. of supati) asleep Vin. III, 117; V, 205; D. I, 70; II, 130; Dh. 47; It. 41; J. V, 328.—(nt.) sleep D. II, 95; M. I, 448; S. IV, 169. In phrase °-pabuddha "awakened from sleep" referring to the awakening (entrance) in the deva-world, e.g. Vism. 314 (brahmalokaṃ uppajjati); DhA. I, 28 (kanaka-vimāne nibbatti); III, 7 (id.); cp. S. I, 143. (Page 718)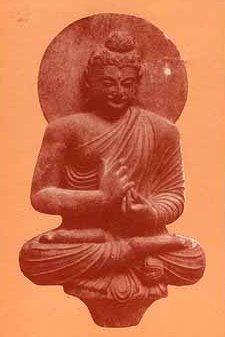 Pali is the language of the Tipiṭaka, which is the sacred canon of Theravāda Buddhism and contains much of the Buddha's speech. Closeley related to Sanskrit, both languages are used interchangeably between religions.
Sanskrit dictionary
Source
:
Cologne Digital Sanskrit Dictionaries: Monier-Williams Sanskrit-English Dictionary
Sūtta (सूत्त):—mfn. (= su-datta) well given, entirely given (cf. ātta, nītta), [Pāṇini 7-4, 47 [Scholiast or Commentator]]
Source
:
Cologne Digital Sanskrit Dictionaries: Yates Sanskrit-English Dictionary
1) Ṣuṭṭa (षुट्ट):—(ka) ṣuṭṭayati 10. a. To disregard, despise; be small or shallow.
2) Suṭṭa (सुट्ट):—(ka) suṭṭayati 10. a. To disregard, despise; to be low or shallow.
3) Sūtta (सूत्त):—[(ttaḥ-ttā-ttaṃ) a.] Well-given.
[Sanskrit to German] (Deutsch Wörterbuch)
Source
:
Cologne Digital Sanskrit Dictionaries: Böhtlingk and Roth Grosses Petersburger Wörterbuch
Sūtta (सूत्त):—adj. so v. a. sudatta (vgl. ātta, nītta u. s. w.) [Scholiast] zu [Pāṇini's acht Bücher 7, 4, 47. 8, 4, 65.]
Sanskrit, also spelled संस्कृतम् (saṃskṛtam), is an ancient language of India commonly seen as the grandmother of the Indo-European language family (even English!). Closely allied with Prakrit and Pali, Sanskrit is more exhaustive in both grammar and terms and has the most extensive collection of literature in the world, greatly surpassing its sister-languages Greek and Latin.
See also (Relevant definitions)
Starts with (+4): Sutta Nipata, Suttabhikkha, Suttadha, Suttagula, Suttajala, Suttaka, Suttakantana, Suttakantika, Suttakara, Suttalukha, Suttamaya, Suttana Pitaka, Suttandara, Suttaniddesa, Suttanta, Suttantika, Suttapitaka, Suttappabuddha, Suttara, Suttarajjuka.
Ends with (+1606): Abbha Sutta, Abbhahata Sutta, Abbhokasa Sutta, Abbhuta Dhamma Sutta, Abbhuta Sutta, Abha Sutta, Abhabba Sutta, Abhaya Sutta, Abhayarajakumara-sutta, Abhayasamana Sutta, Abhibhuyya Sutta, Abhijana Sutta, Abhinandamana Sutta, Abhinandana Sutta, Abhinandena Sutta, Abhinihara Sutta, Abhinivesa Sutta, Abhinna Sutta, Abhinnaparinneyya Sutta, Abhinneyya Sutta.
Full-text (+1652): Mangala Sutta, Sutt, Dighanikaya, Upasakacandala, Itivuttaka, Voharapatha Sutta, Vibhanga Sutta, Rukkhopama Sutta, Catuparivatta, Pubbayogavacara Sutta, Ajani Sutta, Ekantadukkhi, Kimbila Vagga, Abbhuta Dhamma Sutta, Ekapuggala Sutta, Gatha, Sihanada, Kodha Sutta, Vasala Sutta, Vivada Sutta.
Relevant text
Search found 118 books and stories containing Sutta, Sūtta, Shutta, Ṣuṭṭa, Suṭṭa; (plurals include: Suttas, Sūttas, Shuttas, Ṣuṭṭas, Suṭṭas). You can also click to the full overview containing English textual excerpts. Below are direct links for the most relevant articles:
Introduction < [Part 2 - An Exposition Of The Upanisa Sutta]