Vaisnava Agamas and Visnu Images: photo 8
Photo 8 of 9 in Gallery: Vaisnava Agamas and Visnu Images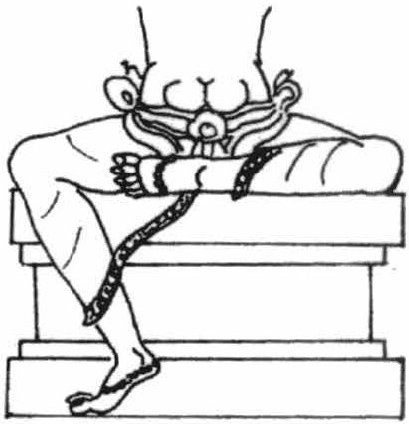 Image title: Figure 16: Sukhasana
Sukhasana refers to one of the various posture (asanas).—Sukha-asana, signifying any comfortable seated position is common in the icons of high grade. In this the divinity is depicted in sitting posture on a pedestal (pitha) with one of the legs resting flat on the seat while another is let down. The Sukhasana pose may be taken as Rajalilasana or Lalitasana with one leg resting flat on the seat and another knee is raised upwards from it and the right arm, as danda-hasta or gaja-hasta, is stretched out and is placed on the raised knee.
Gallery information:
Both the Pancaratra and Vaikhanasa Agamas extensively deal with the technical features on temple art and architecture. Sometime , they detail certain stance or pose but do not mention the technical term: the same way.... In order to study and understand the iconography of the Vaishnava Agamas, is inevitable to consult the treatises on dance (Natya-shastra), sculpture (Shilpa-shastra) and architecture (Sthapatya or Vastu-shastra).