Siddha Cult in Tamilnadu: photo 107
Photo 107 of 223 in Gallery: Siddha Cult in Tamilnadu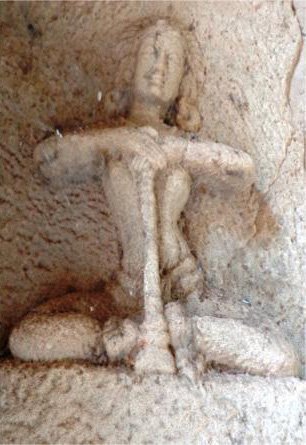 Image title: Siddha (Upper Ahobilam temple)
[Series: Representations of Yogic Postures of the Siddhas and Nāthas in the Medieval Temples]
Fig. 105: This sculpture is found in the entrance gopura wall of the Upper Ahobilam temple. It is similar to the Fig. 101 and 103. But, he is depicted as with good physical structure. His matted hair, a long ring like ear lobe and langoti in his hip, are more attractively sculpted.
Gallery information:
The Siddha/Natha tradition symbolize the most comprehensive understanding and application of the theoretical and methodological tenets of Tantric philosophy. There are many Siddha-centres all over the Tamilnadu. The temples in Tamil-Nadu contain the sculptures depicting the Tantric rites and the images of the venerated Siddhas in it.