by Bhudeb Mookerjee | 1938 | 52,258 words | ISBN-10: 8170305829 | ISBN-13: 9788170305828
This fourth volume of the Rasa-jala-nidhi deals with Rasa-chikitsa-vidya, also known a the science of Iatrchemistry (chemical medicine), a major branch of Ayurveda. It contains Ayurvedic treatments for Fever and Diarrhea. The Rasa-jala-nidhi ("the ocean of Iatrochemistry, or, chemical medicine) is a compendium of Sanskrit verses dealing with ancie...
Part 12 - Iatro chemical medicines applicable in fever
The minerals, poisons, and other drags (except herbs), referred to in the present and subsequent volumes, as ingredients of medicines, are to be duly purified and incinerated, as the case may be, in accordance with the processes described in the first three volumes. A stone mortar and stone rod should be used for rubbing, pestling, or mixing up of different ingredients, which should, if necessary, be previously reduced to fine powder, sifted through a piece of cloth.
Conclusion: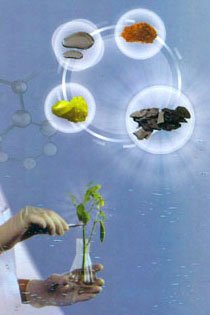 This concludes 'Iatro chemical medicines applicable in fever' included in Bhudeb Mookerjee Rasa Jala Nidhi, vol 4: Initiation, Mercury and Laboratory. The text includes treatments, recipes and remedies and is categorised as Rasa Shastra: an important branch of Ayurveda that specialises in medicinal/ herbal chemistry, alchemy and mineralogy, for the purpose of prolonging and preserving life.