by Bhudeb Mookerjee | 1938 | 28,803 words | ISBN-10: 8170305829 | ISBN-13: 9788170305828
This second volume of the Rasa-jala-nidhi deals with the purification, incineration and medicinal uses of various minerals (uparasa), as well as preventing faults due to misuse. It is continued in the third volume which deals with the various metals. The Rasa-jala-nidhi ("the ocean of Iatrochemistry, or, chemical medicine) is a compendium of Sansk...
Part 1 - Characteristics of Mriddara-shringaka (an ore of lead)
It is found by the side of the Arvuda hill near about Gurjara (Gujrat). It is yellow in colour. It has lead for its essence. It is heavy, pacifier of phlegm and curer of syphilis. It helps the solidification of mercury and is a good dyer of hair.
Conclusion: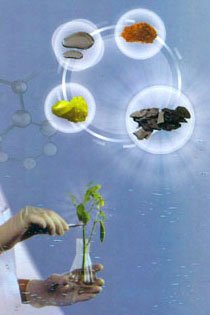 This concludes 'Characteristics of Mriddara-shringaka (an ore of lead)' included in Bhudeb Mookerjee's Rasa Jala Nidhi, vol 2: Minerals (uparasa). The text includes treatments, recipes and remedies and is categorised as Rasa Shastra: an important branch of Ayurveda that specialises in medicinal/ herbal chemistry, alchemy and mineralogy, for the purpose of prolonging and preserving life.