Buddhist Art Gallery: Kathmandu valley: photo 44
Photo 44 of 108 in Gallery: Buddhist Art Gallery: Kathmandu valley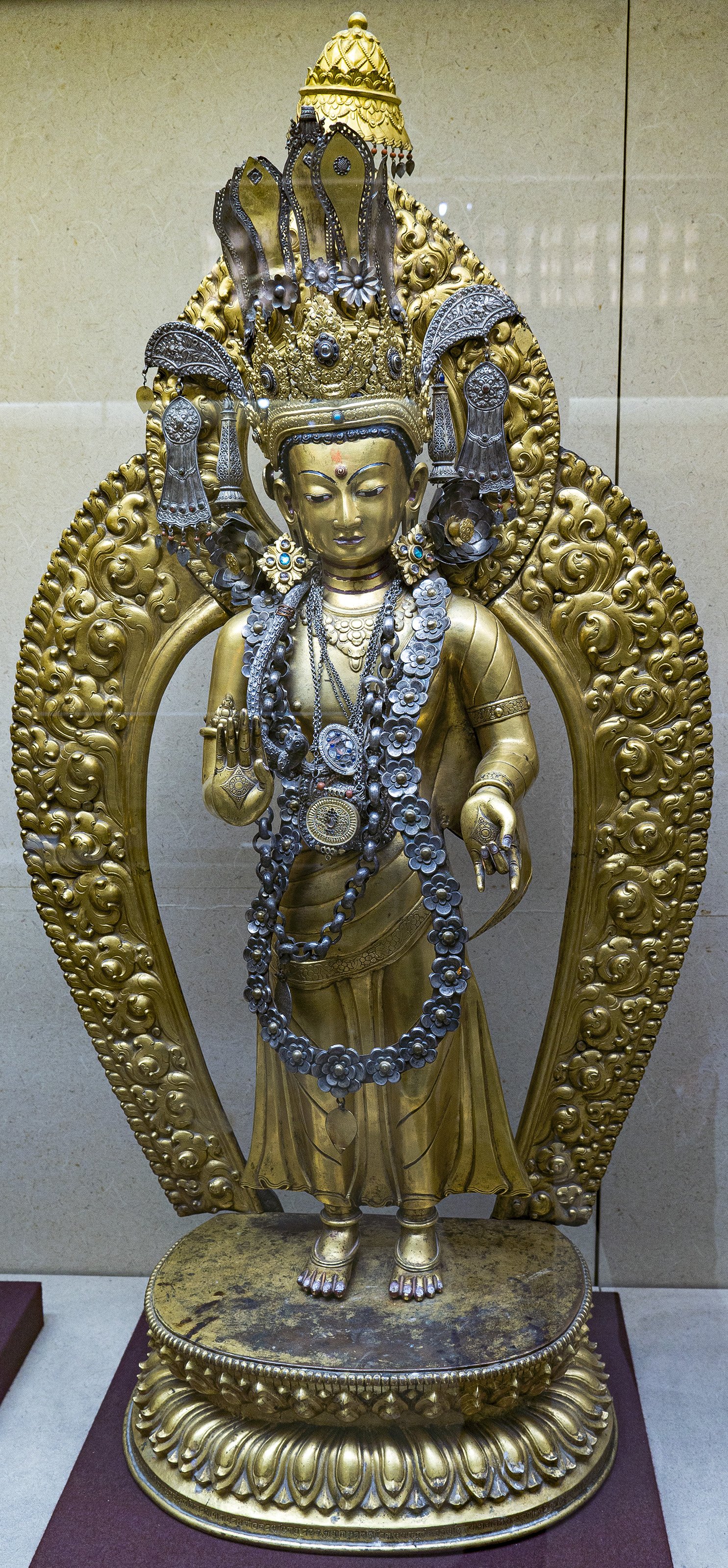 Image title: Dipankara Buddha (1824 A.D.)
This bronze sculpture shows an image of Dipankara Buddha, from the 19th century (1824 A.D.).—Specifications: 122cm x 49cm. For the detail of Crown, Chest, Hands and Feet, see following images.
Dipankara Buddha can also be spelled as दीपंकर बुद्ध (Dīpaṃkara Buddha, Dīpaṅkara, Dipamkara).
The accompanying text in Devanagari reads:
का।म।न।पा वडा नं। १८ नरदेवी स्थित बैद्यो गुठीका गुठीयारहरु अष्टरत्न तुलाधर, निर्मल कुमार तुलाधर, बिनोदमान सिं तुलाधर, पदम सागर तुलाधर, प्रश्रय रत्न तुलाधर समेत ९ जवानहरुले सुरक्षाको लागि यस संग्रहालयमा राख्न ल्याइएको र वर्षको एकचोटी गाईजात्राको अवसरमा एक हप्ता प्रदर्शन गर्न लैजाने गरिएको दिपंकर बुद्ध |
kā.ma.na.pā vaḍā naṃ. 18 naradevī sthita baidyo guṭhīkā guṭhīyāraharu aṣṭaratna tulādhara, nirmala kumāra tulādhara, binodamāna siṃ tulādhara, padama sāgara tulādhara, praśraya ratna tulādhara sameta 5 javānaharule surakṣāko lāgi yasa saṃgrahālayamā rākhna lyāieko ra varṣako ekacoṭī gāījātrāko avasaramā eka haptā pradarśana garna laijāne garieko dipaṃkara buddha |
Gallery information:
Kathmandu valley in Nepal offers a wide variety of Buddhist objects such as paintings, scriptures, sculptures, ritualistic objects, etc. Buddhism was embraced by the people of Kathmandu valley and the Licchavi rulers up to 8th century encouraged Buddhism. The items found here are exhibited in the National Museum of Nepal (Rashtriya Museum).