Jati Sutta, aka: Jāti-sutta; 2 Definition(s)
Introduction
Jati Sutta means something in Buddhism, Pali. If you want to know the exact meaning, history, etymology or English translation of this term then check out the descriptions on this page. Add your comment or reference to a book if you want to contribute to this summary article.
In Buddhism
Theravada (major branch of Buddhism)
Everything is subject to rebirth - eye, objects, etc. S.iv.26.
Source
:
Pali Kanon: Pali Proper Names
Theravāda is a major branch of Buddhism having the the Pali canon (tipitaka) as their canonical literature, which includes the vinaya-pitaka (monastic rules), the sutta-pitaka (Buddhist sermons) and the abhidhamma-pitaka (philosophy and psychology).
Languages of India and abroad
Pali-English dictionary
Jāti, (f.) (see janati & cp. Gr. geneά, gέnesis; Lat. gens; Goth. kind-ins).—Instr. jātiyā (Sn. 423) & jaccā (D. II, 8; J. III, 395; Dh. 393); Abl. jātiyā (S. I, 88) & jātito (by descent: D. II, 8); Loc. jātiyaṃ (PvA. 10) & jātiyā (PvA. 78).—1. birth, rebirth, possibility of rebirth, "future life" as disposition to be born again, "former life" as cause of this life. Defined (cp. the corresp. expln of jarā) as: yā tesaṃ tesaṃ sattanaṃ tamhi tamhi satta-nikāye jāti sañjāti okkanti abhinibbatti khandhānaṃ pātubhāvo āyataṇānaṃ paṭilābho D. II, 305 =S. II, 3=Nd2 257.—Jāti is a condition precedent of age, sickness & death, and is fraught with sorrow, pain & disappointment. It is itself the final outcome of a kamma, resting on avijjā, performed in anterior births; & forms thus the concluding link in the chain of the Paṭicca-samuppāda. Under the first aspect it is enumd in various formulæ, either in full or abbreviated (see Nd2 258), viz, (a) as (1) jāti, (2) jarā, (3) vyādhi, (4) maraṇa, (5) sokaparidevadukkhadomanass'upāyāsa in the dukkhaṃ ariyasaccaṃ (the noble truth of what is misfortune) Vin. I, 10; A. I, 176; III, 416; °dhamma destined to be born, etc. M. I, 161 sq. , 173;— A. V, 216; Nd2 258, 304, 630, etc., in var. connections (referring to some dukkha).—(b) as Nos. 1—4: Nd2 254, 494b; J. I, 168, etc.—(c) as Nos. 1, 2, 4 (the standard quotation, implying the whole series 1—5): S. V, 224; A. V, 144; jātipaccayā jarāmaraṇaṃ Vin. I, 1; D. II, 31, 57, etc.; °ika A. II, 11, 173; °īya M. I, 280; Nd2 40.—(d) to this is sometimes added (as summing up) saṃsāra: Nd2 282f; cp. kicchaṃ loko āpanno jāyati ca jīyati ca mīyati ca cavati ca uppajjati ca D. II, 30.—(e) as Nos. 1+4: pahīna-jātimaraṇa (adj.) (=free from life & death, i.e. saṃsāra) A. I, 162; °bhayassa pāraga A. II, 15; °kovida Sn. 484; atāri °ṃ asesaṃ Sn. 355 (cp. 500); °assa pāraga Sn. 32.—(f)=e+saṃsāra (cp. d): sattā gacchanti saṃsāraṃ jātimaraṇagāmino A. II, 12=52; jātimaraṇasaṃsāraṃ ye vajanti punappunaṃ ... avijjāy'eva sā gati Sn. 729.—(g) as Nos. 1+2, which implies the whole series: atāri so jātijaraṃ A. I, 133= Sn. 1048; jātijar'upaga Sn. 725=It. 106; saṃyojanaṃ jātijarāya chetvā It. 42;— Sn. 1052, 1060; Dh. 238, 348; cp. jāti ādinā nihīna PvA. 198.—Other phrases & applications: Various rebirths are seen by one who has perfect insight into all happening & remembers his former existences (D. I, 81; III, 50; A. I, 164; M. II, 20). Arahantship implies the impossibility of a future rebirth: see formula khīṇā jāti (M. I, 139; Sn. p. 16, etc.) and arahant II. A: jātiyā parimuccati S. I, 88; jātiṃ bhabbo pahātuṃ A. V, 144 sq.—antimā jāti the last rebirth D. II, 15 (cp. carima); purimā j. a former existence PvA. 1; atītajātiyaṃ in a former life (=pure) PvA. 10. On jāti as dukkha see Vism. 498—501. ‹-› 2. descent, race, rank, genealogy (cp. fuή, genus), often combd w. gotta. Two grades of descent are enumd at Vin. IV, 6 as hīnā jāti (low birth), consisting of Candāḷa, Veṇa, Nesāda, Rathakāra & Pukkusa; and ukkaṭṭhā j. (superior birth), comprising Khattiyas & Brāhmaṇas.—The var. meanings of jāti are given by Bdhgh at Vism. 498, 499 in the foll. classification (with examples) bhava, nikāya, saṅkhata-lakkhaṇa, paṭisandhi, pasūti, kula, ariya-sīla.—Kiṃ hi jāti karissati? What difference makes his parentage? D. I, 121; jāti-rājāno kings of birth, genuine kings J. I, 338; na naṃ jāti nivāresi brahmalok'ûpapattiyā Sn. 139; jātiṃ akkhāhi tell me the rank of his father & mother Sn. 421, 1004; cp. 462; na jaccā vasalo hoti Sn. 136; 142; id. w. brāhmaṇo Sn. 650; with nāma & gotta in the description of a man jātiyā nāmena gottena, etc. Vin. IV, 6; jātito nāmato gottato by descent, personal & family name D ii. 8; cp. jāti - gotta - kula J ii. 3. See also j.—vāda.—3. a sort of, kind of (cp. jāta 3): catujātigandha four kinds of scent J. I, 265; II, 291. ‹-› 4. (jāti°) by (mere) birth or nature, natural (opp. artificial); or genuine, pure, excellent (opp. adulterated, inferior), cp. jāta 1 (b): in cpds. , like °maṇi, °vīṇā, etc.

—kkhaya the destruction of the chance of being reborn S. V, 168; A. I, 167; Sn. 209, 517, 743; Dh. 423. —khetta the realm of rebirth PvA. 138 (=dasa cakkavāḷasahassāni); —thaddha conceited, proud of birth Sn. 104 (+dhanatthaddha, gotta°: proud of wealth & name); —thera a Th. by rank D. III, 218; —nirodha the extermination of (the cause of) rebirth Vin. I, 1≈; —pabhava the origin or root of existence Sn. 728; —puppha nutmeg J. VI, 367; —bhaya the fear of rebirth A. II, 121; —bhūmi natural ground, in °bhūmaka, °bhūmika, °bhūmiya living on nat. gr. (vassaṃ vasati) M. I, 145; A. III, 366; —maṇi a genuine precious stone J. II, 417; —maya constituting birth, being like birth ThA. 285; —vāda reputation of birth, character of descent, parentage. The 1st of the 5 characteristics constituting a "well-bred" brahmin: yāva sattamā pitāmahāyugā akkhitto anupakkuṭṭho jātivādena "of unblemished parentage back to the 7th generation" D. I, 120, etc. (=DA. I, 281); A. I, 166; III, 152, 223; Sn. 315, 596. Cp. gotta-vāda (e.g. D. I, 99); —vibhaṅga a characteristic of birth, a distinction in descent Sn. 600; —vīṇā a first-class lute J. II, 249; —sampanna endowed with (pure) birth (in phrase khattiyo muddhâvasitto j. °) A. III, 152; —sambhava the origin of birth A. I, 142; III, 311; J. I, 168; —sambheda difference of rank DhA. I, 166; —saṃsāra the cycle of transmigration, the saṃsāra of rebirths (see above 1 d. f.): pahīna left behind, overcome (by an Arahant) M. I, 139; A. III, 84, 86; °ṃ khepetvā id. Th. 2, 168; vitiṇṇo j. ° n'atthi tassa punabbhavo Sn. 746; —sindhava a well-bred horse J. II, 97; —ssara the remembrance of (former) births (°ñāṇa) J. I, 167; IV, 29; DhA. II, 27; IV, 51; cp. cutûpapāta-ñāṇa); —hiṅgulaka (& hingulikā) natural vermilion J. V, 67; VvA. 4, 168, 324. (Page 281)
Source
:
Sutta: The Pali Text Society's Pali-English Dictionary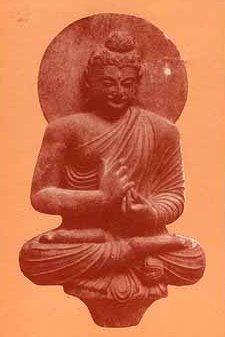 Pali is the language of the Tipiṭaka, which is the sacred canon of Theravāda Buddhism and contains much of the Buddha's speech. Closeley related to Sanskrit, both languages are used interchangeably between religions.
Relevant definitions
Search found 2749 related definition(s) that might help you understand this better. Below you will find the 15 most relevant articles:
| | | |
| --- | --- | --- |
| | | |
| Jati | | Jāti (जाति, "futility") refers to "sophisticated refutation" and represents the fifteenth of th... |
| Sutta | | 1) Sutta, 2 (nt.) (Vedic sūtra, fr. sīv to sew) 1. a thread, string D. I, 76; II, 13; Vin. II... |
| Jatismara | | Jātismara (जातिस्मर).—A holy bath. It is mentioned in the Mahābhārata, Vana Parva, Chapter 84, ... |
| Jatiphala | | Jātiphala (जातिफल).—(sometimes jātīphalam also) a nutmeg; जातीफलं मातुलानीमहिफेनं च पत्रकम् (jā... |
| Suttapitaka | | 1) Sutta, 2 (nt.) (Vedic sūtra, fr. sīv to sew) 1. a thread, string D. I, 76; II, 13; Vin. II... |
| Jatyandha | | Jātyandha (जात्यन्ध).—a. born blind; Bh.1.9. Jātyandha is a Sanskrit compound consisting of the... |
| Trinajati | | Tṛṇajāti (तृणजाति).—f. grass-kind, the vegetable kingdom; Ms.1 48. Derivable forms: tṛṇajātiḥ (... |
| Jatipatri | | Jātipatrī (जातिपत्री).—the outer skin of the nutmeg. Jātipatrī is a Sanskrit compound consistin... |
| Jativacaka | | Jātivācaka (जातिवाचक).—a. expressing a genus, generic (as a word); गौरश्वः पुरुषो हस्ती (gauraś... |
| Kala-sutta | | Kāḷa-sutta a black thread or wire, a carpenter's measuring line J. II, 405; Miln. 413; als... |
| Jatibhramsha | | Jātibhraṃśa (जातिभ्रंश).—loss of caste; Ms.11.67. Derivable forms: jātibhraṃśaḥ (जातिभ्रंशः).Jā... |
| Jatisvabhava | | Jātisvabhāva (जातिस्वभाव).—generic character or nature. Derivable forms: jātisvabhāvaḥ (जातिस्व... |
| Svajati | | Svajāti (स्वजाति).—1) one's own kind. 2) one's own family or caste. Derivable forms: svajātiḥ ... |
| Dhurjati | | Dhūrjaṭi (धूर्जटि) is an epithet of Śiva, as mentioned in the "Plate of Lalitaśūradeva" (853-85... |
| Kula-sutta | | Kula, (nt.; but poetic pl. kulā Pv. II, 943 (Idg. *qǔel (revolve); see under kaṇṭha, cakka an... |
Relevant text
No search results for Jati Sutta or Jāti-sutta in any book or story.