by Benoytosh Bhattachacharyya | 1958 | 51,392 words | ISBN-10: 8173053138 | ISBN-13: 9788173053139
This page contains an iconography image of Emanations of Vairocana: Grahamatrika and represents figure 165 of the book Indian Buddhist Iconography, based on extracts of the Sadhanamala English translation. These plates and illustrations represent either photographs of sculptures or line-drawing reproductions of paintings or other representations of Buddhist artwork.
Figure 165 - Emanations of Vairocana: Grahamātṛkā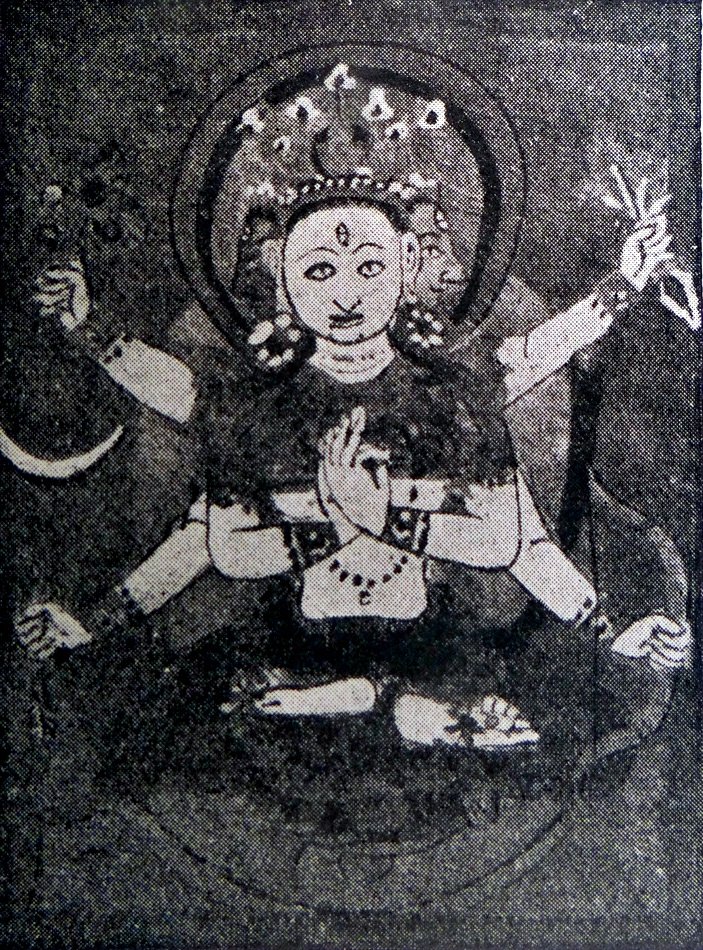 Fig. 165: Grahamātṛkā
(Courtesy: W.Y. Evans Wentz)
Faces: three;
Arms: six;
Mudrā: dharmacakra;
Āsana: vajraparyahka;
Grahamātṛkā has been described in the Dharmakośasaṃgraha in the following words:
"Grahamātṛkā has three faces of white, yellow and red colour, and six-arms, displaying the Dharmacakra-mudrā (in the principal pair of hands) and carrying the Vajra and the arrow in the two right hands, and in the two left the lotus and the bow She sits in the Vajrāsana on a lotus of a thousand petals".
Fig. 165 illustrates a miniature painting in the possession of Dr. Evans Wentz.