by Manmatha Nath Dutt | 2006 | 9,945 words | ISBN-10: 8171102794
The Sanskrit edition of the Katyayana-smriti referencing the English translation and grammatical analysis. The Katyayana-smriti is one of the minor works on Dharmashastra as mentioned in the Yajnavalkya-smriti. Katyayana is the author of a clear and full treatise on law and also wrote on grammar and other subjects. Alternative titles: Kātyāyanasmṛti (कात्यायनस्मृतिः), Kātyāyana-smṛti (कात्यायन-स्मृति).
arthinābhyarthito yastu vighātaṃ na prayojayet |
tricatuḥpañcakṛtvo vā parastadṛṇī bhavet || 1 [336] ||
[Analyze grammar]
dānaṃ prajñāpanā bhedaḥ saṃpralobhakriyā ca yā |
cittāpanayanaṃ caiva hetavo hi vibhāvakāḥ || 2 [337] ||
[Analyze grammar]
eṣāṃ anyatamo yatra vādinā bhāvito bhavet |
mūlakriyā tu tatra syādbhāvite vādinihnave || 3 [338] ||
[Analyze grammar]
Other print editions:
Also see the following print editions of the Sanskrit text or (alternative) English translations of the Katyayana-smriti Chapter 28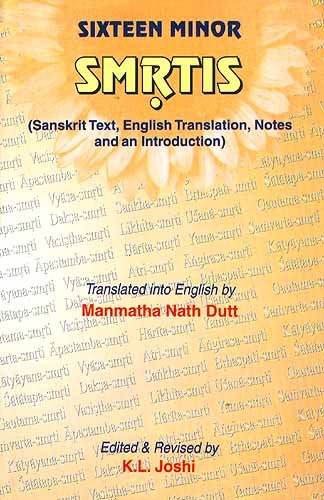 Sixteen Minor Smrtis: 2 Volumes
by Manmatha Nath Dutt (2006)
Sanskrit Text, English Translation, Notes and an Introduction
Buy now!