by S. R. Balasubrahmanyam | 1979 | 143,852 words
This volume of Chola Temples covers Kulottunga I to Rajendra III in the timeframe A.D. 1070-1280. The Cholas of Southern India left a remarkable stamp in the history of Indian architecture and sculpture. Besides that, the Chola dynasty was a successful ruling dynasty even conquering overseas regions....
Appendix 1: Mote on M. Sethuraman's views on Rajadkiraja II
We have described the views and conclusions of N. Sethuraman on the date of accession of Kulottunga 1. In his Aruludaich Cholamandalam, he discusses fully and critically the Pallavarayanpettai inscription. He suggests a slight variation in the generally accepted order of succession. The two views are stated below:
Genealogy of the later Cholas (a.d. 1070-1280)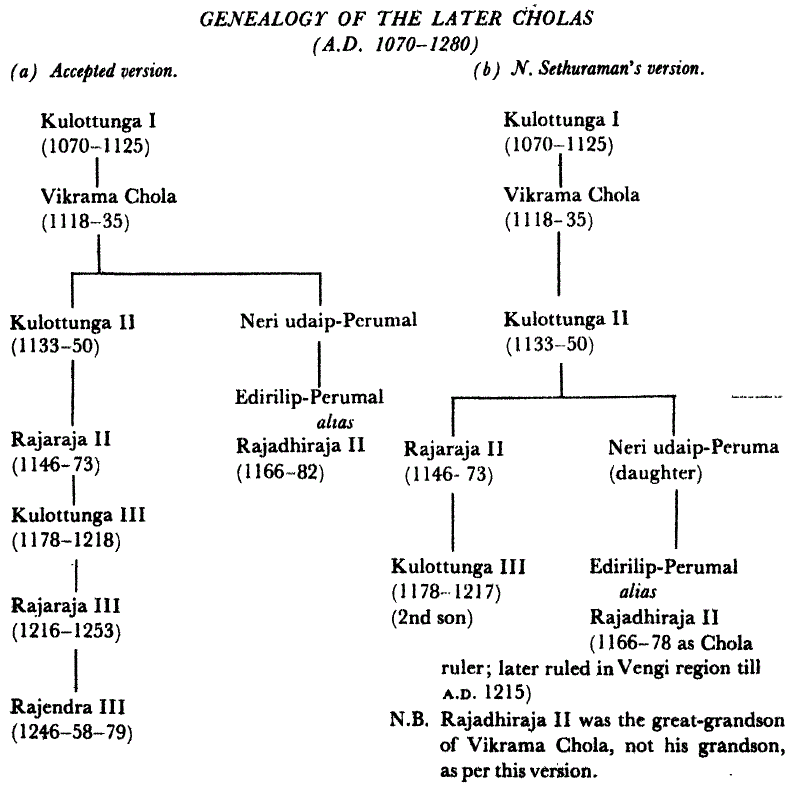 (a) Accepted version.
Kulottunga I (1070-1125)
Vikrama Chola (1118-35)

Kulottunga II (1133-50)
Rajaraja II (1146-73)
Kulottunga III (1178-1218)
Rajaraja III (1216-1253)
Rajendra III (1246-58-79)

Neri udaip-Perumal
Edirilip-Perumal alias Rajadhiraja II (1166-82)

(b) M. Sethuraman's version.
Kulottunga I (1070-1125)
Vikrama Chola (1118-35)
Kulottunga II (1133-50)

Rajaraja II (1146-73)
Kulottunga III (1178-1217) (2nd son)

Neri udaip-Peruma (daughter)
Edirilip-Perumal alias Rajadhiraja II (1166-78 as Chola ruler; later ruled in Vengi region till A.D. 1215)

N.B, Rajadhiraja II was the great-grandson of Vikrama Chola, not his grandson, as per this version.
An important difference between the two views is that in the earlier view Edirilipperu-mal was the son of Neriyudaipperumal (supposedly a younger brother of Kulottunga II) who in turn was a son of Vikrama Chola. Sethuraman suggests that Neriyudaipperumal was a daughter of Kulottunga II and a younger sister of Rajaraja II, and that Edirilip-perumal was the son of this Neriyudaipperumal, and thus a great-grandson of Vikrama Chola. And he cites the analogy of the earlier Chola precedent in which Kulottunga I (Rajiga or Rajendra), the son of Ammanga devi, sister of Vira Rajendra, was made the Chola emperor, after the death of Vira Rajendra and his son Adhi Rajendra.
The closing years of Rajaraja IPs rule were a critical period in the history of the Cholas. The king was old and ailing. He had two sons—one and two years old. The war of disputed succession to the Pandyan throne had had its impact on the Chola empire. In the face of these dangers—domestic and foreign- Rajaraja II held consultation with his Council of Ministers and (according to N, Sethuraman) got the approval of the Nadu to appoint Edirilip-perumal as his successor till one of his sons came of age to be crowned king of the Chola country. Edirilip-perumal ascended the Chola throne as a co-ruler in a.d. 1166 and ruled for 12 years under the name of Rajadhiraja II.
He stood by his promise to Rajaraja II. In a.d. 1178, he handed over the sovereignty of the Chola kingdom to Rajaraja II's second son, Kulottunga III, in accordance with his promise to and understanding with Rajaraja II and retired to Vengi desa and ruled that principality with full regal powers and authority till his death there in a.d. 1215. A noble soul!
See N. Sethuraman's book Aruludaich Cholamandalam (Kumbakonam) and the pamphlet Rajadhirajan II issued at the meeting of the Archaeological Society on 21.6.1976 at Kumbakonam.