by S. Anusha | 2016 | 34,012 words
This page relates 'Sarga IV: Muktayudha-nirupana (52 Verses)' of the study on the Nitiprakasika by Vaisampayana which deals primarily with with Dhanurveda, i.e., the science of war, weapons and military strategies of ancient Indian society. It further contains details on Niti-shastra, i.e., the science of politics and state administration but most verses of the Nitiprakashika deal with the classification and description of different varieties of weapons, based on the four groups of Mukta, Amukta, Muktamukta and Mantramukta.
Sarga IV: Muktāyudha-nirūpaṇa (52 Verses)
The form, appearance, measurement, movements and special parts in some cases are presented in tabular form here.[2]
(1) Dhanu [IV. 6-27]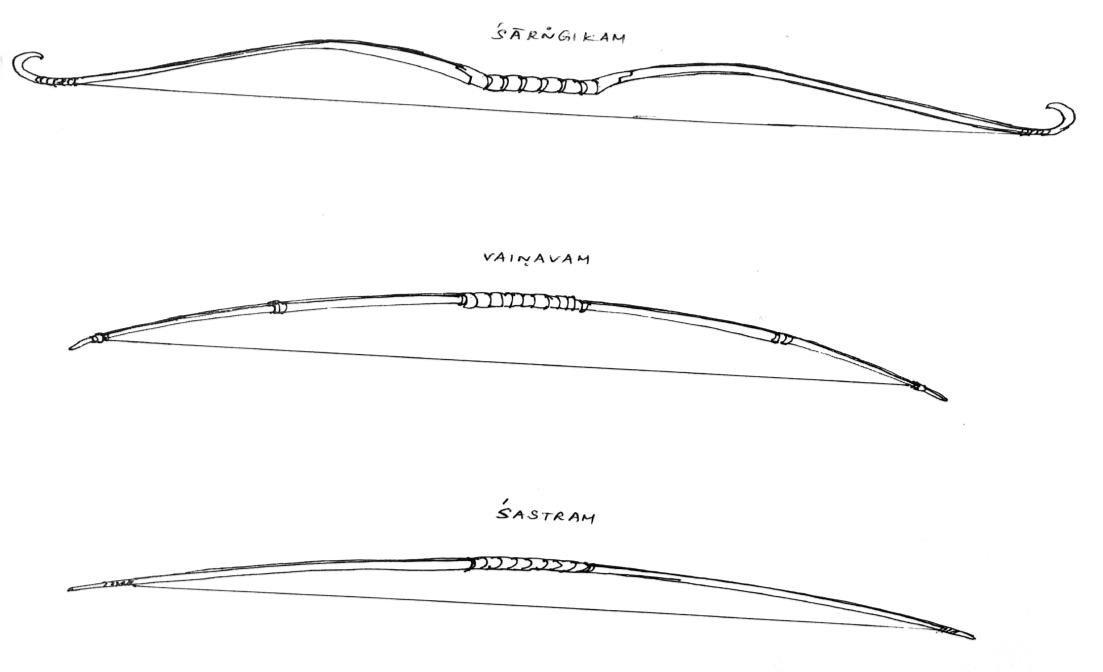 Measurements:
[...][3]
catuṣkiṣkuprāṃśu (4 cubits ht.)
Physical Charactersistics:
Broadneck
Small Face
Slender Waist
Strong Back
Blood Colour Covered With Garland of Entrails
Long Tongue;
Licks Two Corners of Mouth Continuosly
Mouth has Terrible Tusks
Gurgling Noise
Movements:
Pratisandhāna, Ākarṣaṇa, Vikarṣaṇa, Paryākarṣa, Anukarṣa, Maṇḍalīkaraṇa, Pūraṇa, Sphāraṇa, Dhūnana, Bhrāmaṇa, Āsannapāta, Dūrapāta, Pṛṣṭhapāthana, Madhyamapātana.
Special Points:
4 types of targets: Avicālya, Sūkṣma, Sukumāra, Guru.
3 types of bows: Śārṅgika, Vaiṇava, Śastra.
5 stances: Pratyālīḍhaka, Ālīdha, Sampada,Viśāla, Maṇḍala.
Armours used: Kavaca, Śirastrāṇa, Parikara, Galapaṭṭisaṅgraha.
10 movements of archer in chariot: Pradakṣiṇa, Śaighrya, Apradakṣiṇa, Gata, Pratyāgata, Maṇḍala, Avasthiti, Miśraṇa, Sphoṭana, Vīthī.
(2) Iṣu [IV. 28-29]
Measurements:
Dvihastotsedha[4]
2 cubits ht.
Añjalimita paridhi
I añjali cir
Physical Charactersistics:
Dark
Large body
Movements:
Bhrāmaṇa, Kṣepaṇa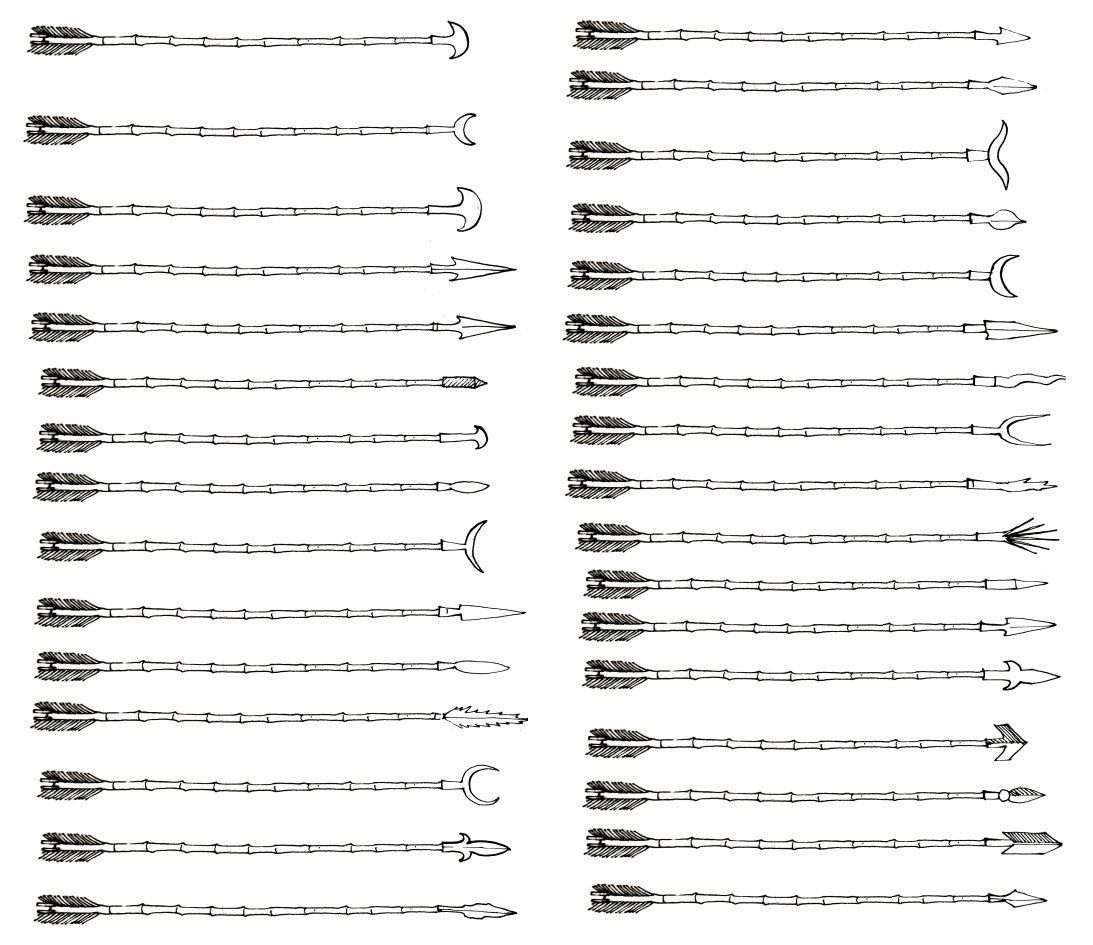 (3) Bhiṇḍipāla [IV. 30-1]
Measurements:
Hastamātrotsedha[5]
1 cubit ht.
Karasammita maṇḍala
1 hand cir.
Physical Charactersistics:
Crooked body
Broad,
Bent head
Movements:
Tribhrāmaṇa, visarga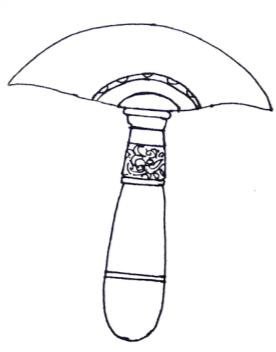 (4) Śakti [IV. 32-5]
Measurements:
Hstadvayotsedha[6]
2 cubits ht.
Bṛhatsaru
Broad as fist
Physical Charactersistics:
Sharp Tongue
Horrible Claw
Sounds Like Big Bell (Ghaṇṭhā)
Has Open Mouth Like That Of Lion
Dark-coloured
Stained by Enemy's Blood
Covered by Garland of Entrails
Fearful
Movements:
Tolana, Bhrāmaṇa, Valgana, Nāmana, Mocana, Bhedana

(5) Drughaṇa [IV.36-7]
Measurements:
Pañcā[7]
śadaṅgulyutsedha
50 aṅgulas ln.
Muṣṭisammita maṇḍala
1 fist cir.
Physical Charactersistics:
Crooked Neck
Broad Head
Movements:
Unnāmana, Prapāta, Sphoṭana, Dāraṇa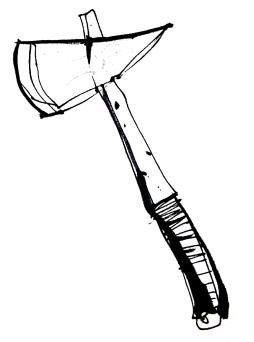 (6) Tomara [IV.38-9]
Measurements:
Hasta
trayonnatāṅga[8]
(3 cubits ln.)
Physical Charactersistics:
Red In Colour
Wooden Body
Not Crooked
Metal Head (Like Bunch of Flowers)
Movements:
Uddhāna, Vinivṛtti, Vedhana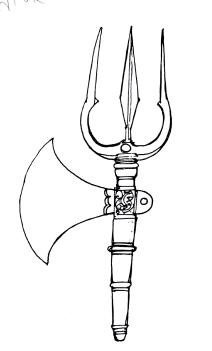 (7) Nalikā [IV.40-1]
Measurements:
-
Physical Charactersistics:
Dark Coloured
Thin Limbed
Straight Body
Hollow In The Middle
Movements:
Grahaṇa, Dhmāpana, Syūta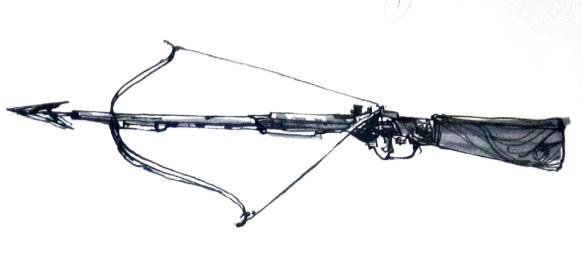 (8) Laguḍa [IV.42-4]
Measurements:
Hastadvayonnata[10]
(2 cubits ht.)
Physical Charactersistics:
Small Foot;
Surrounded with Metal and is Tooth–Shaped
Bare Body
Broad Head and Shoulder
Movements:
Utthāna, Patana, Peṣaṇa, Pāthana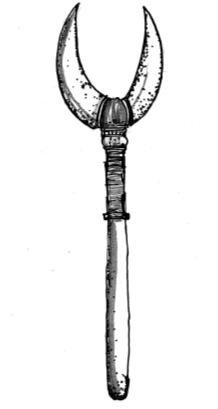 (9) Pāśa [IV.45-6]
Measurements:
Prādeṣa paridhi[11]
(1 span cir.)
Physical Charactersistics:
Triangular
Ornamented with Leaden balls
Made of metal
Movements:
Prasāraṇa, Veṣṭana, Karthana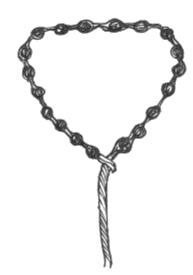 (10) Cakra [IV.47-8]
Measurements:
Pradeśadvaya maṇḍala[12]
(2 spans cir.)
Physical Charactersistics:
Indigo water colour
Circular disc
Quadrangular hole in middle
Movements:
Grathana, Bhrāmaṇa, Kṣepaṇa, Parikartana, Dalana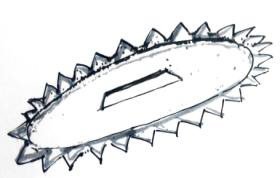 (11) Dantakaṇṭaka [IV.49-50]
Measurements:
1 arm ht.[13]
Physical Charactersistics:
Frightful
Charcoal coloured
Made of metal
Straight body
Broad front
Thin tail
Good handle
Movements:
Pātana, Grathana

(12) Bhuśuṇḍī [IV.51-2]
Measurements:
Bāhutrayotsedhi[14]
(3 arms ln.)
Physical Charactersistics:
Black cobra like colour
Broad knots in broad body
Good handle for fist
Fearful
Movements:
Yāpana, Ghūrṇana

The sub varieties; training methodology; mode of holding; handling techniques and scheme of target practice are also delineated. These shall be discussed in the next chapter.
Tattvavivṛti on verses 8-27:
Explains the various features of the bow, order of training, methods of releasing the arrows, the different targets, the fourteen movements of executing the bow, and the three types of bow.
Tattvavivṛti on verses 28-52:
The details of the other eleven weapons are given wherever necessary.
Footnotes and references: