by Elaine M. Fisher | 2017 | 113,630 words
This thesis is called Hindu Pluralism: "Religion and the Public Sphere in Early Modern South India".—Hinduism has historically exhibited a marked tendency toward pluralism—and plurality—a trend that did not reverse in the centuries before colonialism but, rather, accelerated through the development of precolonial Indic early modernity. Hindu plur...
As was common wisdom in the classical genres of Sanskrit textuality, a book simply cannot be undertaken without a preliminary homage of reverence to the sources of inspiration to whom we owe our existence as scholars and human beings. Words cannot do justice to my gratitude for the unwavering support and the depth of enthusiasm I have encountered from advisors, colleagues, and companions alike. The first iteration of this book originated as a doctoral dissertation at Columbia University written under the mentorship of Sheldon Pollock, who first opened my eyes to the potential of philology to envision possible pasts both inside and outside of the text. What this book has become today would have been inconceivable without his unwavering confidence both in the project itself and in the intellectual freedom to take risks on new archives and archaeologies. My gratitude goes out to the members of my dissertation committee, Jack Hawley, Sudipta Kaviraj, Rachel McDermott, and Indira Peterson, for their generous feedback and encouragement on every draft at each step of the journey. I owe my introduction to the textual canons of Śaivism and the world of digital philology to the generous mentorship of Somadeva Vasudeva during his time at Columbia.
The majority of the revisions to the manuscript were completed with the support of a Mellon Postdoctoral Fellowship at the University of Wisconsin-Madison from 2014 to 2016. Susan Friedman, director of the Institute for Research in the Humanities, deserves particular commendation for the remarkable collaborative community she fosters among fellows from diverse disciplinary backgrounds. My sincere thanks to Jessica Courtier, Megan Massino, and Sarah Guyer, and to my colleagues in the Mellon Fellowship program across three cohorts, Darien Lamen, Daegan Miller, Amanda Rogers, Jolyon Thomas, Darryl Wilkinson, Anthony Fontes, Anja Jovic-Humphrey, Patrick William Kelley, and Golnar Nikpour, for their thoughtful consideration of countless drafts during our Mellon seminar meetings. I am grateful for the mentorship of Joseph Elder and, in particular, André Wink, who generously subjected himself to a review of the entire manuscript, and to the collegial feedback of faculty across disciplines at UW-Madison, including Florence Bernault, Jill Casid, Preeti Chopra, Bill Cronon, Bob Frykenberg, Viren Murthy, Ronald Radano, Mary Lou Roberts, Ellen Sapega, Sissel Schroeder, Mitra Sharafi, Sarah Thal, Luke Whitmore, and many others too numerous to count. I thank the faculty of the Center for Early Modern Studies and the Center for South Asia, particularly Lalita du Perron, for allowing me to share my research with the UW community. I would like to express my heartfelt appreciation to Laurie Patton, who took the time to travel to Madison to lead a seminar discussion of chapter 3, fostering an intellectually stimulating conversation on the conceptual issues underlying this work. My revisions were further facilitated by the thoughtful advice of Srilata Raman and by feedback I received at the American Institute of Indian Studies Dissertation-to-Book Workshop in 2014 from the directors, Brian Hatcher and Dan Gold, and the community of workshop participants.
The archival research and fieldwork that fueled this monograph were conducted in Pondicherry from 2010 to 2011 with the support of a Fulbright-Hays Doctoral Dissertation Abroad Fellowship. While in residence in Pondicherry, I was welcomed wholeheartedly by the faculty of the École française d'Extrême-Orient and the Institut français de Pondichéry owing to the generous institutional support of Dominic Goodall, Valérie Gillet, and Prerana Patel. Life in Pondicherry was abundant with opportunities to cultivate a multilingual research project, and I offer my sincere gratitude to the scholars in Pondicherry and beyond who shared their multilingual philological expertise, facilitating reconstruction of the discourses of early modern Sanskrit, Tamil, and Telugu, and for allowing me to secure my footing in the field of south Indian paleography, including Diwakar Acharya, H. N. Bhatt, Jean-Luc Chevillard, T. Ganesan, Dominic Goodall, Harunaga Isaacson, V. S. Rajam, H. V. Nagaraja Rao, Anjaneya Sarma, Sathyanarayana Sarma, Samuel Sudanandha, Sthaneshwar Timalsina, E. Vijaya Venugopal, and Eva Wilden. My knowledge of early Śaivism profited greatly from my association with the team of scholars I encountered during my travels: Alex Watson, Csaba Deszo, Csaba Kiss, Ginni Ishimatsu, Yuko Yokochi, Arlo Griffiths, and many others.
Logistically, my research would have been impossible to complete but for the generous assistance of archivists at manuscript libraries across south India, particularly the staff of the GOML and Adyar Libraries in Chennai;Dr. Perumal at the Tanjavur Maharaja Serfoji's Sarasvati Mahal Library;Siniruddha Dash at the New Catalogus Catalogorum Project at the University of Madras and the entirety of the NCC Project staff; P. L. Shaji at the Oriental Research Institute in Kariavottom, Kerala, who secured reproductions of the crucial Saubhāgyacandrātapa manuscript in their collection; M. V. Raghavendra Varma at the Archaeological Survey of India; and the faculty and staff of the Roja Muthiah Research Library, the Kuppuswami Sastri Research Institute and the K. V. Sharma Research Institute in Chennai, the Sanskrit College in Tripunitthura, the University of Calicut, the Sri Chandresekhara Saraswathi Viswa Mahavidyalaya in Kanchipuram, and the Rashtriya Sanskrit Library and the Venkateshwara University Oriental Research Institute in Tirupati. Special thanks to Bharathy Laksmanaperumal, who facilitated my 2011 stay in Madurai for the performance of the Sacred Games of Śiva, to Giridhara Sastrigalu, who welcomed me with unhesitating hospitality during my stay in Sringeri, and most notably to the descendants of Nīlakaṇṭha Dīkṣita, whose enthusiastic support allowed me to witness the 2011 ārādhanā celebration of the seventeenth-century poet-theologian in their ancestral agrahāra in Palamadai.
I am particularly grateful for the painstaking assistance of Eric Schmidt, Maeve Cornell-Taylor, Bonita Hurd, and all of the staff at the University of California Press for bringing this project to fruition, for the enthusiastic support of Robert Goldman and the editorial board of South Asia across the Disciplines and the feedback of my anonymous reviewers at UC Press and SAAD. I am likewise grateful for the meticulous labors of Jay Ramesh, who reviewed the Sanskrit and Tamil diacritics in the manuscript before production.
Over the years, I have benefited deeply from the collaborative engagement and companionship of many colleagues at every stage of this project, in ways impossible to enumerate. My gratitude goes out to Crispin Branfoot, Yigal Bronner, Leah Comeau, Anthony Grafton, Chris Haskett, Barbara Holdrege, Larry McCrea, Christopher Minkowski, Polly O'Hanlon, Luther Obrock, Leslie Orr, Alexis Sanderson, Anna Seastrand, Davesh Soneji, Hamsa Stainton, Eric Steinschneider, Valerie Stoker, Audrey Truschke, Anand Venkatkrishnan, David Gordon White, Annette Wilke, Michael Williams, and every other voice I have engaged with along the journey. I owe an exceptional debt of gratitude to Sthaneshwar Timalsina for moral support during the writing of this dissertation, and to my entire extended family, especially Peggy Schwartz for writing support; Jason Schwartz for countless hours of feedback and encouragement, not to mention the depth of his confidence in my vision for the project; and Amelia for humoring me with her tolerance and patience.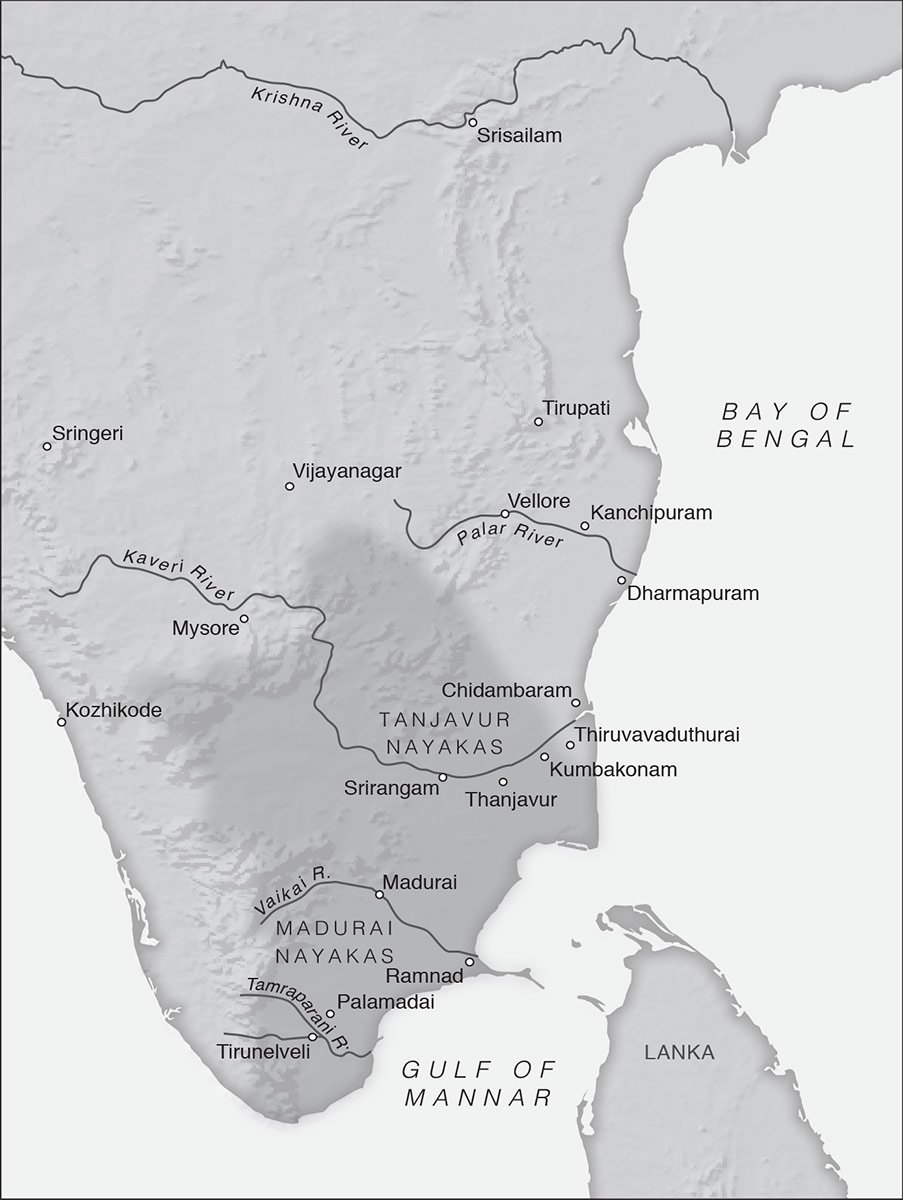 map 1. Map of South India: Madurai, Tamil Nadu, and surrounding area.