by Bhudeb Mookerjee | 1938 | 47,185 words | ISBN-10: 8170305829 | ISBN-13: 9788170305828
This third volume of the Rasa-jala-nidhi deals with purification techniques of the Seven Metals (sapta-dhatu) and various Gems (ratna). It also deals with substances such as Alkalis (kshara), Salts (lavana), Poisions (visha) and Semi-poisions (upavisha) as well as various alcholic liquors. The Rasa-jala-nidhi ("the ocean of Iatrochemistry, or, che...
Part 4 - Nectarization of lead
(1) Two palas of lead incinerated (without the help of mercury), an equal quantity of hingula, and one tola of gandhaka—all of these are to be rubbed with the juice of nimbu (lime fruit), and subjected to heat by Gaja-puta. Thus treated, lead becomes very powerful.
(2) Four parts of incinerated lead, two parts of svarna-makshika, and one part each of copper, vimala, kanta iron, essence of mica, and sphatika (quartz) [1]—all of these are to be powdered together and subjected to heat by puta for 30 times, by means of a fire made of 30 pieces of cow-dung cakes, found dried in the pasturage, after having been rubbed each time with decoction of triphala. The ashes, thus prepared, are to be mixed with an equal quantity of trikatu and biranga, finely powdered, and are to be taken in doses of one balla a day, duly mixed with a little of honey and clarified butter.
It cures eighty different kinds of diseases due to an abnormal excess of vayu, and especially dhanus-stanbha (titanus), those due to an abnormal excess of phlegm, all sorts of urinary diseases, asthma, kapha, phthisis, anemia, dropsy, fever accompanied with a sensation of coldness, and hydrocele.
Footnotes and references:
[1]:
For incineration of quartz, see later in the chapter on gems.
Conclusion: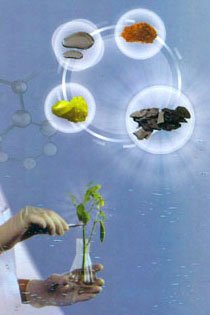 This concludes 'Nectarization of lead' included in Bhudeb Mookerjee Rasa Jala Nidhi, vol 3: Initiation, Mercury and Laboratory. The text includes treatments, recipes and remedies and is categorised as Rasa Shastra: an important branch of Ayurveda that specialises in medicinal/ herbal chemistry, alchemy and mineralogy, for the purpose of prolonging and preserving life.