by Bhudeb Mookerjee | 1938 | 47,185 words | ISBN-10: 8170305829 | ISBN-13: 9788170305828
This third volume of the Rasa-jala-nidhi deals with purification techniques of the Seven Metals (sapta-dhatu) and various Gems (ratna). It also deals with substances such as Alkalis (kshara), Salts (lavana), Poisions (visha) and Semi-poisions (upavisha) as well as various alcholic liquors. The Rasa-jala-nidhi ("the ocean of Iatrochemistry, or, che...
The publication of the present volume (Rasa-jala-nidhi vol. 4) has well-nigh brought to close that part of the Rasa-Vidya (or the science of the minerals in all their aspects, viz., medicinal, alchemical, and industrial) which should be considered to be an introduction to the study of a pharmacopoea of drugs prepared mainly from minerals—a pharmacopoea of a colossal magnitude, prepared, in pre-historic times, by the ancient Indians. Much of the materials, originally intended to be dealt with in the first three volumes, are left out for treatment in a subsequent volume. The fourth and a few of the succeeding volumes would be mainly devoted to the study of recipes most of whom would be found to be astonishingly infallible.
It is not possible for me to make my readers realise the nature of the labour which I, a busy medical practitioner, have been undergoing in carrying on a prolonged research on a highly abstruse and almost forgotten science, without any assistance, financial or otherwise, either from the state or from any body else.
The sympathy with which the lovers of culture all over the world have been viewing the present publication has been the main force which has hitherto enabled me to sustain my energy and to hope for a completion of the work put in hand.
It is gratifying to note that my works are already being studied by almost all the eminent Ayurvedic physicians all over India, but the majority of the students of Ayurveda in the colleges have not yet had an opportunity to acquaint themselves with the contents of these books (which cover the greater and the better part of Ayurveda) much of which was hitherto unknown to the world. I know that there is a paucity of teachers who can efficiently teach this the most important branch of Ayurvedic studies, but I am confident that a gradual spread of the knowledge contained in the present publication will go a great way in removing this paucity at a near future.
I am thankful to Prof. Berthold Laufer of the Field Museum of National History, Chikago, and some other scholars for their suggestion to adopt the commonly accepted practice of transliteration of Sanskrit names into Roman characters. I have decided to act up to their suggestion from Vol. IV, which has already been sent to the press.
There are scholars who are more interested in the history of a science than in the science itself. For the satisfaction of such scholars, I have dealt briefly with the history of Hindu chemistry in a chapter in my newly published work, entitled "Indian Civilization and its Antiquity" (Price Rs. 2-India).
I cannot conclude the present volume without a reference to the encouragement which I have received from men of eminence connected with the spread of Ayurvedic education in this country, and especially from the Hon'ble Mr. Justice Manmatha Nath Mookerji of the Calcutta High Court (President, Astanga Ayurved College, Calcutta) and from thel ate Mr. Justice Gokarna Nath Misra of Lucknow.
I am also thankful to Mr. H. E. Stapleton, M. A. I.E.S., Director of Public Instruction, Bengal, for his kindly taking an interest in my publications.
I am much obliged to Professors Satkari Mookerji, M. A. and Kshitish Chandra Chatterji, M. A., (both belonging to the Department of Post Graduate classes in Sanskrit, Calcutta University) for the help they have ungrudgingly rendered to me in correcting the proof sheets and for several suggestions received from them.
The keenness of interest with which the publication of the present volume has all along been watched by Kaviraj Jatindranath Ghosal Kaviratna, Kaviraj Birindra Mohun Chand Ray B. A,, Sj. Debi Charan Ghosal and some other pupils of mine needs a special mention.
41-A, Grey Street,
Calcutta.
BHUDEB MOOKERJI.
The 27th December, 1929.
Conclusion: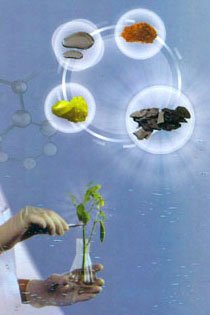 This concludes 'Preface' included in Bhudeb Mookerjee's Rasa Jala Nidhi, vol 3: Metals, Gems and other substances. The text includes treatments, recipes and remedies and is categorised as Rasa Shastra: an important branch of Ayurveda that specialises in medicinal/ herbal chemistry, alchemy and mineralogy, for the purpose of prolonging and preserving life.