192,019 words | ISBN-10: 8120831470 | ISBN-13: 9788120831476
This Sanskrit edition of the Moksopaya. It is a large philosophical text dealing with "the science of liberation". Similar to the Yoga-vasistha in content, the Mokshopaya-shastra was likely its predecessor, said to contain 30,000 shlokas (metrical verses). One of the core philosophies of the texts teaches the non-existence of cognitive objects; while holding such a view leads to an attitude of dispassion towards worldly matters.
bhusuṇḍasamāgamo nāma sargaḥ |
saptadaśaḥ sargaḥ |
vasiṣṭhaḥ |
atha rāma bhusuṇḍo'sau na prahṛṣṭo na jihmadhīḥ |
sarvāṅgasundaraśśyāmaḥ prāvṛṣīva payodharaḥ || 1 ||
[Analyze grammar]
snigdhagambhīravacanaḥ smitapūrvābhibhāṣaṇaḥ |
karasthapālīvatavatpratolitajagattrayaḥ || 2 ||
[Analyze grammar]
tṛṇavaddṛṣṭasakalaḥ prameyīkṛtasaṃsṛtiḥ |
lokājavañjavībhāve dṛṣṭe jñātaparāvaraḥ || 3 ||
[Analyze grammar]
dhīraḥ sthirasamākāro viśrānta iva mandaraḥ |
paripūrṇaḥ samaśśuddhaḥ pūrṇārṇava ivāhataḥ || 4 ||
[Analyze grammar]
padaviśrāntadhīśśāntaḥ paramānandaghūrṇitaḥ |
āvirbhāvatirobhāvatajjñaḥ saṃsārajanminām || 5 ||
[Analyze grammar]
sarabhasavacanābhirāmarūpaḥ priyamadhurocitacāruhṛdyavākyaḥ |
svayamiva navamāsthitaśśarīraṃ sakalabhayāpaharaḥ paraḥ prakarṣaḥ || 6 ||
[Analyze grammar]
idamamalagirāha hāsaśuddhaṃ mṛdupadamujjhitasambhramaṃ krameṇa |
kathayitumakhilaṃ nijaṃ svarūpaṃ madhura iva stanitena mugdhameghaḥ || 7 ||
[Analyze grammar]
Other print editions:
Also see the following print editions of the Sanskrit text or (alternative) English translations of the Moksopaya Chapter 17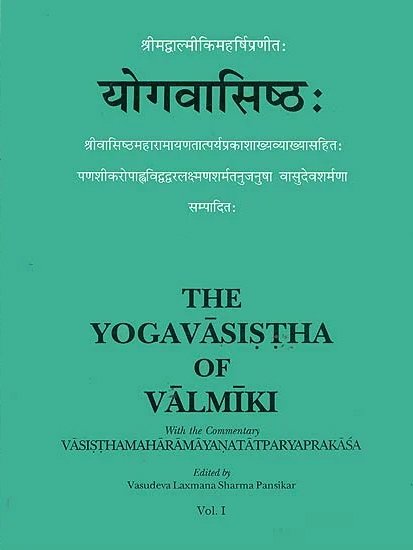 The Yogavasistha of Valmiki
by Vasudeva Laxmana Sharma Pansikar (2008)
With the Commentary Vasistha Maharamayana Tatparyaprakasa (Volume I and II): Sanskrit Only; [Motilal Banarsidass Publishers Pvt. Ltd.]
Buy now!