192,019 words | ISBN-10: 8120831470 | ISBN-13: 9788120831476
This Sanskrit edition of the Moksopaya. It is a large philosophical text dealing with "the science of liberation". Similar to the Yoga-vasistha in content, the Mokshopaya-shastra was likely its predecessor, said to contain 30,000 shlokas (metrical verses). One of the core philosophies of the texts teaches the non-existence of cognitive objects; while holding such a view leads to an attitude of dispassion towards worldly matters.
sarvaśakterhi yā yaiva yathodeti tathaiva sā |
tadā svaśaktirnānābhārūpiṇī sā svabhāvataḥ || 2 ||
[Analyze grammar]
imāśśaktayo'yamātmetyevaṃ vikalpajālaṃ vyavahārārthaṃ dhīmadbhiḥ parikalpitaṃ loke na tvātmani vidyate bhedaḥ | yathormitaraṅgaiḥ payasāṃ kaṭakāṅgadakeyūrairvā hemnaḥ avayavāvayavinoḥ saṃvitkālpanikī dvidhā na vāstavī | yathā yaccetyate tathaiva tanna bāhyato nāntarataścetanaṃ samudeti hi | sarvātmatvātsvamābhāsaṃ kvacitkiñcitprapaśyati sarvākāramayaṃ brahmaivedaṃ tatra mithyājñānavadbhiśśaktiśaktimatte avayavāvayavirūpe kalpite na pāramārthike sadvā bhavatvasadvā cid yatsaṅkalpayatyabhiniviṣṭā tattatpaśyati sakalaṃ tattatsadvastuvadbhāti || 3 ||
[Analyze grammar]
Other print editions:
Also see the following print editions of the Sanskrit text or (alternative) English translations of the Moksopaya Chapter 63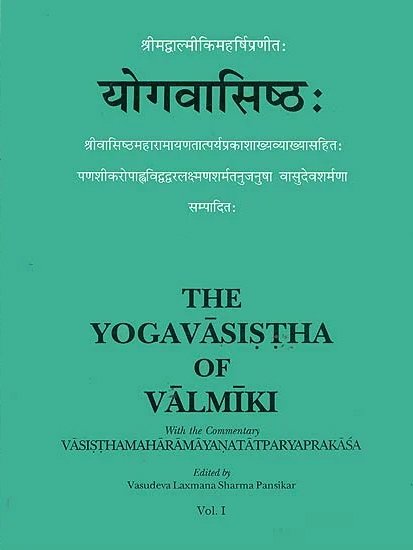 The Yogavasistha of Valmiki
by Vasudeva Laxmana Sharma Pansikar (2008)
With the Commentary Vasistha Maharamayana Tatparyaprakasa (Volume I and II): Sanskrit Only; [Motilal Banarsidass Publishers Pvt. Ltd.]
Buy now!