by Manmatha Nath Dutt | 2006 | 9,945 words | ISBN-10: 8171102794
The Sanskrit edition of the Katyayana-smriti referencing the English translation and grammatical analysis. The Katyayana-smriti is one of the minor works on Dharmashastra as mentioned in the Yajnavalkya-smriti. Katyayana is the author of a clear and full treatise on law and also wrote on grammar and other subjects. Alternative titles: Kātyāyanasmṛti (कात्यायनस्मृतिः), Kātyāyana-smṛti (कात्यायन-स्मृति).
yaśca rāṣṭraviruddhaśca yaśca rājñā vivarjitaḥ |
anekapadasaṃkīrṇaḥ pūrvapakṣo na siddhyati || 1 [136] ||
[Analyze grammar]
bahupratijñaṃ yatkāryaṃ vyavahāreṣu niścitam |
kāmaṃ tadapi gṛhṇīyādrājā tattvabubhutsayā || 2 [137] ||
[Analyze grammar]
deśakālavihīnaśca dravyasaṃkhyāvivarjitaḥ |
sādhyapramāṇahīnaśca pakṣo'nādeya iṣyate || 3 [138] ||
[Analyze grammar]
nyāyasthaṃ necchate kartuṃ anyāyaṃ vā karotyayam |
na lekhayati yattvevaṃ tasya pakṣo na sidhyati || 4 [139] ||
[Analyze grammar]
aprasiddhaṃ nirābādhaṃ nirarthaṃ niṣprayojanam |
asādhyaṃ vā viruddhaṃ vā pakṣābhāsaṃ vivarjayet || 5 [140] ||
[Analyze grammar]
pratijñādoṣanirmuktaṃ sādhyaṃ satkāraṇānvitam |
niścitaṃ lokasiddhaṃ ca pakṣaṃ pakṣavido viduḥ || 6 [141] ||
[Analyze grammar]
svalpākṣaraḥ prabhūtārtho niḥsaṃdigdho nirākulaḥ |
virodhikāraṇairmukto virodhipratiṣedhakaḥ || 7 [142] ||
[Analyze grammar]
yadā tvevaṃ vidhaḥ pakṣaḥ kalpitaḥ pūrvavādinā |
dadyāttatpakṣasaṃbaddhaṃ prativādī tadottaram || 8 [143] ||
[Analyze grammar]
śrāvyamāṇo'rthinā yatra yo hyartho na vighātitaḥ |
dānakāle'thavā tūṣṇīṃ sthitaḥ so'rtho'numoditaḥ || 9 [144] ||
[Analyze grammar]
Other editions:
Also see the following editions of the Sanskrit text or (alternative) English translations of the Katyayana-smriti Chapter 18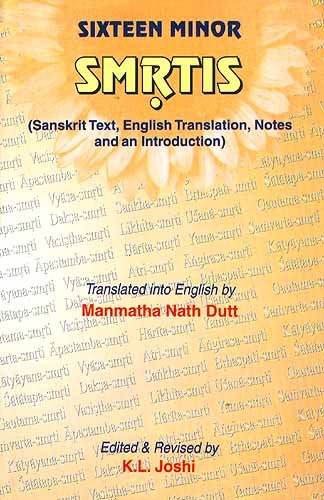 Sixteen Minor Smrtis: 2 Volumes
by Manmatha Nath Dutt (2006)
Sanskrit Text, English Translation, Notes and an Introduction
Buy now!