The Chhantyal (ethnic group): photo 2
Photo 2 of 41 in Gallery: The Chhantyal (ethnic group)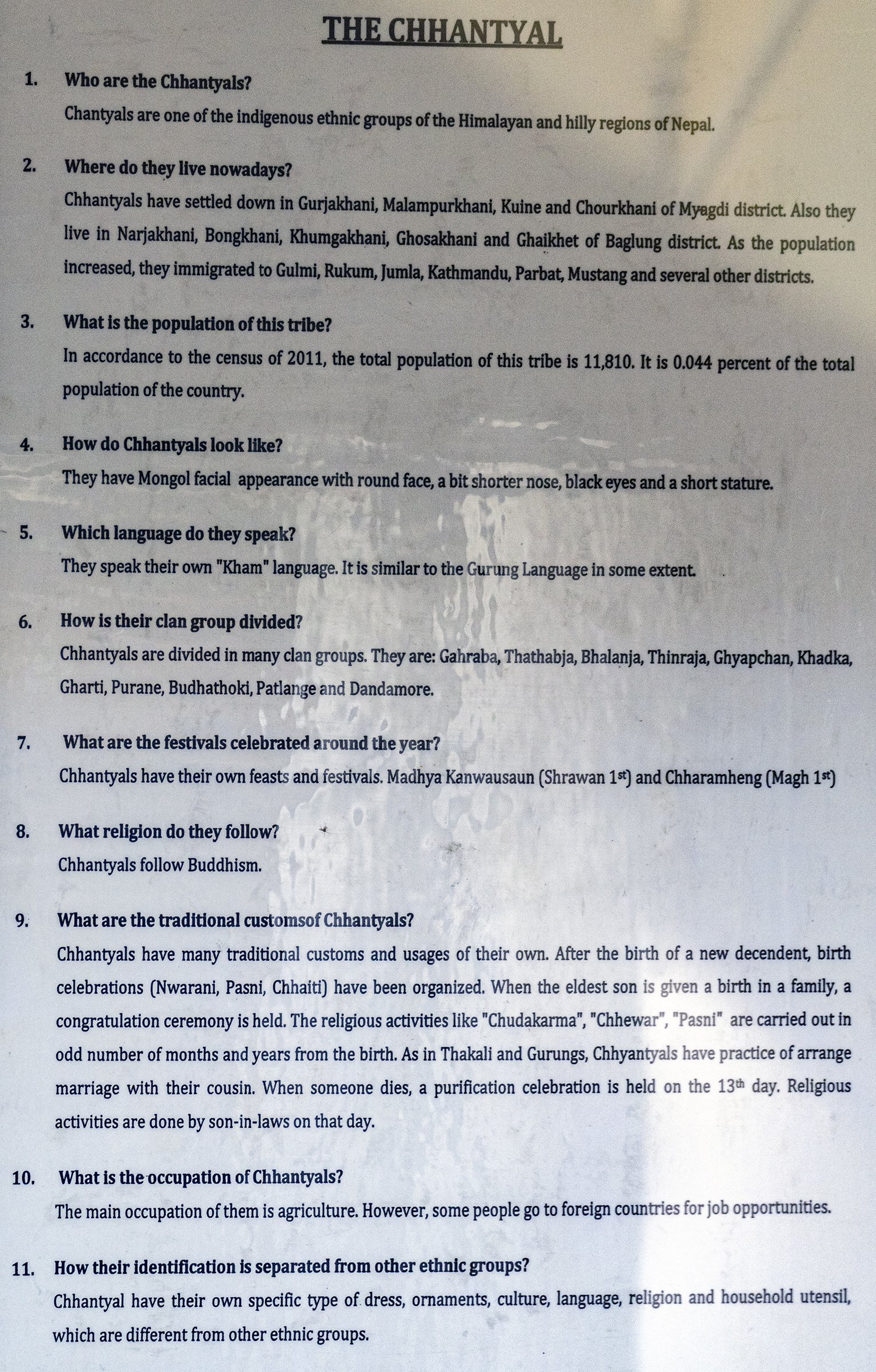 Image title: The Chhantyal cultural information
1. Who are the Chhantyals?
Chantyals are one of the indigenous ethnic groups of the Himalayan and hilly regions of Nepal.
2. Where do they live nowadays?
Chhantyals have settled down in Gurjakhani, Malampurkhani, Kuine and Chourkhani of Myagdi district Also they live in Narjakhani, Bongkhani, Khumgakhani, Ghosakhani and Ghaikhet of Baglung district As the population increased, they immigrated to Gulmi, Rukum, Jumla, Kathmandu, Parbat Mustang and several other districts.
3. What is the population of this tribe?
In accordance to the census of 2011, the total population of this tribe is 11,810. It is 0.044 percent of the total population of the country.
4. How do Chhantyals look like?
They have Mongol facial appearance with round face, a bit shorter nose, blade eyes and a short stature.
5. Which language do they speak?
They speak their own "Kham" language. It is similar to the Gurung Language in some extent
6. How is their clan group divided?
Chhantyals are divided in many dan groups. They are: Gahraba, Thathabja, Bhalanja, Thinraja, Ghyapchan, Khadka, Gharti, Purane, Budhathoki, Patlange and Dandamore.
7. What are the festivals celebrated around the year?
Chhantyals have their own feasts and festivals. Madhya Kanwausaun (Shrawan 1st) and Chharamheng (Magh 1st)
8. What religion do they follow?
Chhantyals follow Buddhism.
9. What are the traditional customs of Chhantyals?
Chhantyals have many traditional customs and usages of their own. After the birth of a new descendant, birth celebrations (Nwarani, Pasni, Chhaiti) have been organized. When the eldest son is given a birth in a family, a congratulation ceremony is held. The religious activities like "Chudakarma", "Chhewar", "Pasni" are carried out in odd number of months and years from the birth. As in Thakali and Gurungs, Chhyantyals have practice of arrange marriage with their cousin. When someone dies, a purification celebration is held on the 13th day. Religious activities are done by son-in-laws on that day.
10. What is the occupation of Chhantyals?
The main occupation of them is agriculture. However, some people go to foreign countries for job opportunities.
11. How their identification is separated from other ethnic groups?
Chhantyal have their own specific type of dress, ornaments, culture, language, religion and household utensil, which are different from other ethnic groups.
Gallery information:
The Chhantyal people are an indigenous ethnic group from Nepal originating from the Himalayan region, with their roots dating to at least the late 16th century. Their religion is Buddhism but they have their own feasts and festivals. The Chhantyal people speak their own "Kham" language which is similar to the Gurung language in some extent.