Siddha Cult in Tamilnadu: photo 220
Photo 220 of 223 in Gallery: Siddha Cult in Tamilnadu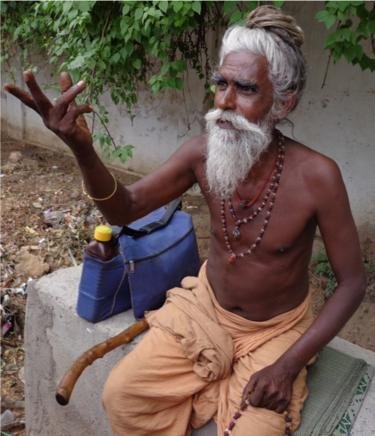 Image title: Siddha Durvasa (Tiruvannamalai)
[Series: Historical Continuity: Some Siddhas(?) of contemporary period]
Fig.201: He introduced himself as a Siddha Durvasa. He is wandering in the streets of Tiruvannamalai, but he is the native of Puducherry. His words are more philosophical, ferocious, true to his name of the legendary sage 'Durvasa' known for his tantrums. Among his other attributes, he is wearing a copper bangle in his right wrist.
Gallery information:
The Siddha/Natha tradition symbolize the most comprehensive understanding and application of the theoretical and methodological tenets of Tantric philosophy. There are many Siddha-centres all over the Tamilnadu. The temples in Tamil-Nadu contain the sculptures depicting the Tantric rites and the images of the venerated Siddhas in it.