Siddha Cult in Tamilnadu: photo 214
Photo 214 of 223 in Gallery: Siddha Cult in Tamilnadu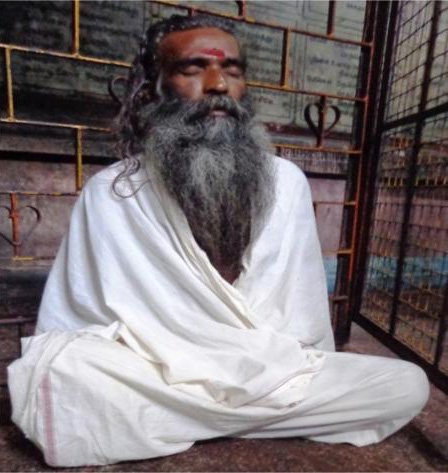 Image title: Siddha (Kamatchi Amman temple)
[Series: Historical Continuity: Some Siddhas(?) of contemporary period]
Fig.195: This is the photograph of a Siddha (taken in 2011) in a white garment immersed in meditation in the Kamatchi Amman temple at Kanchi (Kancipuram). He is found with long hair and beard. But nothing is known about him. (He refused to respond). The local devotees also know him since a long time but they do not know his personal details.
Gallery information:
The Siddha/Natha tradition symbolize the most comprehensive understanding and application of the theoretical and methodological tenets of Tantric philosophy. There are many Siddha-centres all over the Tamilnadu. The temples in Tamil-Nadu contain the sculptures depicting the Tantric rites and the images of the venerated Siddhas in it.