Siddha Cult in Tamilnadu: photo 199
Photo 199 of 223 in Gallery: Siddha Cult in Tamilnadu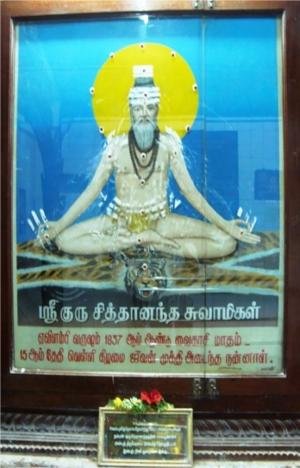 Image title: Samy Siddhananda
[Series: Celebrated Siddha Shrines/Samadhis in Puducherry]
Fig. 187: This is the jiva samadhi of Samy Siddhananda, the most celebrated Siddha of Puducherry. It is located near the cremation ground of Karuvadikuppam. This shrine belongs to the 19th century. Here the national poet Mahakavi Subramani Bharathi stayed and wrote poems on this siddha. There is a separate statue installed for this poet inside this shrine. Day by day, this shrine is attaining importance and attracting more number of devotees. At present, addition and renovation works are going on.
Gallery information:
The Siddha/Natha tradition symbolize the most comprehensive understanding and application of the theoretical and methodological tenets of Tantric philosophy. There are many Siddha-centres all over the Tamilnadu. The temples in Tamil-Nadu contain the sculptures depicting the Tantric rites and the images of the venerated Siddhas in it.