Siddha Cult in Tamilnadu: photo 175
Photo 175 of 223 in Gallery: Siddha Cult in Tamilnadu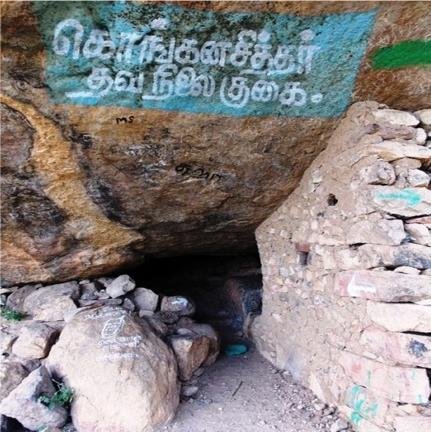 Image title: Kongana Siddha cave
[Series: Historical Continuity of the Siddha Cult in Tamilnadu].
Fig. 171: This is located in inside of the forest on the Kankeyam-Palani road, from Coimbatore. It is said that Kongana Siddha did penance in this cave. Next to this, is the jiva samadhi of a local Siddha named Setti Thambiran. He healed many with his herbal medicines. He stayed and prepared medicines and attained samadhi here.
Gallery information:
The Siddha/Natha tradition symbolize the most comprehensive understanding and application of the theoretical and methodological tenets of Tantric philosophy. There are many Siddha-centres all over the Tamilnadu. The temples in Tamil-Nadu contain the sculptures depicting the Tantric rites and the images of the venerated Siddhas in it.