Siddha Cult in Tamilnadu: photo 139
Photo 139 of 223 in Gallery: Siddha Cult in Tamilnadu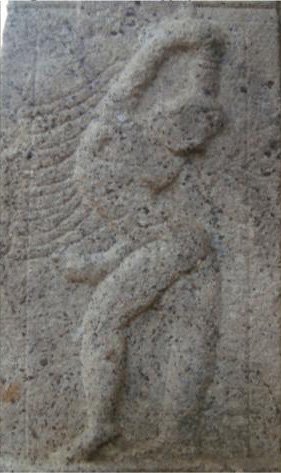 Image title: Yogic practitioner in a parshvottasana
From Fig.129 to Fig.138, all are found in the outer prakara pillars of the Adikeshava Perumal temple at Tiruvattariu in Kanniyakumari dist. of Tamilnadu
Fig. 135 to Fig. 137: in this sculpture, the yogic practitioner in a parshvottasana is shown as he is holding his erect penis in his left hand and showing his right hand index finger on his head where the sahasrara is located. He is shown with long hair, big moustache, and a medallion on his chest.
Gallery information:
The Siddha/Natha tradition symbolize the most comprehensive understanding and application of the theoretical and methodological tenets of Tantric philosophy. There are many Siddha-centres all over the Tamilnadu. The temples in Tamil-Nadu contain the sculptures depicting the Tantric rites and the images of the venerated Siddhas in it.