Siddha Cult in Tamilnadu: photo 115
Photo 115 of 223 in Gallery: Siddha Cult in Tamilnadu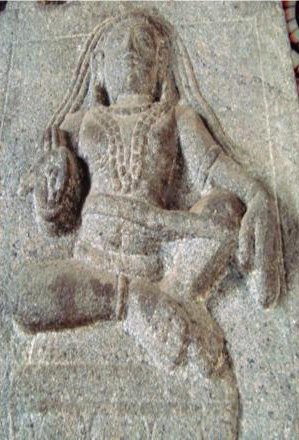 Image title: Siddha (ardha-padmasana pose)
[Series: Representations of Yogic Postures of the Siddhas and Nāthas in the Medieval Temples]
Fig. 113: This sculpture is also found in the above temple (Fig.112), in which a Siddha is seated in an ardha-padmasana pose. His left leg is folded upward and tied with a yogapatta from his hip. His left hand is in lola-hasta pose resting on the left knee. His right hand is in abhaya-mudra. He is having long hair, wearing rudrakshamala in his neck and chest, rings on his arms and anklets.
Gallery information:
The Siddha/Natha tradition symbolize the most comprehensive understanding and application of the theoretical and methodological tenets of Tantric philosophy. There are many Siddha-centres all over the Tamilnadu. The temples in Tamil-Nadu contain the sculptures depicting the Tantric rites and the images of the venerated Siddhas in it.