Siddha Cult in Tamilnadu: photo 91
Photo 91 of 223 in Gallery: Siddha Cult in Tamilnadu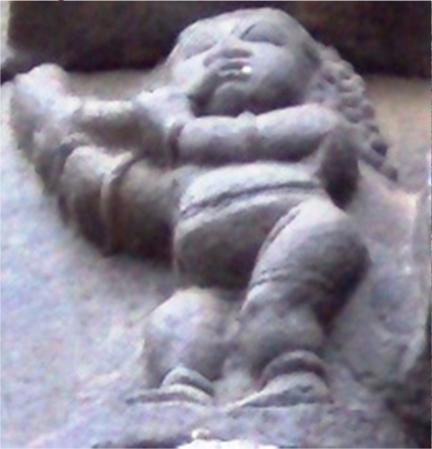 Image title: Natha-Siddha holding a deer horn
From Fig. 83 to Fig. 90 are the images representing the performance of Singanatha practice of the Natha-Siddhas.
Fig. 89: This sculpture is found on a top relief of an ardhamandapa pillar of Villianur temple, in which an Natha-Siddha holding a deer horn in his mouth with both hands towards right side. His matted hair, kundala, rings in his wrists and arms; anklets are engraved clearly. Many sculptures of this similar kind are also found in other parts of this temple.
Gallery information:
The Siddha/Natha tradition symbolize the most comprehensive understanding and application of the theoretical and methodological tenets of Tantric philosophy. There are many Siddha-centres all over the Tamilnadu. The temples in Tamil-Nadu contain the sculptures depicting the Tantric rites and the images of the venerated Siddhas in it.