Siddha Cult in Tamilnadu: photo 90
Photo 90 of 223 in Gallery: Siddha Cult in Tamilnadu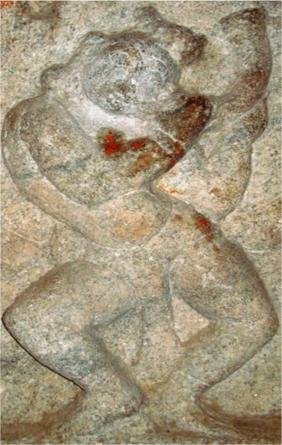 Image title: Natha-Siddha (tribhanga pose)
From Fig. 83 to Fig. 90 are the images representing the performance of Singanatha practice of the Natha-Siddhas.
Fig.88:In another sculpture found in the mukhamandapa of the Someshvara temple, an Natha-Siddha in a tribhanga pose, holding the deer horn in his both hands to his mouth. Both his legs are slightly bent down. His hairdo, long kundala, rings in wrists, anklets and langoti are clearly visible.
Gallery information:
The Siddha/Natha tradition symbolize the most comprehensive understanding and application of the theoretical and methodological tenets of Tantric philosophy. There are many Siddha-centres all over the Tamilnadu. The temples in Tamil-Nadu contain the sculptures depicting the Tantric rites and the images of the venerated Siddhas in it.