Siddha Cult in Tamilnadu: photo 30
Photo 30 of 223 in Gallery: Siddha Cult in Tamilnadu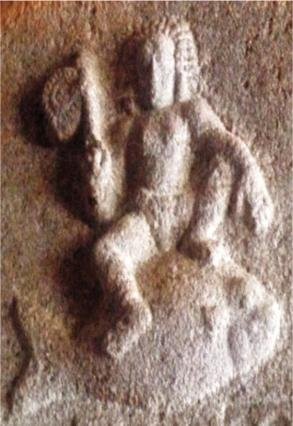 Image title: Minanatha (Pattinathar temple)
Fig.30: Minanatha (Pattinathar temple, Pattisvaram, Kumbakonam dist., Tamilnadu) in Lalitasana. In his right hand he is holding a fly whisk and his left hand is in katya valambita mudra resting on his left knee which is folded and elevated upward. His matted hair, kundalas in ears, rings on hands, anklets, and langoti are clearly depicted.
Gallery information:
The Siddha/Natha tradition symbolize the most comprehensive understanding and application of the theoretical and methodological tenets of Tantric philosophy. There are many Siddha-centres all over the Tamilnadu. The temples in Tamil-Nadu contain the sculptures depicting the Tantric rites and the images of the venerated Siddhas in it.