Siddha Cult in Tamilnadu: photo 8
Photo 8 of 223 in Gallery: Siddha Cult in Tamilnadu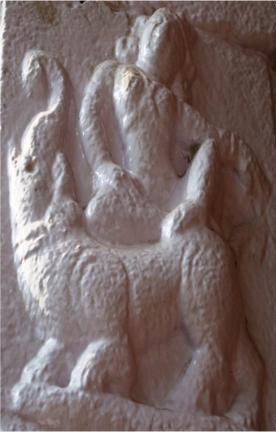 Image title: Vyalinatha (Jalakanteshvara temple)
Fig. 5 to 13, are depicted on two pillars on either side of the (mukhamandapa) of the Jalakanteshvara temple in Kalasipaliayam, near Bangalore in Karnataka, datable to late or post Vijayanagara period 16th –17th century.
Fig. 8: Vyalinatha (Vyali Natha) on a Vyali, a mythical animal having elephant trunk, and lion's body. Vyali is in a striding posture with its' trunk elevated upwards. His left hand is resting on the left knee in a danda-hasta mudra. He is wearing big karnakundalas and cross bands on his chest.
Gallery information:
The Siddha/Natha tradition symbolize the most comprehensive understanding and application of the theoretical and methodological tenets of Tantric philosophy. There are many Siddha-centres all over the Tamilnadu. The temples in Tamil-Nadu contain the sculptures depicting the Tantric rites and the images of the venerated Siddhas in it.