Sculptures in temples in Kumbakonam: photo 640
Photo 640 of 640 in Gallery: Sculptures in temples in Kumbakonam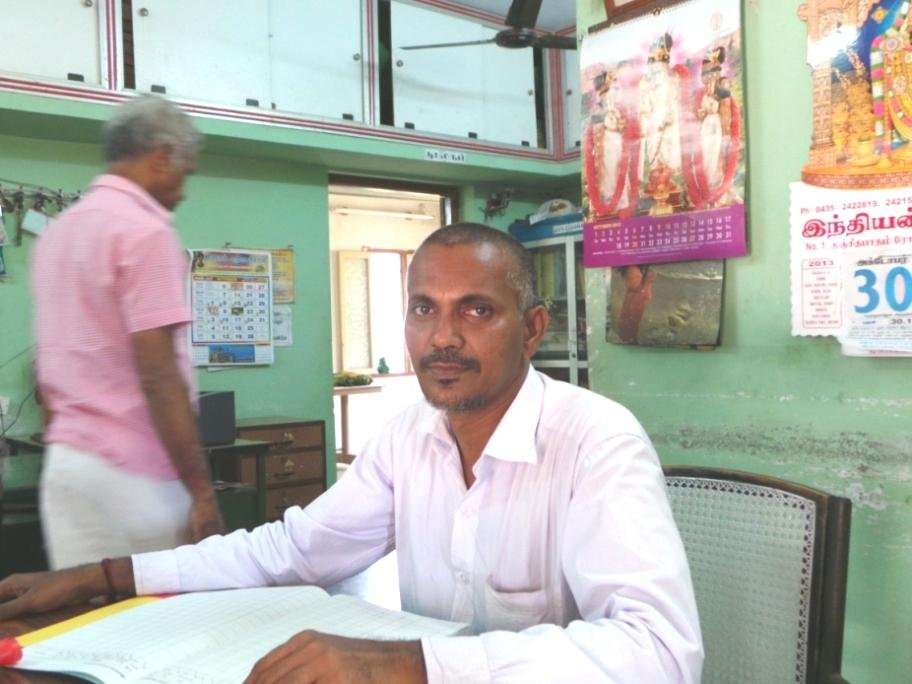 Image title: Figure 71. Pulavar Selvasekar
An interview of Puzhavar Selvasekar, Pattisvaram 23
Designation–Pulavar. M.A. and M.Phil in Tamil Literature
Date of interview–30.10.2013.
1. Since how many years are you working here?
A. For the past 15 years.
2. Can you give some information about the history of this temple?
A. If you study the stone cuttings (the external look) of the temple then it dates back to Nayakas rule (16th–17th century)). If you study the sculptures then–the Svami Sannidhi and Ardha Mandapam dates back to Pallava (6th–7th century) period, the Maha Mandapam [Mandapa] points towards Chola period (8th–13th century C.E.).The Alankara Mandapam dates back to Maratha rule (17th–19th century C.E.).
3. Can you tell me something about Durgai Amman temple here?
A. Durgai Amman, Vinayakar in front of Svami Sannidhi, Bhairavar and Sanmukha Vigrahams were in the palace deities of Chola Maharaja and were kept in a village called Chola Maligai. After the downfall of the Chola king these Vigrahams were brought and kept here.
4. Who is the Mulavar here?
A. Dhenupurisvarar and Jnanambikai are the Mula Vigrahams. Tirujnanasambandar called her as Palvalai Nayaki. Dhenupurisvarar is Linga Rupi. He was worshipped by Kamadhenu and her daughter Patti.
5. Can you describe Palvalai Nayaki?
A. She is standing and has Caturbhujam. She is having front hands in Abhayam [Abhaya] (right) and Uru Hasta (left). Back hands are holding Pasankusam [Pasankusa] and Aksamala.
6. Can you tell me something about Durgai Amman here.
A. She is in standing posture. Below her is Mahisa whom she has slayed. Behind her is the lion facing left side. She is in Tribhanga, Astabhujam [Astabhuja] and Santasvarupam. She is holding Sankha, Cakra, Dhanus, Bana, Khadga, Khetaka. Front hands are in Abhaya and Uru Hasta. If you see her from one side it looks as if she is asking the worshipper what he wants. If you see from the other side she seems to be telling you to be patient.
7. Any speciality in the construction here?
A. If you see the Jnanambikai Sannidhi, the pillars in the Maha Mandapam [Mandapa] have different kinds of Yalis engraved in them. You will find each Yali different. There are lots of sculptures on the pillar, some very unusual and there are several dance sculptures also.
8. Which directions does the Garbha Graha face?
North.
A. Dhenupurisvarar and Jnanambkai face east and Durgai Amman faces
9. Are there any special Vimanam [Vimana] s here for any of the gods?
A. All of them have Vimanams [Vimanas] but no special names. Only in Vaisnava
temples there are Vimanams [Vimanas] with specific names. In the Saiva temples the Vimanams [Vimanas] don"t have specific names but are of 3 types–Ekadala Vimanam, Dvidala Vimanam [Vimana] and Tridala Vimanam [Vimana].
10. How many Prakarams are there in the temple?
A. Totally there are 5 Prakarams–Inside the temple there are three and outside there are two. In the outside ones one is immediately outside the temple that called Madavalaha Prakaram [Prakara] and the other is Ter Vidi Prakaram [Prakara].
11. How many Mandapams are there in the temple?
A. Outside Garbha Graha of Svami is Ardha Mandapam, outside that is Maha Mandapam,then Vadya Mandapam and then Alankara Mandapam. Outside Jnanambkai Sannidhi is Ardha Mandapam, Maha Mandapam and Vadya Mandapam.
12. How many Puskarni's are there in this temple?
A. Here there is Jnana Vavi, a well called Tapas Kinar and Ramar Tirtham. Outside there is Teppa Kulam [Kula] and Gayatri Kulam [Kula].
13. How many Pujas are done in a day?
A. Six times–Usa Kalam–6.00–6.30 am–Venpongal Naivedyam. Kalasandhi–8.30–9.00 am–Suddhannam Naivedyam [Suddhanna Naivedya].
Uccikalam–12.00–1.00 pm–Tairsadam Naivedyam [Tairsada Naivedya].
Sayaraksai–5.30–6.00 pm–different rice like Ilameccampalam Sadam [Ilameccampala Sada] or Puliyodarai as Naivedyam.
Irendamkalam–7.30–8.00 pm–Sakkaraipongal as Naivedyam. Ardhajamam–8.30–9.00 pm–Milagu Sadam [Sada] as Naivedyam.
14. What are the UtsavaMurtis here?
A. There are many UtsavaMurtis here. They are–Natarajar,
Somaskandar, Candrasekharar, Kudarai Cokka. For Ambal we have Adipura Ambal, Tapas Ambal and we have Durgai Amman.
15. Which Utsavams are held in the temple specially for Durgai Amman?
A. Throughout Adi Masam [Masa] there is Utsavam [Utsava] held for Durgai Amman specially on Fridays, Tuesdays and Sundays. During Navaratri 9 days festival is held. Golu is kept and Vijayadasami is celebrated. In the Sivalaya, Vaikasi Visakam Brahmotsavam [Visaka Brahmotsava] is held. There is a celebration for Jnanasambandar which is called Muttu Pandal Utsavam [Utsava].
16. How many Sannidhi s are here?
A. Pradana Sannidhi s are only three. Other than that there are Bhairavar Sannidhi and Sanmukhar Sannidhi. In the back Prakaram there are–Swarna Vinayakar, Mahalingam, Subramaniyar, Sanmukhar, Ramalingam, Gajalaksmi and Kasi Visvanathar.
17. Were there Devadasis attached to this temple?
A. Yes there were. The Gayatri Kulam [Kula] was for them. They bathed there. Devaradiyar Kulam was another name for it. The street in the front called Mulaivur Vidi was occupied by them. But there is no evidence of the kind of work they did in the temple. It is not known whether they danced in this temple.
In the Durgai Amman temple there are no dance sculptures. But in the main temple of Dhenupurisvarar there are a lot of sculptures in the Mahamandapam [Mahamandapa] pillars There are several dance sculptures, sculptures of Siva in various forms and other exquisite sculptures in the Jnanambika Sannidhi. No Karana movements could be identified in the sculptures but dancers in various poses can be seen. Perhaps with the passage of time the ancient Margi dance style of Bharata got diluted and got replaced with the Desi forms.
Gallery information:
Kumbakonam is considered as one of the holiest places in Tamil Nadu and is known for its temples and Mathas (monasteries which were centres of Brahmanical learning). These photographs depict the connection between the sculptures in the temples and Natya Shastra and related texts dealing with iconography.
High resolution:
Download file
Size: 72.26 KB
Resolution: 912 x 684
© Copyright: see gallery source
Goto gallery photo:
previous