Sculptures in temples in Kumbakonam: photo 511
Photo 511 of 640 in Gallery: Sculptures in temples in Kumbakonam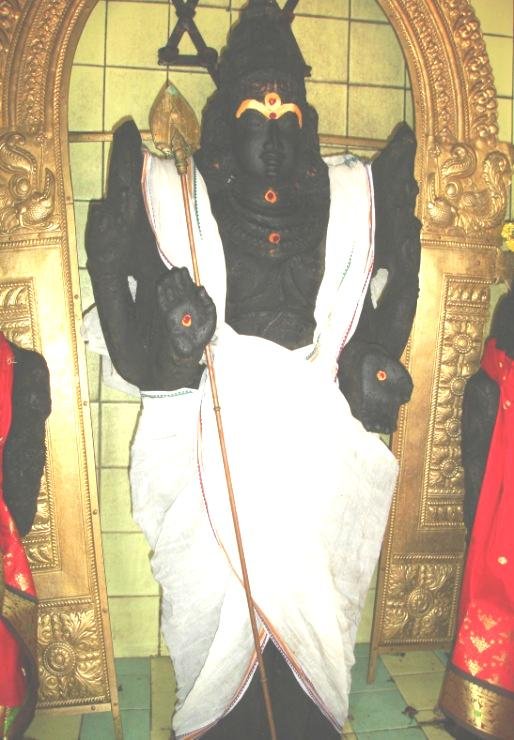 Image title: Figure 59. Sri Valli Subramaniyar Sannidhi
Sri Valli Subramaniyar is holding Sakti Vel in left hand and Vajra Vel in the right. Front hands are in Abhaya and Varada. Valli stands on his right and Devayani on his left.
Near the Garbha Graha is Gangaikonda Vinayaka. From where Vinayaka is standing a tube is connected to a well. He is facing the Kanar signifying that the Ganga water is reaching Vinayakar. Above there is a painting of Vinayaka with Ambal who is in the temple as Brahannayaki. Daksinamurti is facing the south. Alamarakkadavul and Valancuri Vinayaka are also present.
Next to the Garbha Graha is the Ardha Mandapam. There are two Prakarams in the temple. The inner one is around the Garbha Graha and the second one is on the outer side. Next to Vannimaram is a secret underground passage leading to the Adi Kumbesvarar temple. The kings in the olden days would avail of this passage to secretly go to the big temple. This underground passage was a good 40 km long and was built by the Cholas.
The Utsavamurti in the temple is Somaskandar. Ambal is called by the name
Brahannayaki.
There is also an Om Kali Sannidhi in the temple. She is Ambal's Avatara. The story attached with this is that "Gods went to Siva and asked him to perform Natanam as Ardhanarisvara. Ambal refused saying she wanted them to dance alone. Siva agreed. As they danced they matched each other till Siva lifted one foot and kept it on his head. Then Ambal accepted defeat. The Lord taught her that he is the supreme dancer."
As we go around the Garbha Graha in circumambulation, we come to the Ardhanarisvara Sannidhi. Ardhanarisvara is the androgynous form of Lord Siva. It is said that Lord Siva loved Parvati so much that he made her a part of himself.
Gallery information:
Kumbakonam is considered as one of the holiest places in Tamil Nadu and is known for its temples and Mathas (monasteries which were centres of Brahmanical learning). These photographs depict the connection between the sculptures in the temples and Natya Shastra and related texts dealing with iconography.