Sculptures in temples in Kumbakonam: photo 493
Photo 493 of 640 in Gallery: Sculptures in temples in Kumbakonam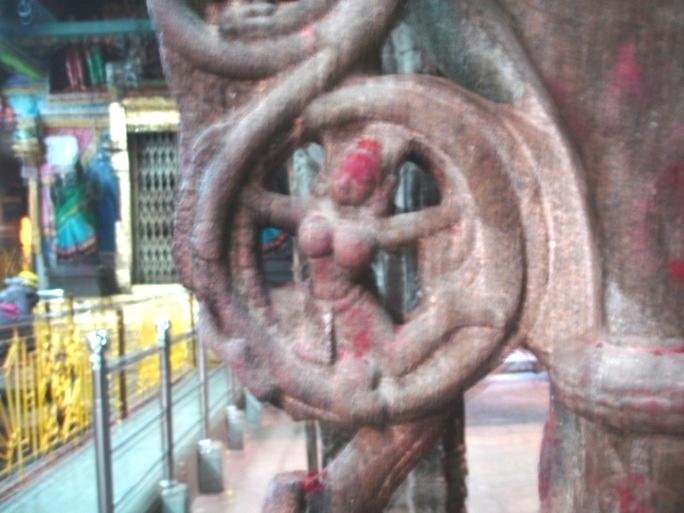 Image title: Figure 40. Vrscikarecita Karana
Siras is in Ancita, Urah is in Udvahita. Kati is unbent, left leg bent backwards with a twist, left Uru is in Udvartana, left Janu is in Unnata, left Jangha is Parivrtta, left Pada is in Kuncita. Right leg is in Ardhakuncita. Kati is not in movement, the right Uru is in Kampana, right Janu is in Ardhakuncita, right Jangha is in Nata, right Pada is in Sama. A beautiful flying figure performing Vrscikarecita Karana which is no. 46 of Natya Sastra. "In this Karana the foot performs Vrscika Karana with hands in Svastika followed by Recita through Viprakirna." It is used to suggest movement in the air. Here in this figure we can see the two hands in Recita and the legs have assumed a Vrscika pose. The front leg is bent and makes a hopping or gliding movement. Here we can see a circular wheel like structure inside which the dancer is depicted. In the Vrscika pose one leg is bent back extremely like the tail of a scorpio. This Karana is performed after assuming the scorpion bend of the leg.
This movement is suggested for depicting crossing of the ocean by Hanuman, for aerial flights of Garuda and other great birds of flight, celestial beings like Gandharvas and Kinnaras traversing in the air. "This movement can be done by using hopping movement on the ground after assuming the Vrscikaposture with Recita hands."
Gallery information:
Kumbakonam is considered as one of the holiest places in Tamil Nadu and is known for its temples and Mathas (monasteries which were centres of Brahmanical learning). These photographs depict the connection between the sculptures in the temples and Natya Shastra and related texts dealing with iconography.