Sculptures in temples in Kumbakonam: photo 454
Photo 454 of 640 in Gallery: Sculptures in temples in Kumbakonam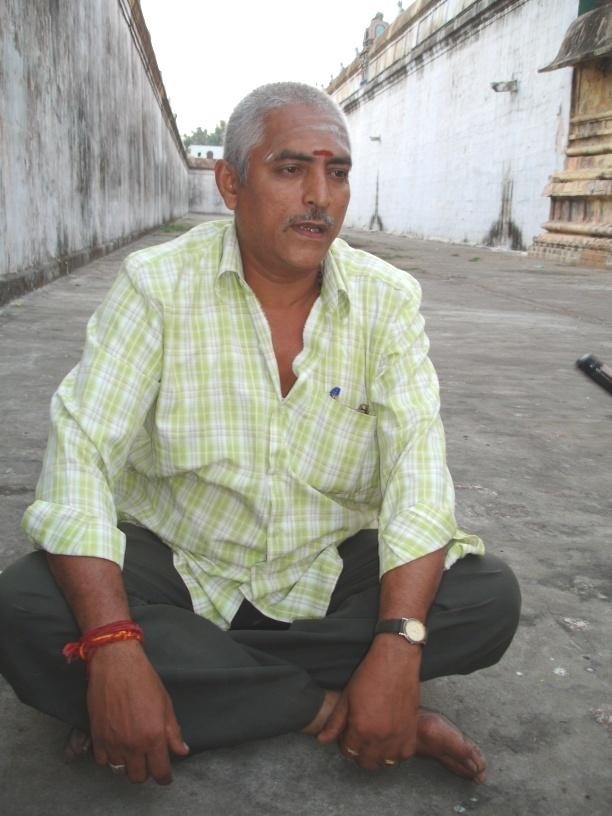 Image title: Figure 2. Temple staff Shivaji
Second person interviewed – Shivaji 6
Designation–Staff in the Adi Kumbesvarar Temple.
Date of Interview–25.12.2011
1. What is your job in the temple?
A. My job is to collect all materials for Naivedyam [Naivedya], Abhisekam [Abhiseka], oil for lighting the lamps, groceries and supply to the temple.
2. How long are you working here?
A. For 13 years. Before that I worked in Cakrapani Kovil for 8 months.
3. How many Utsavamurti's are brought out and which ones?
A. Pancamurti's are taken out for Utsavam [Utsava]. They are Somaskandar, Vinayakar, Subramanya Svami, Ambal and Candikesvarar.
4. Does Adi Kumbesvarar have Utsavamurti?
A. No he is taken out only as Somaskandar which means–Soma, Uma and Skanda.
5. How many hands does Somaskandar have?
A. He has 4 hands. One right hand in Abhaya, the other right holding Parasu, one left hand in Uru Hasta and the other left holding a Man or deer.
6. What is Ambal called here and how many hands does she have?
A. Ambal is called Mangalambika and she has 4 hands too–one hand holds Gindi (like Kamandalu) and the other holds Rudraksa.Other two hands are in Abhaya and Uru Hasta.
7. What is Adi Kumbesvarar Linga made of?
A. It is made of sand and Amrtam. Sand is not destroyed in any age. And since it is made of sand no Abhisekam [Abhiseka] is done to it from the top. Only from the base any Abhisekam is done. It is believed that all those who comit sins have to go to Kasi to wash off their sins. Those who comit sins in Kasi wash it in Kumbakonam. Those who comit sins in Kumbakonam wash it in Kumbakonam itself. Kumbakonam is believed to be holier than Kasi. Since the Kumbham [Kumbha] which was set off by Siva during Pralaya lodged itself at an angle the town is called Kumbakonam and when Siva as Kirata broke it with his arrow from it originated the Lingam [Linga] (Svayambhu) which is also bent at an angle. It is the Adi Kumbesvarar.
A legend attached to the holiness of Kumbakonam is–Once a Muni was taking Asti of his father to Kasi. On the way he gave the Asti to his Sedan (disciple) to hold till he had a bath in Kaveri. As the Muni went for a bath, the Sedan looked into the vessel and closed it. At Kasi as the Muni was emptying the vessel into Ganga, Sedan stopped him. He told him that when he looked inside the vessel in Kumbakonam there was a lotus inside and how come here there were ashes of his father. The Muni was confused. Thus Kumbakonam is considered holier than even Kasi. Kumbakonam is the most sacred with Navagraha temples, 12 Sivan Kovils and
6 Perumal Kovils. Once in 12 years the Mahamaham Utsavam [Mahamaha Utsava] takes place in Kumbakonam. In Masi Masam [Masa] when the Guru enters the Simha Rasi then this festival is held. It was last held in 2004. Again it will be held in 2016. At the time of this Utsavam [Utsava] lakhs of people visit Kumbakonam to take the holy dip in Mahamaham [Mahamaha] tank. The actual auspicious time is of 3 and 1/2 hours of which 1 and 1/2 hours is allotted for bathing and the rest is for other rituals. In this short span 1 and a half lakhs of people have the holy dip. This is an astonishing phenomena.This is possible because there are 16 wells providing water to the Mahamaham. The wells are fed by various rivers including Kaveri. Before the Mahamaham Utsavam [Mahamaha Utsava] the tank is emptied and cleaned and then it fills up on its own.
8. What are the Utsavamurtis taken out in procession?
A. The Utsavamurtis are Pancamurti namely Somaskandar, Tani Ambal, Vinayakar, Subramanya and Candikesvara.
9. Were there Devadasis associated with this temple in the olden days?
A. Yes there were. The Tirukalyanamandapam [Tirukalyana-mandapa] in the temple was built by the Devadasis out of their earnings. The structure is built with good Rangoon teak. The Devadasis had dedicated themselves to Iswara and Parvati. There were special areas in the town allocated for them. In the Tiruvidaimarudar Kovil there is a special street called Dasigal Vidi where the Devadasis lived. They belonged to the Isai Vellala community. The Pichai Brahmana Teruvu behind Mahamaham [Mahamaha] tank is another area where the Dasis lived. Another such area is Kamaksi Sutteruvu. Now at present there are no Devadasis.
10. Is Arudra Darsana performed?
A. Yes it is. There is Porappadu (procession) of Nataraja and Sivagami. Since this is the main Nataraja temple, Utsavamurti of Nataraja from other temples is also brought here. They will also do their offerings to the Lord and vice versa.
11. How many festivals are celebrated in the temple?
A. Every month there is a festival or Utsavam [Utsava] in the temple–
Cittirai Masam–Bride is searched for Pillayar or Vinayakar. According to the legend, Pillayar asks for a bride like his mother Parvati. So every year during Cittirai Masam one goes out and looks for brides.
Vaikasi Masam–Tirukalyanam Utsavam–Marriage of Svami and Ambal. Ani Masam–Ani Tirumanjanam for Nataraja Porappadu.
Avani Masam–Vinayaka Caturthi is celebrated.
Purattasi Masam–Navaratri is celebrated. During Navaratri, Golu is kept in the Indra Sabha. Each day there is a new Alankaram [Alankara] for Ambal. She witnesses the Golu in Indra Sabha each day.
Kartikai Masam–Bharani Dipam [Dipa] and Sura Samharam [Samhara] is celebrated. During Kartikai Masam [Masa] each Somavara, Sankhabhisekam is done. Water is taken in Sankha or conch and Abhisekam [Abhiseka] is done 108 times.
Tai Masam–Tai Velli is celebrated
Adi Masam–Adi Velli is celebrated.
Masi Masam–Mahotsavam [Mahotsava] is celebrated.
Panguni Masam–Teppotsavam [Teppotsava] is celebrated. In the Mahamaham [Mahamaha] tank a boat is kept with Ambal in it. All the three Devis–Kalaimagal (Saraswati), Malaimagal (Ambal) and Alaimagal (Laksmi) go for a boat ride together."
Gallery information:
Kumbakonam is considered as one of the holiest places in Tamil Nadu and is known for its temples and Mathas (monasteries which were centres of Brahmanical learning). These photographs depict the connection between the sculptures in the temples and Natya Shastra and related texts dealing with iconography.