Sculptures in temples in Kumbakonam: photo 264
Photo 264 of 640 in Gallery: Sculptures in temples in Kumbakonam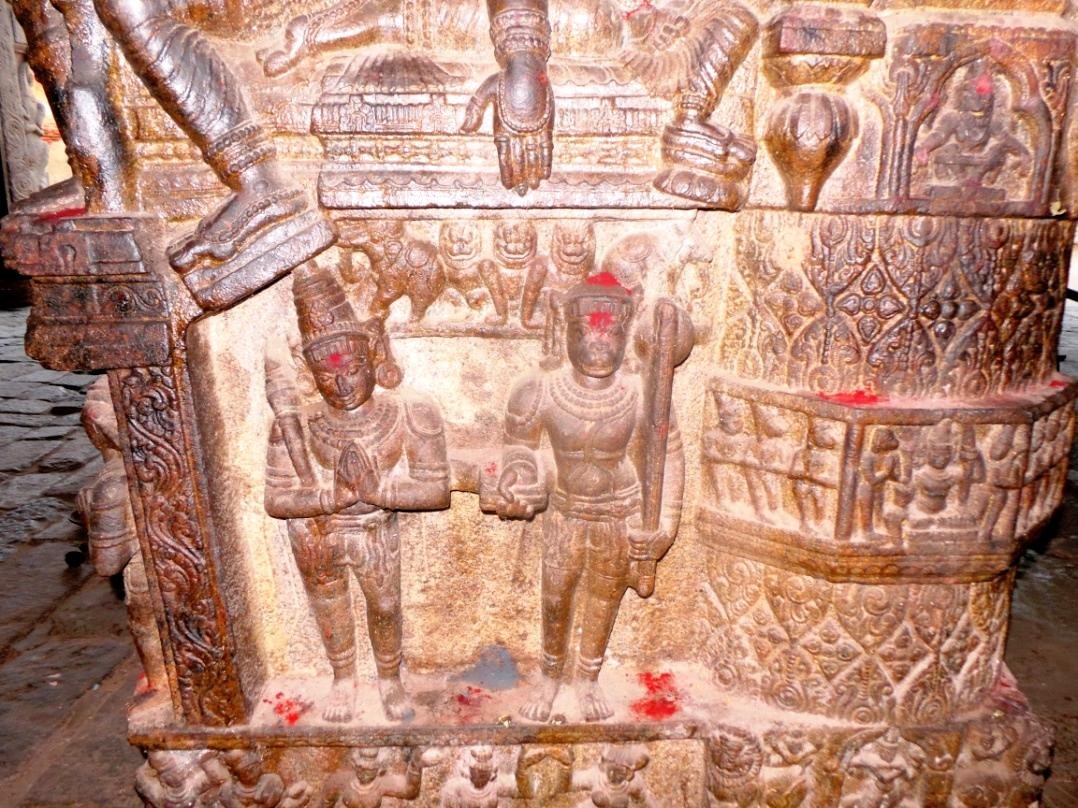 Image title: Figure 259. Vibhisana and Anjaneya
Below Pattabhirama we can see the figures of Vibhisana and Anjaneya. Vibhisana is in Ayata Sthana, his Siras is bent in Ancita, his Parsva is in Nata on right and Samunnata on left, his Urah [uras] is in Sama, Kati is in Udvahita on right, Hands are in Anjali, right leg is straight and unbent, left leg is kept at ease. Anjaneya's Siras, Parsva and Urah [uras] are in Sama and unbent, his Kati is in Udvahita on left. He is holding Ramayana in his right hand and Vina in his left hand. Left leg is straight and unbent and his right leg is at ease. Both Pada of Vibhisana and Anjaneya are in Sama, left Pada of Vibhisana and right Pada of Anjaneya are in Tryasra.
Gallery information:
Kumbakonam is considered as one of the holiest places in Tamil Nadu and is known for its temples and Mathas (monasteries which were centres of Brahmanical learning). These photographs depict the connection between the sculptures in the temples and Natya Shastra and related texts dealing with iconography.